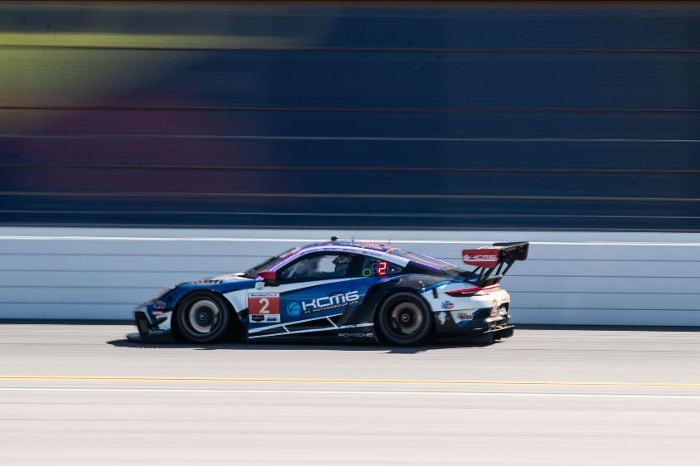 KC Motorgroup Ltd. (KCMG) took a podium finish on its debut at the Rolex 24 at Daytona, with the Hong Kong outfit battling for the lead in the GTD Pro class throughout the race.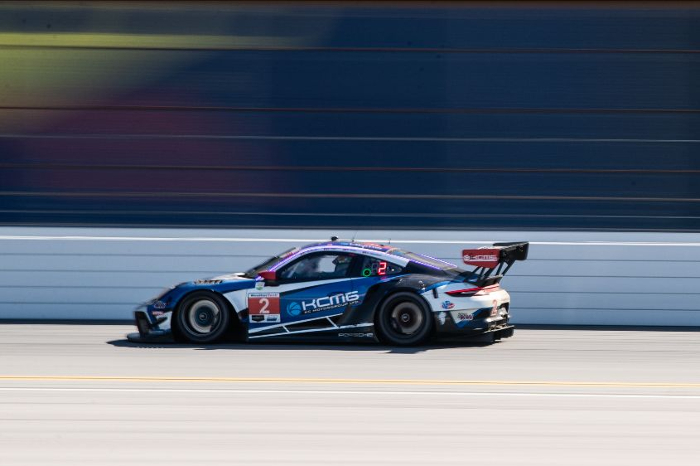 Patrick Pilet lined up 10th on the grid and made consistent progress towards the front of the pack. With the team's #2 Porsche 911 GT3 R running smoothly, Laurens Vanthoor, Dennis Olsen and Alexandre Imperatori built on Pilet's progress to take the class lead overnight.
 
In the final stint of the race, Vanthoor put in an exceptional performance to mount a serious challenge for victory, rarely being more than a second behind the class leader. The Belgian driver briefly took first place with minutes to go, but was unable to hold on, eventually crossing the line in third.
 
Despite coming so close to victory, the team were delighted with a podium finish in its first attempt at the famous event. Thanks to the work of the crew and drivers, as well as factory support from Porsche, the car performed exceptionally well and suffered no mechanical issues over the course of the 24 hours.
ALEXANDRE IMPERATORI
"It was a rollercoaster at the end. One moment we thought we had it, the next we didn't, so there were both highs and lows. I'm proud of our team, we did everything perfectly, we looked after the car all the way through and kept it in great shape. There were no issues or penalties, and no mistakes from the drivers or the mechanics during the pitstops. Everything went to plan and I think we had what was needed to win, but sometimes it goes your way and unfortunately it didn't this time. I am proud of what we were able to do and now we have to come back again stronger."
LAURENS VANTHOOR
"Our goal was to win the race. I tried everything I could to take the lead but unfortunately it wasn't enough. I'm not sure what I could have done differently, but it is what it is. We can be proud because we did the best we could, but it wasn't enough."
DENNIS OLSEN
"Our target was to win, and we gave absolutely everything to try and get the victory. It was all or nothing and we were going all out for the victory. Laurens did a fantastic job trying to take the lead in the closing stages, but that's racing. In the end, third place is still a great result."
PATRICK PILET
"What a rollercoaster! I'm so proud to be part of this team, they did an amazing job considering it was their first time at Daytona. We made no mistakes, kept it on the track and the car was in perfect shape until the end. Laurens pushed as much as he could, and I think that's the main thing. The whole team gave 100 percent, and we have no regrets. I hope we will be back for another challenge and our story at Daytona is not over."
MATT HOWSON TEAM MANAGER
"It was an incredible race, one of the best I can remember watching, never mind being a part of. To finish on the podium in third place was beyond my expectations. The fact that we nearly won the race is a testament to our hard work. Everyone in the team gave their all, from the team principal to the management, engineers, mechanics and drivers. They left nothing on the table, as shown by Laurens' efforts at the end of the race.
 
"Of course, I feel some disappointment but I'm proud of our achievements. I hope this shows the type of team we are and the way we want to go racing. I'm looking forward to the next challenge, which is coming very soon."
PAUL IP KCMG FOUNDER
"To be able to come out to Daytona and be instantly competitive is fantastic. We were able to take a podium on our debut here and it was great to see such a good performance from the team and drivers. Of course, we came really close to a win with Laurens in the closing stages, but unfortunately It wasn't to be. However, we will leave Daytona on a high, and we are proud of our performance. The car was amazing, and it's been great to work with Porsche at this historic race."
Source. KCMG/Photo. Xynamic
Comments
comments