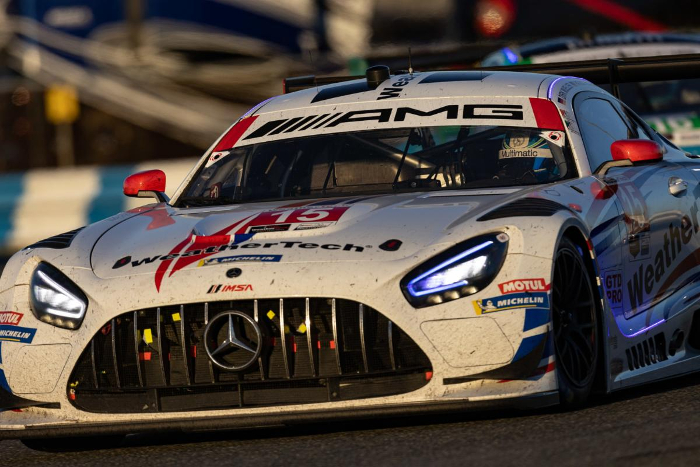 WeatherTech Racing has two cars still circulating with five hours remaining in the WeatherTech SportsCar Championship Rolex 24 At Daytona.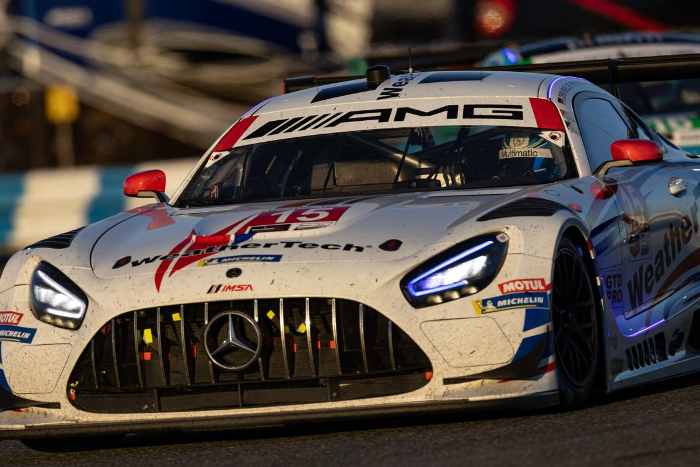 The No. 15 WeatherTech Racing Mercedes-AMG GT3 is running up toward front in fifth with car owner Patrick Assenheimer at the wheel.
"All three of us have had contact in stints on the track," Assenheimer said before getting the car. "We still have nearly five hours to go in the race. The WeatherTech Racing Mercedes is running good, but we have a long way to go still."
The No. 79 WeatherTech Racing Porsche GT3 R, after suffering some early electrical problems, is running eighth in class. Cooper MacNeil, Julien Andlauer, Matteo Cairoli, and Alessio Picariello continue to lap on pace with the leaders even though they are 39 laps down to the GTD Pro leader. 
"The car is running really good now after our early issues," Andlauer said. "We are completely out of the race for the win, but we are learning more about the car, gathering data and getting laps. For me, it is good to get every lap. This is is my first time in IMSA and that will just make me better for the rest of the season."
The No. 97 WeatherTech Racing Mercedes-AMG GT3 had a strong run through the night taking the overall GTD Pro Class lead at 6 a.m. After leading just a handful of laps, a water hose worked loose. As a result, the engine overheated and ended the race for Cooper MacNeil, Maro Engel, Jules Gounon, and Daniel Juncadella just as the sun was coming up over Daytona Beach. 
"The race was looking really good for us," Gounon said. "The team and the drivers did a good job working our way up to lead the race. Unfortunately, a water hose worked loose and we have no idea how [it happened] after 15 hours of running. It is unfortunate for Cooper and the whole team. It is motorsport and that happens."
Source. Kyle Chura/WeatherTech Racing
Comments
comments