Specifications for your ad
Maximum image size :150 kb


Maximum width: 1500 pixels
Maximum  height: 1500 pixels
Website url: please input your complete url , example: http://racingnewsworlwide.com
Step-by-step how to ad your ads in a few clicks.
Register on our website via the button top right or the connect with Facebook button in the sidebar (see image below)
Select where you want to put your ad , the duration,
Create your ad
Pay via PayPal (you can pay with your credit card without having an account) you have to be logged in to see the ads manager and the analytics for your ads
Once payment is approved your ad is live we will e-mail you your invoice.
From your logged in tab top right of the website you will see in the menu a tab (Your ads Manager) you can modify your ads and add funds from there.
On orders over 60$ we will make a press release for your company Free of charge.
Get Free Ads
When you submit your press release to us first you get free ads.
How it works :
Register to our website (see image below)
Press the submit news button beside the search icon
Once you are approved as a press release publisher your releases will be automaticly published once submited if the time stamp on our website is more recent then the one on your personal website or other news websites you will qualify for your free ads.
Each time you submit 3 press releases with featured image under 80 kb and category selected plus tags and get a 7 day free ad at the bottom of the posts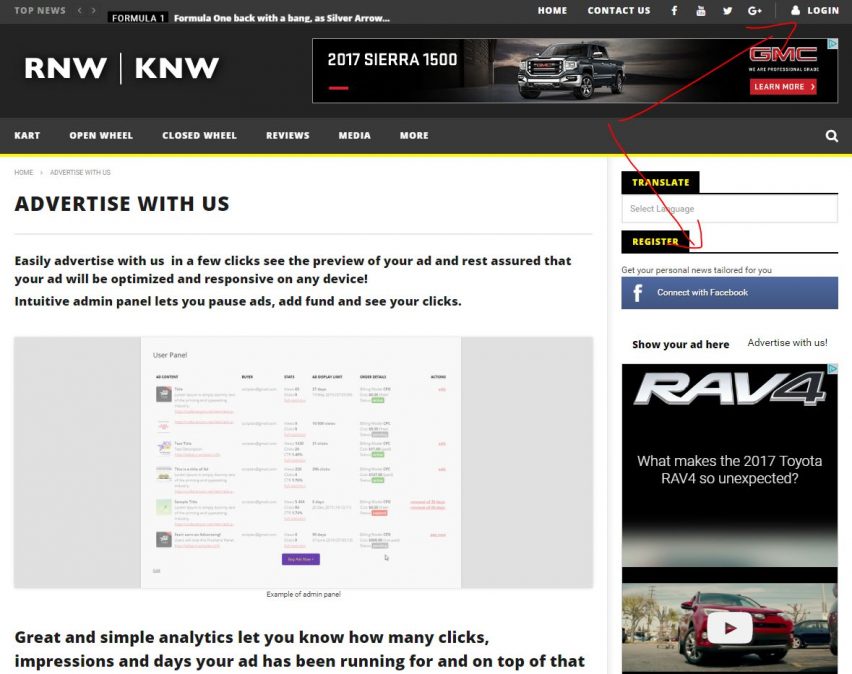 Easily advertise with us  in a few clicks see the preview of your ad and rest assured that your ad will be optimized and responsive on any device!
Intuitive admin panel lets you pause ads, add fund and see your clicks.
Great and simple analytics let you know how many clicks, impressions and days your ad has been running for and on top of that which browser was used.