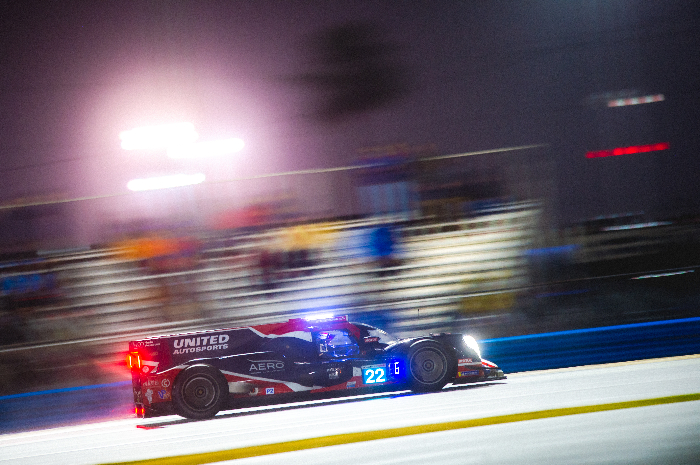 United Autosports have finished sixth at the end of a gruelling Rolex 24 At Daytona today as Jim McGuire, Guy Smith, Phil Hanson and Will Owen crossed the line after 740 laps of the Daytona International Speedway.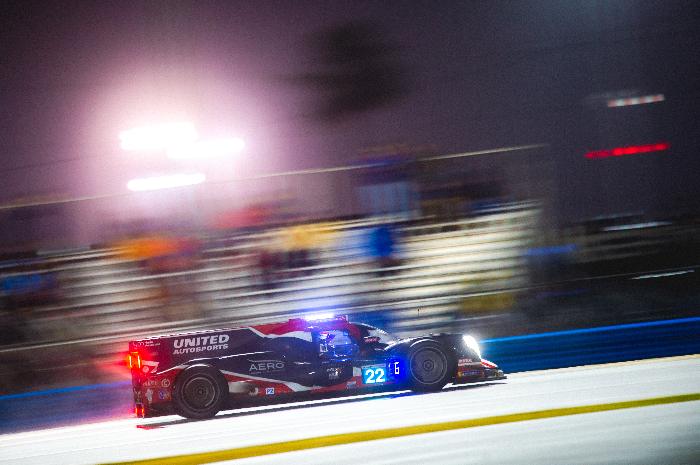 The race began just after lunch on Saturday as Jim McGuire started the #22 Oreca 07 from ninth on the grid – the result from the ROAR before the 24 qualifying race the previous weekend. At the first driver change, Jim handed the car to Phil Hanson who began making up spots throughout the GT field after the #22 had dropped back in the early stages of the race. Phil then handed the car back to Jim for a triple stint, who in turn handed the car to Will Owen as darkness fell across the track. 
 
Will, who was making his return to not only the team, but sportscar racing after a year out, immediately got up to pace in the #22 Oreca. Guy Smith didn't take his first racing laps in the car until well into the night, with all four drivers getting us through darkness hours, making it to sunrise, running at the back of the LMP2 field. As morning approached, the #22 began making up places thanks to good strategy calls from the pit wall. 
 
Unfortunately, badly timed safety cars and pass around periods, along with the team nursing a clutch issue towards the end of the race, prevented them from progressing further up the field. Phil Hanson crossed the line sixth in class, and within the top 10 overall, with the car never having to take a trip behind the wall for repairs.
 
The next race for United Autosports' IMSA team will be the Mobil 1 12 Hours of Sebring on 18-19 March.
Jim McGuire
"What an amazing first 24 hours of Daytona. Hats off to the team and my co drivers. We put ourselves on the back foot early on, but we kept fighting till the end so to end up where we did was a great achievement. Can't wait to be back and try again. Thank you everyone involved."
Phil Hanson
"The Rolex 24 at Daytona is never boring and this one was eventful. It was a shame to be out of contention to be able to challenge for victory early on, it makes it a long 24 hours. Of course the regulations allow you to make laps back but for us these FCY periods just didn't fall right for us. But the team did a great job, the car was reliable. It just got us over the line at the end. I was really happy to kick off my season at this race. It's a good test of fitness and the team's ability and the reliability of the car. It was good to get back racing early on in the year ahead of the first WEC round."
Guy Smith
"It was great to make it to the end of the Daytona 24 Hours. It's always a tough race and LMP2 was a very competitive field this year. I thought we were reasonably competitive but we just had a few too many penalties during the race and we weren't very fortunate with the safety car wave bys. The team did a great job. To make it to the end of the 24 hours is a huge achievement by everybody, the team did amazingly all race long and I cant thank them enough. It's one of the toughest sportscar races in the world. To make it to the top 10 is a great achievement but we really would have loved to have been on the podium. Maybe next time."
Will Owen
"It's been a really good Daytona 24, especially for me getting back up to speed and getting back in the car. The result wasn't what we wanted but I'm looking forward now going into the WEC season and I'm so much more prepared now than I would have been. Doing this race was super important for me to prepare for the upcoming season and I'm just really thankful for the opportunity to do it with United Autosports and Jim, Guy and Phil. We've all had a great time, we have great chemistry and of course we wish we had finished better but we have the pace in the car and it has solidified my decision that coming back to racing was the right call."
Zak Brown
"To get to the end of any 24-hour race is an achievement in itself so huge congratulations to the team for the result today. I was pleased I could get to Daytona and see the start of the race with the team. I'm looking forward to seeing how we get on in Sebring."
Richard Dean
"The Daytona 24 Hours is always a great race to start the year with and I'm proud of the team for pulling it altogether and making it work. Sixth in class is a great result and all our drivers drove brilliantly, even though maybe we would have hoped for a bit more. For Will to perform like he did given the fact he's been out of the car for a year is fantastic. It was a difficult race. Not only with the FCY periods falling badly for us, but also with the cold conditions. I don't think I've ever experienced a 24-hour race that dipped into minus figures overnight. For the team to power on through that was also something to be proud of."
Source. United Autosports
Comments
comments