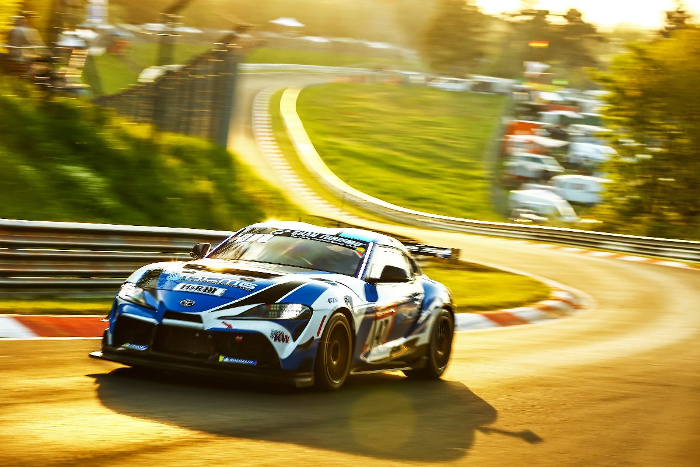 KC Motorgroup Ltd. (KCMG) finished second in class after an eventful race at the ADAC TotalEnergies 24h Nürburgring, with a late puncture while leading ending their hopes of victory.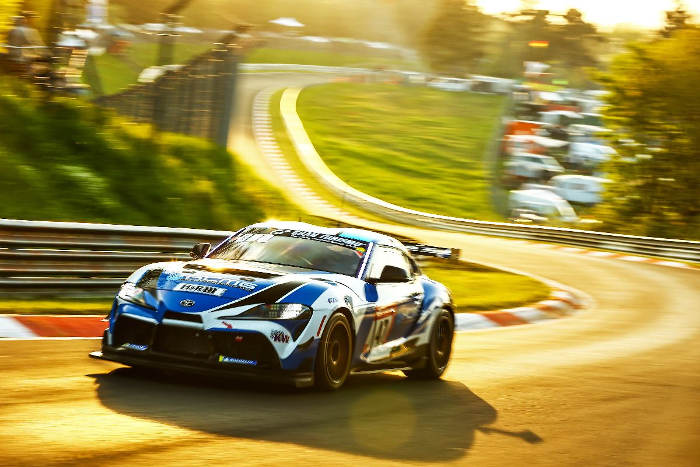 Taking on the gruelling enduro for the first time in the SP10 class, the Hong Kong-based team was looking to pick up where it left off following double-victory in the ADAC 24h Nürburgring Qualifiers in April.
 
Having qualified in fifth, the squad's driving trio of Edoardo Liberati, Josh Burdon and Martin Rump took on the Green Hell at the wheel of the #47 Toyota GR Supra GT4 EVO. After an incident early in the race, the team fought back with flawless performances from the drivers and crew.
 
The car proved to be quick and reliable and KCMG returned to the top of the leaderboard during the night, extending a comfortable advantage to the cars behind. However, their smooth running was interrupted late in the race, when a puncture forced an unplanned pit stop, dropping the crew to second place, which was where they finished soon after.
 
The outfit will return to the Nordschleife to continue their full Nürburgring Langstrecken Serie campaign in a few weeks' time, with NLS4 set for 16-18 June.
EDOARDO LIBERATI
"Thank you to the team for their tremendous effort during the race and in the past few months of preparation. We were fighting for the win throughout and only some frustrating issues prevented us from taking it, but to come away with P2 is still a great achievement. Also, thanks to my teammates for their faultless drives and Toyota GAZOO Racing for the support and delivering us a car that was both quick and reliable."
MARTIN RUMP
"We fought hard through all the challenges the Green Hell presented to us this time and coming out with second place is a great result and one that I'm proud of. The Toyota GR Supra GT4 EVO proved its reliability and I'm so grateful to the team who were on it from the start. My first ever Nürburgring 24 Hours was really enjoyable and I hope to be back to have another go!"
JOSH BURDON
"Overall, P2 is a strong performance at the Nürburgring 24 Hours. For sure, it's not the final result we all worked so hard for, but nevertheless, we didn't give up and I'm proud of the team for pushing through some early misfortune to challenge for the victory. We'll be back for the top step next year!"
MATT HOWSON TEAM MANAGER
"I wouldn't have chosen a career in motorsport if I wasn't obsessed with winning, so of course second place is a disappointment. However, after an early incident, just being in a position to dominate the class until our late race puncture is testament to the quality of the KCMG team and drivers. Following the early drama, Josh, Martin and Edo drove flawless stints with no penalties or collisions, and the Toyota GT Supra GT4 EVO was fast and reliable. The crew delivered perfect pit stops and the engineers had a smart strategy to make the most of a difficult start, I couldn't ask for any more from them. Our main rivals did an amazing job so congratulations to them, it was an enjoyable fight and as always, we take away any experience that we can. Congratulations to all the KCMG team for yet another top-level performance, and now we move on to the next challenge!"
PAUL IP KCMG FOUNDER
"The Nürburgring 24 Hours is one of the most unpredictable races in all of motorsport, and we certainly had our fair share of drama this year. The team did an amazing job and all three drivers were excellent throughout. It's a shame to have the puncture late on, as without it we would likely be celebrating victory, but I'm still proud of the entire team for their relentless hard work in the build-up and during this amazing event. Thank you also to Toyota GAZOO Racing for providing us with a car that wasn't just great in terms of performance, but also reliability. We'll look to continue our progress at the Nordschleife and pick up some more strong results in the remainder of the Nürburgring Langstrecken Serie."
Source. KCMG/Photo. Frozenspeed
Comments
comments