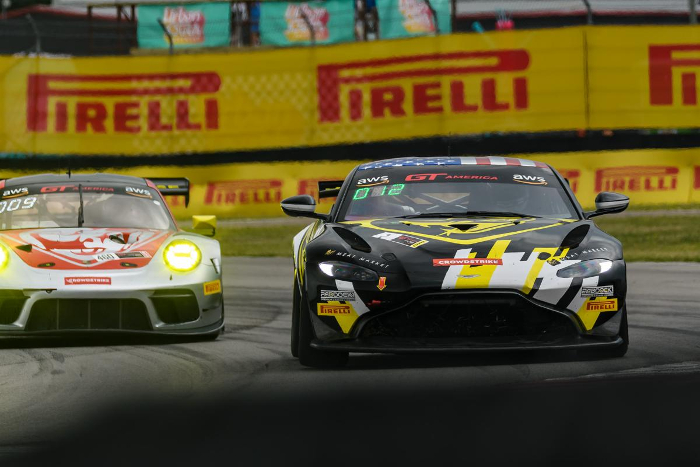 Hot on the heels of a successful weekend at WeatherTech Raceway Laguna Seca in Lamborghini Super Trofeo, the team at Flying Lizard Motorsports switches gears to head to Circuit of the Americas in Austin Texas for an action-filled weekend, adding a second car in the team's Pirelli GT4 America to join the team's three full-season entries in GT America powered by AWS.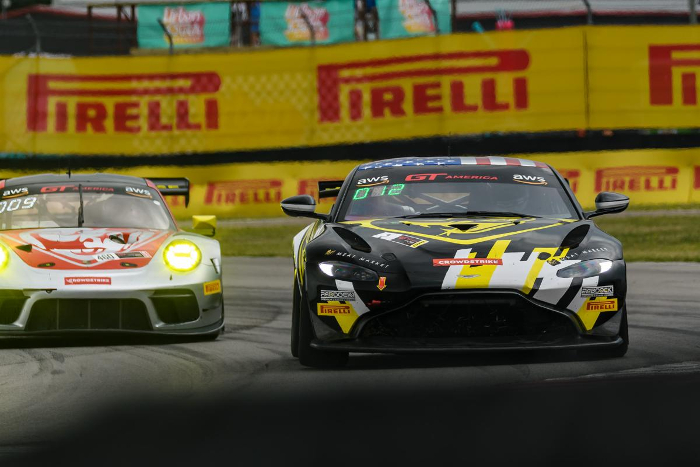 "We have had a great start to the season in both of our GT4 and GT3 programs this year and are bringing a lot of momentum from the previous race at NOLA," said Program Manager Darren Law. "These races are just so competitive, so we have to keep the focus and keep this podium streak going to ensure we are still in the fight for the championships all season long. COTA is a very challenging track and we feel we have a good setup for our cars, so we are looking forward to this weekend."
A world-renowned motorsport and entertainment complex a short drive from downtown Austin, Texas, Circuit of the Americas (COTA) is a purpose-built facility designed specifically for Formula One. It features a challenging 3.41-mile-long circuit with 20 turns, including a steep uphill climb to the first corner known as Turn 1 or "The Hill." The wide circuit allows for pack racing, always delivering intense battles for the fans and challenging races for the drivers. Flying Lizard Motorsports will have four races over the course of the weekend, also hosting a garage tour for the fans on Saturday. 
Pirelli GT4 America
Race Length: 60 minutes
Classes: Silver, Pro-Am, Am
Race Start: 5/20 at 5:00 PM CT, 5/21 at 10:50 AM CT
With three top-five finishes in three races, the Lizard duo of Elias Sabo and Andy Lee enter the Austin race weekend tied for third in the Pro/am class driver rankings, with Flying Lizard tied for second in the team standings. Racing the No. 8 Aston Martin Vantage GT4, the pairing earned a podium finish at Sonoma Raceway in the season-opening race then came close to another podium finish when they came in fourth in race one last month at NOLA Motorsports Park. After a rain delay canceled race two in New Orleans, Sabo and Lee head into the Austin weekend eager for the competition to commence. In addition to the full-season program of Sabo and Lee, Flying Lizard will enter a second GT4 car this weekend in the Pro-Am class of Jason Bell and Michael Cooper. Bell will do double duty, also racing his full-season GT America effort. Also a former Lizard driver, Cooper is a multi-championship winner, most recently having secured the 2020 GT4 America championship title.  Forty-two entries will compete in the double-header weekend, participating in a pair of races on Saturday, May 20, and Sunday, May 21.
GT America Powered by AWS
Race Length: 40 minutes
Classes: GT2, GT3, GT4
Race Start: 5/20 PM at 1:00 PM CT, 5/21 at 8:40 AM PM CT
Riding into the race weekend as the GT4-class championship points leaders, Flying Lizard Motorsports will look to capitalize on their success with the team's three GT4 entries. With two wins and an additional four podiums, the team will be a team to watch in rounds five and six of the championship. Jason Bell and the No. 2 Aston Martin Vantage GT4 and Elias Sabo in the No. 8 Aston Martin Vantage GT4 complete the team's GT4 lineup in the bronze-only series, with Andy Wilzoch representing the team in his No. 460 Porsche 911 GT3 R in the SRO3 class. Though his season got off to a challenging start, Wilzoch has found a satisfying stride, progressing with each race weekend. He'll be eager to continue that progression this weekend, aiming for a return to the podium. Twenty-four entries will compete in the race weekend, split into the GT4 and SRO3 classes.
Source. Flying Lizard Motorsports
Comments
comments