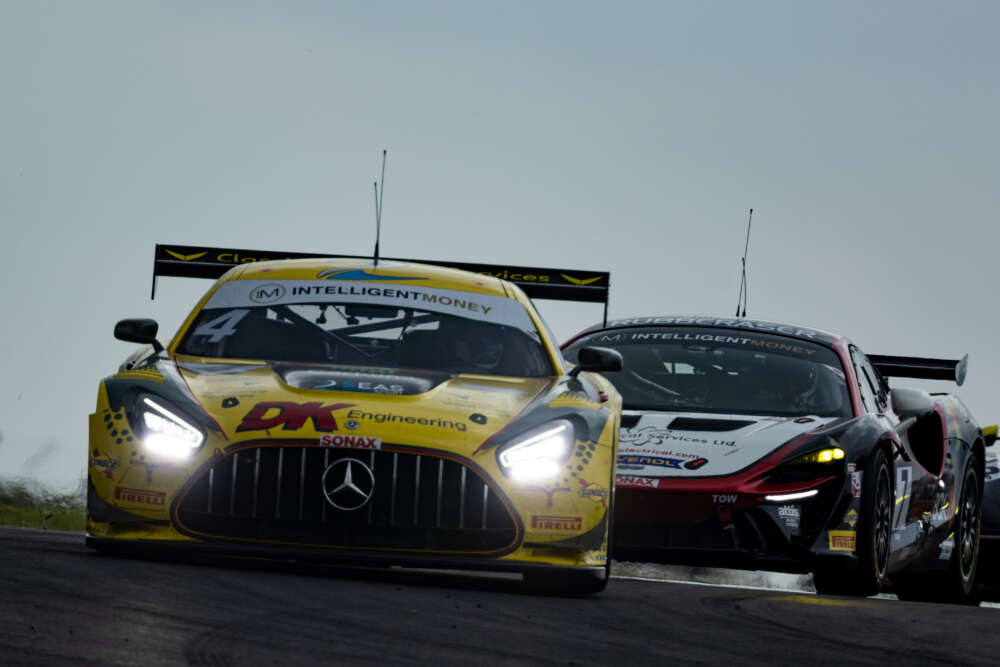 James Cottingham and Jonny Adam took advantage of Beechdean AMR's delayed pitstop during the mid-race Safety Car period to claim their second and 2 Seas Motorsport's third Intelligent Money British GT Championship wins of the season – as well as the points' lead – at Donington Park today, while Optimum's Jack Brown and Charles Clark provisionally scored their second GT4 victories in as many races after early sparring partners DTO Motorsport retired.
Adam crossed the line just 0.9s ahead of RACE LAB's McLaren shared by Lucky Khera and Euan Hankey who set a new lap record during his late pursuit of the Mercedes-AMG, while Ian Loggie and Jules Gounon made it a 2 Seas one-three after gaining significant ground when the Safety Car period coincided with the pitstop window.
GT3 Silver-Am honours went to Sky Tempesta Racing's Kevin Tse and Chris Froggatt who also finished an excellent sixth overall.
Further back, Ian Gough and Tom Wrigley (RACE LAB) were runners-up behind Optimum but took Pro-Am victory ahead of class rivals Carl Cavers and Lewis Plato, who finished third on the road.
However, GT4's result will remain provisional pending the outcome of an appeal over Silverstone's race positions. Donington's Compensation Time will only be applied retrospectively once that result has been confirmed.
Elsewhere, Drivetac collected the Intelligent Money Team of the Weekend trophy for spending Saturday afternoon, evening and night, as well as the early hours of Sunday morning performing a full engine change on their Mercedes-AMG. The car first fired up at 05:00 this morning and was only fully prepared 30 minutes before cars headed to the grid.
Comments
comments