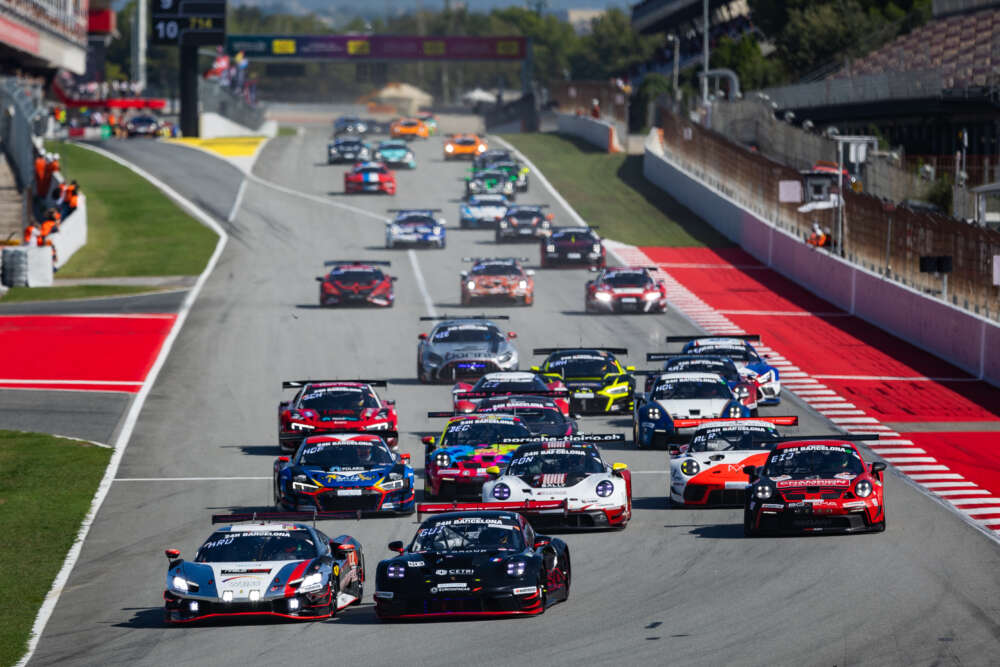 At the Hankook 24H BARCELONA, IMSA LS Group Performance made its first start in the 24H SERIES in six years, and after a race-long fight with Haas RT and Herberth Motorsport, went on to take its first win at a 24-hour event since 2016.  

Just one month after its return to endurance racing, IMSA LS Group Performance took its first win at a 24-hour motor race in seven years at the Hankook24H BARCELONA. 

IMSA LS Group Performance, which took victory at the 2010 24H DUBAI as 'IMSA Performance Matmut,' got its 24H SERIES return off to a good start by setting pole position for the European season finale. After a conservative start, repeatedly swapped the lead with eventual GT3 Teams' champion Haas RT and three-time event winner Herberth Motorsport during the second half of the event before ultimately taking the chequered flag. As well as becoming the seventh different outright event winner in the 24H SERIES in 2023, IMSA LS Group Performance also celebrated its first win at a 24-hour event since finishing 1st in the Pro-Am Cup at the 2016 Spa 24 Hours (Raymond Narac and Patrick Pilet were part of IMSA's winning line-ups at Spa and in Dubai in 2010). 
"The team really wanted to return to a 24-hour race," team manager Franck Rava explained, post-race. "Everyone was very motivated and united and worked to achieve this result. This is the factor that makes the difference in a 24-hour event. We all reached agreement to apply a strategy that we had to constantly evolve. Competition made things complicated for us, but we didn't give up."
IMSA's first 24H SERIES weekend since 2017 got off to a strong, albeit hectic, start when the #76 Porsche 992 GT3 R set pole position at the hands of Laurent Hurgon during a rained-out qualifying session. All the more impressive, considering the GT4 European Series regular had limited experience driving the Porsche in the wet. 
"Designated for the first part of qualifying, Laurent Hurgon faced difficult conditions," Rava continues. "Like us, he had little experience of driving the car in the rain. We determined a set-up that worked well and we sent Laurent out onto the track after the bulk of the field, so as to have a clear track and less spray. He set the fastest time, the rain increased and the organisers had to cancel Q2 and Q3. We found ourselves on pole for the race!"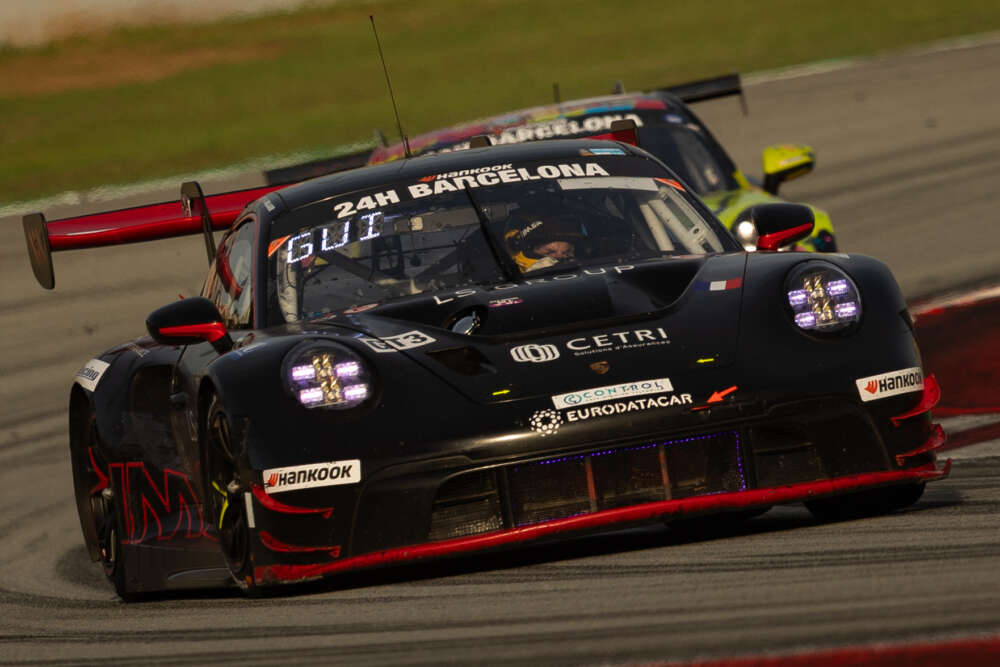 The following day, Grégory Guilvert – who teamed with Hurgon, Simon Tirman and Julien Andlauer in Barcelona – was unable to hold off WTM by Rinaldi Racing's Jochen Krumbach as the fast-starting Ferrari 296 GT3 swept around the outside of turn two and into an early lead. Such was the pace of the Ferrari thereafter, the German team had already opened up a one-lap lead by the end of the second hour before a spin and a separate collision at turn one ended up dropping the Ferrari back in the pack during the third hour. Guilvert meanwhile, as the Porsche struggled with grip in the mid-afternoon Catalan heat, quickly fell away from the immediate frontrunners, but was still running 6th overall when the team made its first pit stop. 
"I really appreciated the fact that Franck Rava thought of me to do this race," Guilvert explains. "I did the opening stint, which wasn't easy, partly due to my lack of driving time in the car. The Porsche requires special handling so it was up to me to adapt and subsequently I managed to let go and put in solid stints. If we won, it's thanks to the whole team, to the performance of Julien Andlauer who's not a Porsche driver by chance, and to the absence of spins or penalties."
A quick opening stint by Andlauer brought the team back into contention, though ironically, time lost in refueling during a Code 60, and a rapid stint by Alfred Renuaer, ended up dropping the IMSA Porsche behind Herberth Motorsport heading into the sixth hour. This would be reversed when the Bavarian team encountered fuel filler problems, and by half-distance, IMSA was already four laps ahead of its nearest competitor. 
Come daybreak, renewed speed from Herberth Motorsport and Haas RT, combined with returning grip issues for the #76 Porsche, meant Andlauer had to push hard during his final stint, though robust pace from the Porsche works driver meant series returnee IMSA was still more than 90 seconds clear at the chequered flag. Remarkably, bar a brake change, the #76 Porsche 992 GT3 R suffered no mechanical issues during the race.
The result was particularly notable for Hurgon and Simon Tirman, both of whom were making their GT3 endurance racing debuts in Barcelona.
"In Barcelona, the traffic wasn't easy to manage and we had to keep an eye on tyre degradation," Andlauer explained. "We pushed hard at night, because at that time our Porsche was running like clockwork. I tried to widen the gap by doubling my stints. But four other GT3s always remained pretty close so we had to push right till the end.
"We started to seriously believe it at the last stop when I left the pits with about a lap in hand. This was a first for me with IMSA LS Group Performance and my three teammates. Two of them were making their debut in an endurance race of this level. They managed it like old hands with a cracking pace and without errors. This is exactly what's needed in this discipline."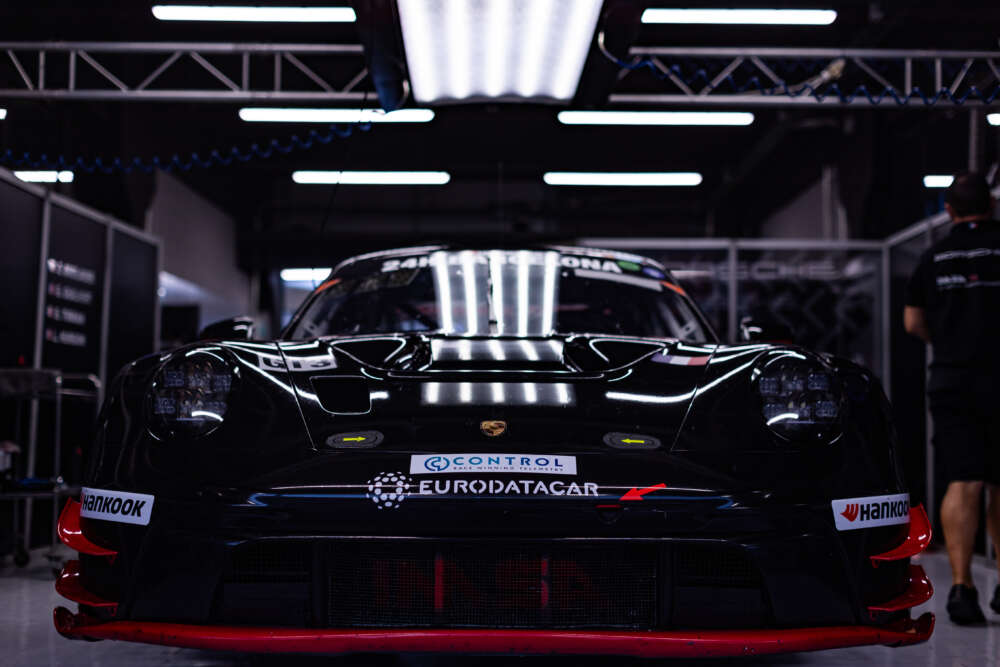 "My role was to drive in a 'safe' way, which put a little pressure on me," Hurgon continues. "You still need pace because it makes life easier in traffic with around forty cars at the start. But participating with such a team also takes away stress. After a break of several years, they've already returned to their best level. I was also amazed by the car's robustness. Two brake discs and a set of rear pads were changed as a precaution around 01:00. That's all!"
"It was my very first endurance race," concludes Tirman. "I felt that we were all on a mission: the team; the management; the drivers; everyone was focused. The victory undoubtedly depended on this human aspect. We followed the instructions and the strategy without making any mistakes. 24 hours is long and physically demanding; you have to invest a lot of energy to stay focused at night, but I loved the experience and yes, I want to do it again!"
Fittingly, fresh from its Hankook 24H BARCELONA win, IMSA LS Group Performance has also shown an interest in a return to the Hankook 24H DUBAI on 12-13-14 January.
Comments
comments