Sargeant To Close Out Truck Series Season With MDM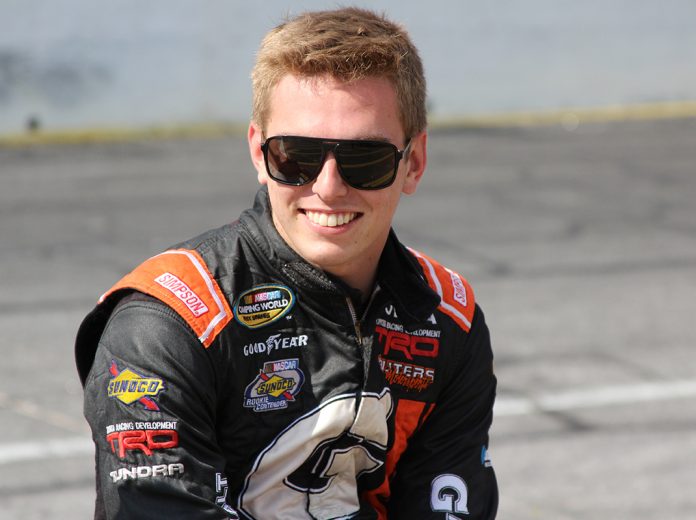 Dalton Sargeant will be behind the wheel at Phoenix and Homestead with MDM Motorsports. (Adam Fenwick Photo)
Dalton Sargeant will pilot the No. 99 Silverado for MDM Motorsports.
CHARLOTTE, N.C. – MDM Motorsports officials announce that Dalton Sargeant will be behind the wheel of the Performance Plus Motor Oil No. 99 Chevrolet Silverado at Phoenix Raceway on Nov. 10 and then the season finale at Homestead-Miami Speedway on Nov. 17.
Sargeant, a member of the 2015 NASCAR Next class who already has four career NCWTS starts, will pilot the No. 99 Silverado with the same familiar colors that he drove to victory lane at Iowa Speedway in ARCA Racing Series competition earlier this year.
Sargeant is no stranger to Phoenix Raceway after finishing 4th in the K&N Pro Series event in 2015, as well as competing inside the top-10 in the Truck Series event that same year.
Although Phoenix is a familiar setting, Homestead-Miami Speedway holds a special place for the 19-year-old rookie driver from nearby Boca Raton, Fla.
"I can't thank all of the great people at Performance Plus Motor Oil and MDM Motorsports enough for this opportunity," said Sargeant. "Phoenix is one of my favorite race tracks and I basically started my racing career in the parking lot of Homestead-Miami Speedway in 2006 so it's going to be a really exciting two weeks to close out the Camping World Truck Series season. My brother and I received our first go-karts for Christmas and one of the first places we brought them was to the track they set up in the parking lot behind the main grandstands at Homestead-Miami Speedway. I remember racing around that parking lot track for hours upon hours when I first started, always in the shadow of the big track with my whole family there camped out to watch. To get the opportunity to run my first laps at the big Homestead-Miami track is a huge opportunity and something I've been looking forward to for a long time."
Performance Plus Motor Oil will make their third start with Sargeant, already scoring a victory in their debut race together at Iowa Speedway in ARCA Racing Series competition this past July.
"We're very excited to enter the NASCAR Camping World Truck Series in 2017 with Dalton Sargeant at Phoenix Raceway and Homestead-Miami Speedway," said Director of Industrial Lubricants James Drozdowski. "Dalton has been impressive throughout our first two races together and when Dalton took the Performance Plus car to victory lane at Iowa Speedway we proved that our products can be trusted in the most demanding of environments. The end of the season is near and that always means a little more excitement. We have high expectations for Sargeant and MDM Motorsports and looking forward to seeing the No. 99 Performance Plus Truck near the front."
MDM Motorsports has also visited victory lane this year in both the Camping World Truck Series with Darrell Wallace Jr. and the ARCA Racing Series with five different drivers.
The No. 99 Performance Plus Motor Oil team will be led by veteran crew chief, Shane Huffman, who has a combined seven starts as a crew chief at Phoenix and Homestead.
"I know this MDM team is ready to go back to the race track with something to prove these last two races and having a driver of Dalton's talent and ability will certainly make that achievable," said Huffman. "I've had some fast trucks at Phoenix the past two years, so I know we'll have a good setup for Dalton, and Homestead will be the same truck that we took to victory lane at Michigan, so all of the pieces are there for us to finish out the season strong. I've watched Dalton the past few seasons and have seen his progression as a driver firsthand, and I think we can help him accomplish his goals."
Source :speedsport.com
Comments
comments