Le rallye DÉFI s'en vient !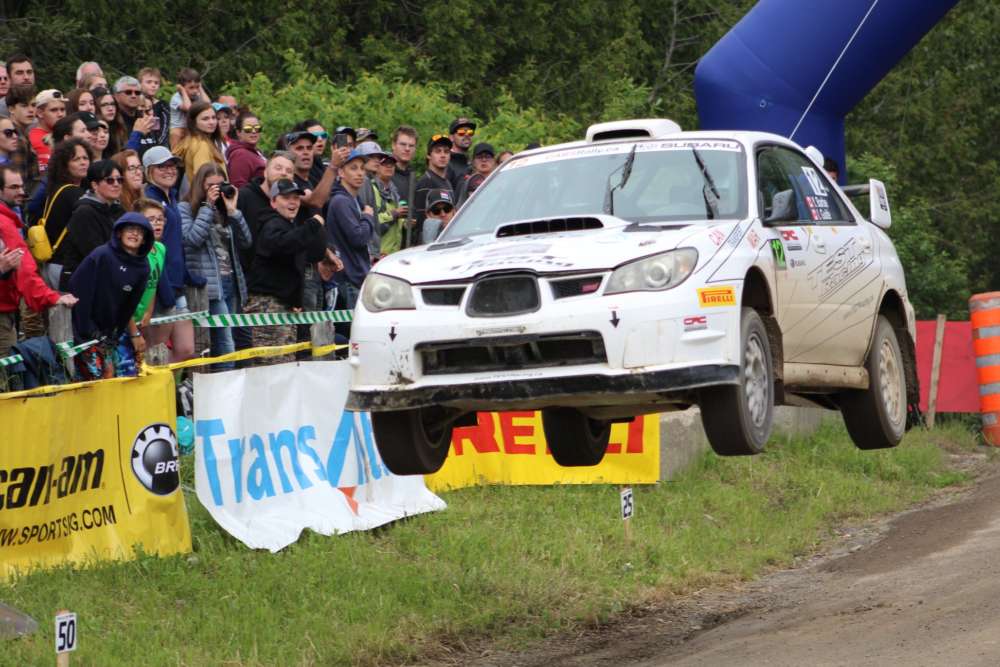 Le rallye Défi se tiendra dans la magnifique région de Montpellier les 6-7 septembre prochain. Cet événement est mythique puisqu'il doit sa création à l'ancien rallye Critérium du Québec, qui était un rallye international de la Coupe du Monde dans les années 70. Il a bâti ces lettres de noblesse au fil des ans en devenant le Défi Ste-Agathe, avec une spéciale très enlevante qui était le Tour du Lac ( lac des sables). Premièrement spéciale spectateurs ou les gens se ruait pour voir passer les bolides en dérapage contrôlé. Avec les populations qui s'installait au fil du temps autour du lac, cette spéciale a été abandonné, question sécurité. Le Défi est maintenant déménagé plus au Nord-ouest. Mais il demeure un événement unique.
Des grands noms s'y sont rassemblés pour y relever le défi. On pense au légendaire John Buffum, Carl Merrill, Frank Sprongl, Tom McGeer. En 2012, un certain Ken Block y a remporté la victoire. Antoine L'Estage, Patrick Richard, Jean-Sébastien Besner s'y sont illustrés.


Donc les pilotes attendus pour cette 27' édition, le meneur actuel au Championnat Canadien des rallyes, Joel Levac sur sa super Mini WRC, un bolide développé en Europe pour faire la Coupe du Monde. Joel est en pleine possession de ses moyens et il connait sa voiture comme si il l'avait conçu lui-même. Copiloté par sa conjointe, Stéphanie Lewis, ils forment un duo très homogène. Karel Carré le champion 2019, copiloté par
Samuel Joyal sur Subaru STI sont aussi à craindre pour les autres compétiteurs. Leur voiture préparée avec minutie par l'extraordinaire écurie Test Racing, est reconnue pour être performante et fiable. Sébastien Clark, Jean Sébastien Besner, Jérôme Mailloux, Marc Bourassa, les frères André et René Leblanc sont tous des prétendants à la victoire. Nous n'avons pas encore la liste des inscrits, mais il pourrait se rajouter des noms
prestigieux puisque cet événements attirent des pilotes de renom.
Un ancien pilote des années 90, Yves Barbe qui a fait un retour en compétition au dernier rallye Baie des Chaleurs en juin dernier, après 15 ans d'absence, sera également au Défi, à bord d'une Subaru STI 2006, préparée par Test Racing. Après avoir terminé 12' au Baie des Chaleurs, Yves est resté sur sa faim. Quelques crevaisons ont ralenti sa course et il aimerait voir, si il peut compétitionner avec la nouvelle génération des
pilotes aguerris du Championnat Canadien. Âgé de 66 ans, Yves sait très bien qu'il devra redoubler d'effort pour être à la hauteur. Avec ses 28 victoires dans ses belles années, Yves sait très bien, c'est quoi l'euphorie de terminer 1'. Même s'il est là pour s'amuser, comme il dit, on sent très bien qu'il est compétitif et qu'il voudra s'imposer face aux meilleurs.
Venez vivre un événement unique sur place. Consulter rallyedefi.com pour connaitre les
forfaits spectateurs.
The Challenge Rally will be held in the beautiful region of Montpellier on 6-7 September next. This event is legendary because it owes its creation to the old rally Critérium du Québec, which was an international rally event of the World Cup in the 70's. These letters of nobility were built over the years by becoming the Ste-Agathe Challenge, with a very exciting special which was the Tour du Lac (Lac des Sables). First this event was
special for the spectators where they would rushed to see cars go around the bend in controled slides. With the populations that settled over time around the lake, this special has been abandoned for security issue. The Challenge Rally is now moved over to the North West. But it remains a unique event.
Big names have raced the challenge rally. We think of the legendary John Buffum, Carl Merrill, Frank Sprongl, Tom McGeer. In 2012, Ken Block won the Challenge. Antoine L'Estage, Patrick Richard and Jean-Sébastien Besner made their mark as well.


So, the drivers expected for this 27th edition, the current leader of the Canadian Rally Championship, Joel Levac on his super Mini WRC, a racing car developed in Europe to make the World Cup. Joel is in full possession of his means and he knows the car as if he had designed it himself. Co-piloted by his partner, Stéphanie Lewis, they form a very homogeneous duo. Karel Carré the 2019 champion, co-driven by Samuel Joyal on Subaru STI are also to be feared from the other competitors. Their car carefully prepared by the extraordinary Test Racing team which is known for being efficient and reliable.
Sébastien Clark, Jean Sébastien Besner, Jérôme Mailloux, Marc Bourassa, brothers André and René Leblanc are all contenders for victory. We do not yet have the list of registered, but their could be some big names added  since these events attract renowned drivers. A former driver of the 1990s, Yves Barbe, who made a comeback to the national rally scene at the rally Baie des Chaleurs last June, after 15 years of absence, will also be at the Challenge, aboard a 2006 Subaru STI, prepared by Test Racing.
After finishing 12th at the rally Baie des Chaleurs, Yves remained unsatisfied. Some punctures had slowed his pace and he would like to see if he can compete with the new generation of seasoned drivers of the Canadian Championship. At 66 years old, Yves knows very well that he must redouble his efforts to be up to the task. With his 28 victories in his beautiful years, Yves knows very well, what is the euphoria to finish 1 '. Even if he is there to have fun, as he says, we feel very competitive and we will want to win against the best.
Come see the live event. Click on the following link rallyedefi.com for spectator packages.
Comments
comments