Textron & Busch Confirm Truck Schedule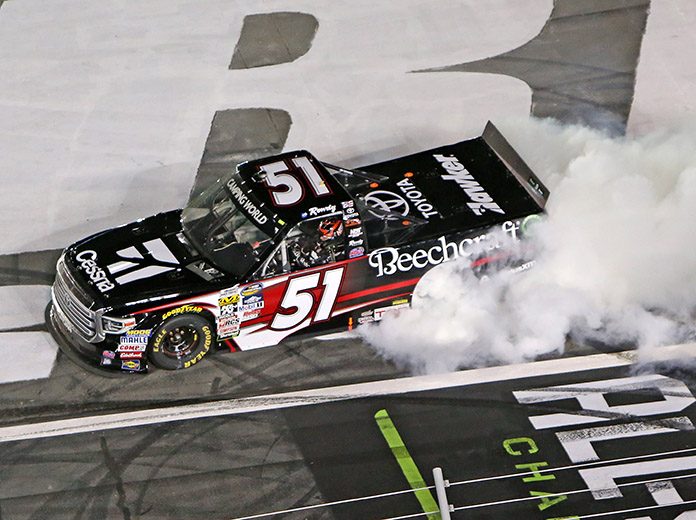 Kyle Busch will enter five NASCAR Camping World Truck Series races in 2018 with sponsorship from Textron Aviation. (HHP/Tami Pope Photo)
MOORESVILLE, N.C. – Kyle Busch will enter five NASCAR Camping World Truck Series events this year with sponsorship from Textron Aviation.
Busch will enter two races in the No. 4 Toyota Tundra and three events in the No. 51 Tundra. KBM will promote Textron Aviation's Cessna and Beechcraft brands through the partnership.
"Our partnership with Textron Aviation and the Cessna and Beechcraft brands got off to a great start last year with two trips to victory lane and we have our sights set higher this year," Busch said. "There are a couple of really cool things happening with my truck schedule this year — two of my races will be in the No. 4 Tundra, which was the number on my first Legends car back at the Bullring, and I'll also be racing a truck at Las Vegas for the first time since 2001. It's always fun to race in my hometown and it's the only active track on the Truck Series schedule where I've made a start and haven't visited victory lane — so hopefully we can change that in March."
Busch enters the new season second on the Truck Series all-time win list with 49 victories and is two wins shy of moving into a tie for first. Busch collected three wins, four top-five and five top-10 finishes across seven Truck Series starts in 2017.
Busch will make his 2018 Truck Series debut Feb. 24 at Atlanta Motor Speedway behind the wheel of the No. 4 Tundra and will also race for the No. 4 team May 11 at Kansas Speedway in Kansas City. His three races for the No. 51 Tundra team will be March 2 at Las Vegas Motor Speedway, May 18 at Charlotte Motor Speedway and July 28 at Pocono Raceway.
Source :speedsport.com
Comments
comments