Roush Fenway Debuts Xfinity No. 60 Paint Scheme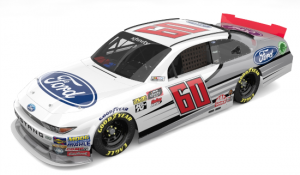 The new look for the Roush Fenway Racing No. 60 Ford Mustang in the NASCAR Xfinity Series.
CONCORD, N.C. – The No. 60 Ford Performance Ford Mustang for Roush Fenway Racing will hit the track at Daytona Int'l Speedway for the first NASCAR Xfinity Series race of the season on Feb. 17 with a new design.
The scheme features a gray and white color combination, with hints of red highlighting the number and spoiler. Ford development program drivers Chase Briscoe, Austin Cindric and Ty Majeski will share the ride for the duration of the Xfinity Series season.
"We're excited about our team of young Ford drivers in the No. 60 Mustang," said Mark Rushbrook, global director, Ford Performance Motorsports.  "Having this great collaboration between Roush Fenway, Team Penske and Ford Performance is certainly unique in the sport, and we think getting Austin, Ty and Chase together to try and win a XFINITY team championship, while developing their skills as NASCAR drivers will be fun to watch.  There's already great chemistry there, and they'll help push each other to be even better going forward."
The development team, known as #TheProgram60, is designed to continue the progression and development of the three drivers with collaboration from Ford Performance and Team Penske. The trio will look to build on the rich history of Roush Fenway's No. 60 that includes a NASCAR record 93 wins and almost 16,000 laps led.
NASCAR Hall of Famer Mark Martin was a dominating fixture in the car in the 90s and Carl Edwards, Greg Biffle and Chris Buescher each drove the car to Xfinity Series championships.
Source :speedsport.com
Comments
comments