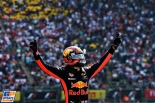 9:00 – F1 drivers answer hundreds of questions at each Grand Prix, but how much do we know about their lives away from the track? GPUpdate.net is on a mission to find out more, continuing with Max Verstappen.
Describe your perfect day…
My perfect day is winning a Grand Prix! (Smiles).
What's the best decision you've ever made?
To start go-karting!
What's the biggest mistake you've ever made?
I guess crashing in the pit lane – in America in 2014 (Florida Winter Series).
How long do you spend getting ready in the morning?
15 to 20 minutes.
Romain Grosjean is still the leader on four minutes…
Ahh, it depends, if you really… for sure not every day is like that. When you have to hurry I can do it in five minutes as well. You like to take your time a bit as well, looking at your phone and stuff.
Do you prefer a lie in or an afternoon nap?
A lie in! I like to sleep long… (Smiles).
Do you prefer a night in or a night out?
It depends, actually! It depends with who you are with, so it can be both.
Who would join you for a night in, and on a night out?
Again, it also changes… it can be also with the guys who you have a night out with, but it depends on the situation as well. I like both.
What's worse, a traffic jam or airport queuing?
Queuing at the airport – I don't like that!
How do you kill time at an airport?
By arriving just on time so you don't need to kill time! (Laughs).
What's the funniest thing you've ever done?
You mean here (in Formula 1)? It was the caravan thing with the car – that was good fun!
What would your karaoke song be?
Maybe something of Michael Jackson – Billie Jean.
How many languages can you speak?
Three: Dutch, German and English.
Which language would you most like to learn?
Mmm…
Don't say Italian, because you have just re-signed with Red Bull…
Ah, it has nothing to do with that! Maybe French and Italian, because when you speak French you can understand a bit of Italian, so you could combine those.
Street circuit or permanent circuit?
Permanent! I enjoy it more.
Can you push more?
Yeah!
Which is your favourite Grand Prix on the calendar?
Spa! It's because of the track itself, it's very flowing, not too much stop/start, and then with the fans around…
If you could add a circuit to the calendar, which would it be?
I would maybe like to try out Turkey, Istanbul Park.
Zandvoort or Assen?
I would go for Zandvoort.
Not just because of the Jumbo Race Day?
That has nothing to do with the track!
Do you prefer sweet or savoury food?
I would go for savoury. In general I prefer more like pasta and stuff, than sweets.
One meal, one drink. What would you choose?
A carpaccio and a Red Bull.
What's your favourite film?
I saw a really good one in the plane towards here [Abu Dhabi], My All American, which is about a college football player in America – it's a great movie.
What's your favourite TV show?
I don't have…
No Netflix?
I have Netflix… I really like Narcos, but that's the only series that I've watched.
What's your favourite book?
I don't have… I don't read books!
What's your favourite band?
I don't have a favourite.
Any dance music pre-race?
I like it, but I don't have a favourite. I like to listen to a lot of music.
What's your favourite catchphrase?
I think lately it's 'Simply Lovely'!
How did you come up with that?
I cannot tell you… (Smiles).
Are you going to make some t-shirts out of that?
I already have!
Where can we buy these shirts?
Only I have them…
Countryside or city?
Countryside. I don't like the city in general to live.
Summer or winter?
Summer!
If you had to take one driver to a desert island with you, who would it be, and why?
Daniel [Ricciardo]! (Smiles).
He said you as well, so it's a match made in heaven…
Yeah, it's unbelievable! It's like a romance almost. (Laughs).
And if you had to pick one driver not to come with you?
I'm not going to say that! I don't want to piss off anyone!
Who's the funniest team-mate you've ever had?
Daniel! He's very funny. My friends that have been my team-mates in go-karting, but recently it's Daniel.
What's an average day with Daniel like? What do you do?
Laughing! About anything. We talk about videos, pictures…
Is it becoming a real 'bromance'? Do you hang out with him?
Not at home, because we always have our own schedules. When he has free time, he wants to visit people… he wants to go back to Australia and stuff. I see him more on the track and just have a good time.
Who's the best driver you've raced against who didn't reach F1?
Mmm. I would go for Marco Ardigò and Paolo de Conto in go-karting. They were like 26 or 27, and I was 15, so they had a lot of experience, so they were the hardest ones to beat.
What's your best ever overtake?
I think Brazil (in 2016) in general, around the outside (of Nico Rosberg at Turn 3), because it was quite tricky, or Spa, around the outside (of Felipe Nasr at Blanchimont), or in go-karting once I overtook two guys in one corner.
And that's just natural feeling? Can you plan these things?
Yeah, you start planning… You're like, 'OK, well my line is quite alright around the outside', then you say, 'Oh, I'm actually quite a lot faster', so you go for it. It's like instinct.
What's your best ever race?
Malaysia and Mexico (in 2017).
And outside of Formula 1?
Varennes in 2013 (karting). It was my best ever weekend as well, because I qualified on pole, six heat wins, pre-final and the final.
What's the weirdest question you've ever been asked?
Well, the weirdest thing was having to sign a passport. I'm not even sure that's allowed! It was where they normally give the stamps.
Interview by: Mike Seymour / René Oudman
Source :http://feeds.gpupdate.net
Comments
comments