Nine Nations To Be Represented In Scholarship Shootout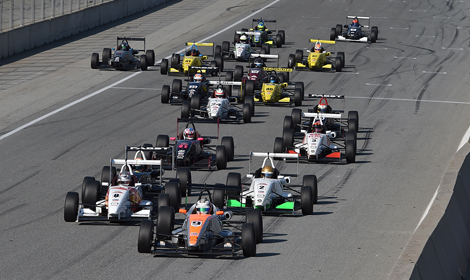 The USF2000 Scholarship Shootout will take place this weekend in Arizona. (USF2000 Photo)
PALMETTO, Fla. – A young racer's life will change this coming weekend as 17 drivers representing nine nations and four different continents vie for superiority in the Mazda Road to Indy USF2000 Scholarship Shootout.
The second annual event will take place at the Bondurant Racing School in Chandler, Ariz., just outside of Phoenix.
A Mazda Scholarship valued at $200,000 is on offer to ensure entry into the Cooper Tires USF2000 Championship Powered by Mazda, in 2018.
USF2000 is the first rung of the proven and highly acclaimed Mazda Road to Indy Presented by Cooper Tires open-wheel development ladder which provides Mazda Scholarships at every level to allow talented young drivers to progress all the way from the grassroots of the sport to the Verizon IndyCar Series and the Indianapolis 500.
Last year's inaugural Mazda Road to Indy Scholarship Shootout was won by Florida teenager Oliver Askew, who went on to claim this year's USF2000 championship title with Cape Motorsports and secure a second Mazda Scholarship which will allow him to graduate onto the next step of the ladder, the Pro Mazda Championship Presented by Cooper Tires, in 2018.
In total, 20 championships were offered Shootout entry tickets to award their champions, with an eligibility requirement that drivers be between the ages of 14 and 25 on Sept. 30.
The 17 contestants, listed below with their age, hometown and affiliation, have earned their opportunity to chase one of the most coveted prizes in all of junior open-wheel racing via a worldwide network of official feeder series:
Spencer Brockman, 17, Westport, Conn. – SCCA Formula Atlantic
Manuel Cabrera, 17, Mexico City – Formula Panam
Matthew Cowley, 20, Manchester, England – F1600 Formula F Championship Series
Jake Craig, 20, Mission Viejo, Calif. – At-Large Entry determined by eKartingNews.com
Keith Donegan, 20, Dublin, Ireland – Formula Ford Festival
Mitch Egner, 25, Victoria, B.C., Canada – Pacific F2000 Championship
Elliot Finlayson, 21, Yorkville, Ill. – SCCA National Championship Runoffs
Olin Galli, 21, Rio de Janeiro, Brazil – Selectiva de Kart Petrobras
Aaron Jeansonne, 19, Sulphur, La. – Team USA Scholarship
Jonathan Kotyk, 23, Atlantic Beach, Fla. – Team USA Scholarship
Liam Lawson, 15, Pukekohe, New Zealand – New Zealand Formula Ford Championship
Ross Martin, 16, Kilmarnock, Scotland – Beatson's Scottish FF1600 Championship
Niall Murray, 22, Dublin, Ireland – Northern Ireland Formula Ford 1600 Championship
Jamie Thorburn, 19, Duns, Scotland – Formula Ford 1600 SuperSeries
Max Vidau, 16, Adelaide, Australia – Australian Formula Ford Championship
Carter Williams, 19, Clovis, Calif. – Formula Car Challenge Presented by Goodyear
Oliver White, 25, Bath, England – Walter Hayes Trophy for Formula Ford 1600
The shootout will take place over two days, Dec. 9-10, at the full 1.6-mile road course at Wild Horse Pass Motorsports Park. Drivers will compete in a fleet of identically prepared Formula Mazda cars fitted with Cooper tires.
An assessment of all 17 drivers will be undertaken by a panel of judges comprising of Scott Goodyear, Jonathan Bomarito, Andrew Carbonell, Tom Long, Askew and Victor Franzoni.
"Oliver Askew is proof of what this event can provide," said Kyle Kimball, manager of operations for Mazda Motorsports. "He won the Shootout and then went on to win another Mazda Scholarship as the USF2000 champion. The Shootout brings the most talented drivers from around the globe to find who will become the next Mazda scholarship winner, and we can't wait to see which of these young drivers will prevail."
The winner of the Shootout will be announced at the conclusion of on-track activities and judging deliberations.
"This year presents another outstanding driver line up for the Shootout," said Dan Andersen, owner and CEO of Andersen Promotions. "All of these drivers have impressed with their talent, and the judges are going to have a difficult decision to make on Sunday. This event is very special. It is tremendous to see rising stars from around the world come together, and I have to thank Mazda for its commitment to the next generation of racers."
Source :speedsport.com
Comments
comments