Americans Impress At Walter Hayes Trophy Event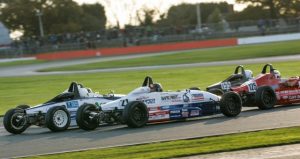 American drivers Jonathan Kotyk and Aaron Jeansonne were impressive during the Walter Hayes Trophy event at the Silverstone Circuit.
SILVERSTONE, England – Another frenetic day of Formula Ford racing at the Silverstone Circuit ended Sunday with Team USA Scholarship representative Jonathan Kotyk claiming a hard-fought sixth-place finish in the 17th annual Walter Hayes Trophy Grand Final.
Kotyk, 23, from Atlantic Beach, Fla., remained in the thick of the action all weekend – including a fine victory in Saturday's Heat Race, which was finally confirmed this morning – and carried the torch alone after 19-year-old teammate Aaron Jeansonne, from Sulphur, La., was unfortunately eliminated in the Progression Race.
Kotyk's performance in his Cliff Dempsey Racing-run Ray GR15 from an original field of 116 entries capped an impressive weekend for the former karting star who has turned many heads during his first season of car racing. As a measure of the competitiveness of the FF1600 field, no fewer than 23 of the 36 drivers who qualified for the 15-lap Grand Final posted lap times within a half-second of each other.
Chilly but bright and sunny conditions greeted the competitors for this morning's curtain-raiser, a 10-lap Progression Race for which Jeansonne started 22nd following his incident yesterday. The youngster rose to seventh on the second lap but was unable to avoid a collision in front of him which sent his car skyward, then into a spin.
Despite rejoining in a seemingly hopeless situation, Jeansonne posted comfortably the fastest lap on a still-damp circuit before taking the checkered flag in seventh – just .425of a second away from a transfer position.
The focus then shifted to Kotyk, who lined up second on the grid for the first of two Semi Final rounds. Following a race-stopping accident which eliminated pre-event favorite and defending winner Niall Murray, Kotyk fought some handling difficulties during the 12-lap race before finishing strongly in fifth, less than a second behind race-winning Englishman Josh Fisher.
"We were missing a little in the car in the Semi," said Kotyk. "It cost us some but a row five starting position for the Grand Final is good. I'm glad to keep the car up front and ready to fight hard."
Kotyk duly started 10th in the Grand Final which saw well over 20 cars battling in nose-to-tail or side-by-side formation for the majority of the distance. The race eventually distilled into a two-car battle between a pair of local veterans as Michael Moyers finally claimed his first Walter Hayes victory by just .256 of a second over Fisher.
Fellow Englishman James Raven, driving another Cliff Dempsey Racing Ray in his first event of the season, held off Irishman Kevin O'Hara for the final podium slot, while Kotyk, in sixth, finished directly behind Chris Middlehurst and narrowly ahead of fellow British FF1600 veterans Luke Cooper and Matt Round-Garrido.
"What a final race," said Kotyk. "There was non-stop action going into each corner. Starting 10th I knew it would be a tough race so I needed to push every lap. I had a good start off the line and from there worked my way forward. Everyone was so even up front it was a battle to the finish. It feels good to bring home a sixth-place finish against the talented field. Great result today for Cliff Dempsey Racing to bring home two cars in the top six. Any of the top 15 could have won. This has been an amazing experience and I have learned so much. I am very grateful for the opportunity."
Source : speedsport.com
Comments
comments