Rick Ware Racing Acquires Cup Series Charter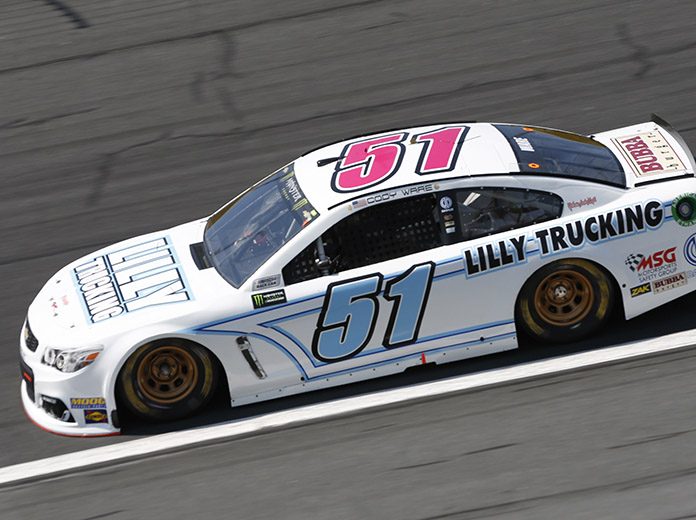 Rick Ware Racing has acquired a charter ahead of the 2018 Monster Energy NASCAR Cup Series season. (HHP/Ashley Dickerson Photo)
THOMASVILLE, N.C. – Rick Ware Racing has acquired a Monster Energy NASCAR Cup Series charter, which will guarantee the team entry into ever race next season.
The team will campaign the No. 51 entry full-time beginning with the 60th Daytona 500 on Feb. 18. The Thomasville, N.C.-based team also plans to field an open car, the No. 52, throughout the season.
Additionally, Rick Ware Racing is upgrading their current 20,000 square foot shop to include updated equipment and personnel, including engineering support on and off the road. The team will have continued support from associate sponsors Lilly Trucking, Keen Building Systems, Bubba Burger and Spoonful of Music.
"Rick Ware Racing is going into our 27th year and we are more excited than ever," said team principal Rick Ware. "The Lord has blessed us with some great opportunities and alliances.
"We're dedicated to improving our program from top to bottom during the offseason and with a charter, it brings a lot to the table not only for our drivers but our partners too. We're looking forward to making 2018 one of our best seasons yet."
The team will also be building and acquiring cars throughout the off-season and will have Chevrolet Camaros, Ford Fusions and Toyota Camrys at their disposal throughout the season.
Drivers for the No. 51 and No. 52 entries have not been announced. The team qualified for 29 Monster Energy NASCAR Cup Series races last year with six different drivers taking turns behind the wheel of the No. 51 entry. Timmy Hill had the best finish for the team last year, finishing 28th at Kansas Speedway.
Source :speedsport.com
Comments
comments