Eggleston Joins DGR-CROSLEY Truck Program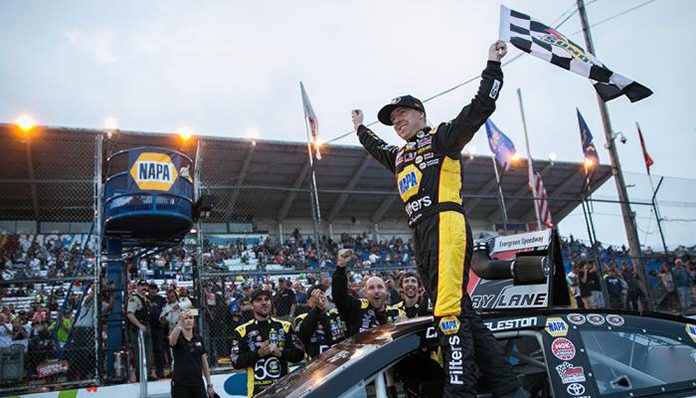 MOORESVILLE, N.C. – David Gilliland Racing and the CROSLEY Sports Group have hired Chris Eggleston to drive the No. 17 Toyota Tundra in select NASCAR Camping World Truck Series events.
Eggleston finished second to Bill McAnally Racing teammate, Todd Gilliland last year in the NASCAR K&N Pro Series West. The 2015 NASCAR K&N Pro Series West champion registered four victories last year in addition to four poles.
"Although DGR-Crosley will be new to the truck side of things from an ownership perspective," Eggleston said. "I feel very confident that we will be running up front, especially with the new trucks from Red Horse (previously known as Red Horse Racing) and support from TRD. It proves David (Gilliland) and his team are committed to their truck program and I'm really looking forward to be a part of it and help make it grow."
Eggleston cut his teeth in quarter midgets, moving his way through the ranks of Legends cars, super late models and dabbling in the truck series in 2010. It's been eight years since his last Truck Series start and he said he's looking forward to kicking off his season at Charlotte Motor Speedway in May.
"I'm excited to race at the tracks we've picked this year, starting with Charlotte," Eggleston said.  "With my past limited truck starts, Charlotte was one of my favorite places to race so what better place to start.  It's also the heart of NASCAR and DGR-CROSLEY's home track."
Eggleston is no stranger to the Gilliland family as he and Todd Gilliland were teammates for two years at BMR, competing against each other for the K&N Pro West Series championship.
"We are excited to have Chris join our DGR-CROSLEY team and drive our truck for a few races," said David Gilliland. "We've watched him race on the west coast, he is a West Series Champion after all and brings some experience to the table.  As we navigate the first few races with a newly formed team, we are confident he will work hard and give us great feedback to learn and grow together."
Source :speedsport.com
Comments
comments