It's Time For The Euro NASCAR Finals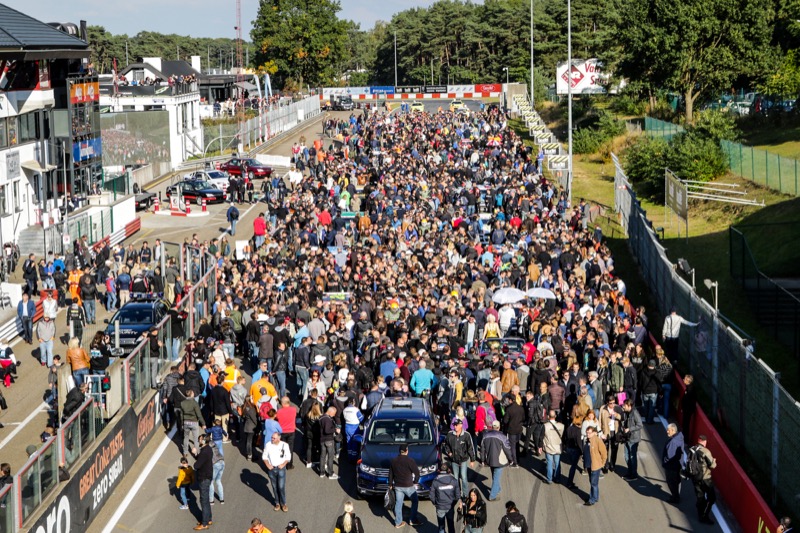 The NASCAR Whelen Euro Series title is on the line: four drivers from four different countries and four different teams separated by 53 markers and still 192 points to win at the historic Circuit Zolder. NASCAR Whelen Euro Series / Stephane Azemard
European NASCAR Champion Will be Crowned at Circuit Zolder
The NASCAR Whelen Euro Series title is on the line: four drivers from four different countries and four different teams separated by 53 markers and still 192 points to win at the historic Circuit Zolder. This is the challenge the NWES contenders will face in the NASCAR GP of Belgium this weekend in the NWES season Finals.
With a dominating performance in the Semi Finals, Alon Day catapulted himself from third to first in the ELITE 1 Division standings and will enter the Finals weekend with 37 points on runner-up Borja Garcia,  who's followed by on two-time Champion Anthony Kumpen and Frederic Gabillon.
Together with the chance to control his own fate, the Israeli will get all the added pressure of being the only contender with something – a giant something – to lose at Zolder and he's reacting by focusing exclusively on himself.
"The best defense is a good attack. We come from a very strong weekend in Italy and we definitely want to keep that momentum going in the Finals and win in Zolder too," said Day, who won twice at Zolder in 2015 and scored two poles at the Belgian track. "I will use the same strategy as in Italy, trying to do our job and be the quickest, going for the pole position and staying out of trouble in the races."
For the other three contenders, options are pretty scarce as they are in position that will grant the fans the best possible show. They all have to win both races and hope for rivals to take points away from Day.
"I think Kumpen will be the hardest to beat at his home track in Zolder, but Day has a good margin and if he manages not to lose ground in the first race, life will be easier for him on Sunday," said Garcia, who lost the points lead at Franciacorta after scoring four wins and one pole in the regular season and was forced to retire while leading the last race of 2016. "A lot will depend on how we start the weekend in free practice. If we'll be fast from the beginning I think we can have our say."
After winning the title in 2016 in front of his crowd and NASCAR legend Jeff Gordon, Kumpen will be forced to a different approach this year. The Belgian has three wins and two poles in a season characterized by excellent performances and bad luck.
"Going to Zolder in third place instead of first is a lot less stressful for me. I can go there in full attack mode, I don't have to defend or look at the points while racing. It's all or nothing, we have to win both races and I can't wait to get started," said the 2014 and 2016 Champion, who has one win on his home track. "I hope I will be the man to beat. Obviously with the current points situation everybody will be fighting Day and for him it will be more difficult. I'm not going to look at Fred or Borja, I have to stay as far as possible ahead of Day. That's it."
On the other hand, it will be business as usual for Gabillon, who found himself in a must-win situation in the Finals multiple times and came just a little bit short twice.
"I have no other possible strategy. As always in my career, I have to win in the Finals.  I will try to win the first race and that's the only possibility for me, but the level is very high and it won't be easy," said the Frenchman, who scored a win and a second place in the 2016 Finals. "Sometimes you win, sometimes it's more difficult, so I'm living my life as usual. With RDV Competition we worked hard on the car to have it in the best possible shape for Zolder and we'll give it all, as we always do!"
Defending NWES Champion Anthony Kumpen provided further insight about one of the key factors to triumph at Zolder: adapting to the changing conditions.
"It is going be colder than the last couple of seasons. There's a lot of wind bringing sand on track on one side and on the other side there will be leaves falling from the trees. Laps will be probably slower and it will be more difficult to adapt with less grip," said the Belgian,  who comes from the nearby city of Hasselt and features a record number of wins in the 24 Hours of Zolder in his broad resume. "Finding the best setup quickly in the short practice time we have will absolutely fundamental."
If your heart rate didn't skyrocket yet, consider also that there will a strong lot of drivers eager to close the season on a high note, from Marc Goossens, who went on the podium in 2016, to 2010 Champion Lucas Lasserre and  the four Junior Trophy contenders, all looking for their first ELITE 1 win: Salvador Tineo Arroyo, Stienes Longin, Gianmarco Ercoli and Thomas Ferrando.
Whoever will win, it will be an unforgettable show for the fans, both those that will crowd the Circuit Zolder to enjoy an event growing bigger and better every year and those who will follow the races on Fanschoice.tv and the NASCAR Whelen Euro Series Facebook Page.
Start your engines!
Credits: Motorsport Media Promotion / Nico Mombaerts
Source :http://hometracks.nascar.com
Comments
comments