Sizzling Battle For Event Championship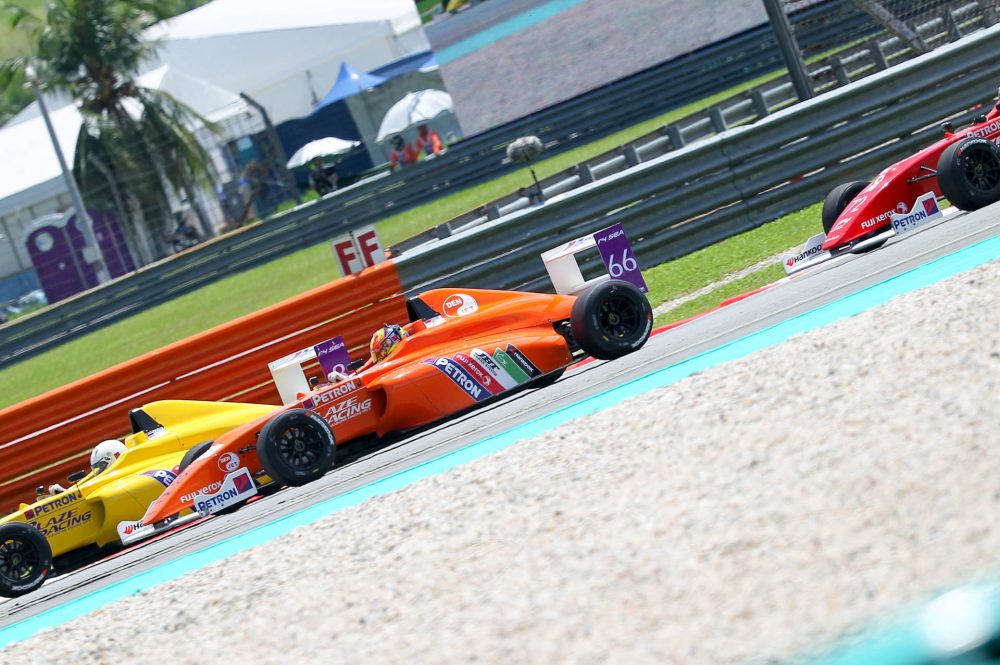 Daniel Cao sizzled in the heat of Sepang when he won the opening two races of the FIA Formula 4 Southeast Asia Championship – certified by FIA, yesterday.
The Chinese driver and the rest of his rivals, however, only completed five laps in Race 3. Singapore's Danial Frost was awarded the victory with Cao second.
With only two more races of the opening round to the second Formula 4 Southeast Asia Championship, Cao is in pole position to become the Event 1 champion after collecting four points.
Frost is second with five points, followed by India's Nayan Chatterjee (12), Thailand's Kane Shepherd (13), Sri Lanka's Eshan Pieris (14), Malaysia's Nazim Azman (15), Ireland's Luke Thompson (23), Thailand's Shivin Sirinarinthon (24) and Indonesia's Perdana Minang (25).
The FIA F4 SEA event champion points are calculated on lowest score with first taking one point and second earning two points and so on.
Cao, who started fourth on the grid after yesterday's qualifying, had a great start in Race 1 to move up to second after the first corner behind pole sitter Frost.
He patiently followed Frost and waited for an opening to attack. He finally nudged in front on the fourth of eight laps.
Once he got his nose in front, the 15-year-old never looked back and widened his lead on the sixth lap where he did a flying 2:12.818s.
That was nearly a second quicker than Shepherd whose best lap was 2:13.816s.
Cao eventually took the chequered flag in 15:20.038 seconds.
Frost trailed in second place with a time of 15:23.692s.
"I enjoyed the dry and hot race. I didn't do a good time in qualifying due to the rain. I spun out before I could push myself in the closing moments," said Cao.
"I was very confident of winning even though I only qualified fourth as I knew I had the pace.
"I had a great start and moved up two spots after the first corner. It was then a waiting game to see how I could overtake Frost."
Pieris was third in 15:28.938, followed by Shepherd (15:29.276) and Nazim (15:30.755).
In the second race, the Chinese sensation clocked 18:03.143 seconds to claim first place once again
Frost was second in 18:08.188s while Nayan Chatterjee improved three spots from Race 1 to finish third.
The Indian driver finished in 18:08.582s.
Nazim came home fourth after an intense battle with Shepherd and Pieris, finishing fifth and sixth respectively.
The trio swapped positions several times before Nazim edged in front on the penultimate lap.
He then pulled away to finish in 18:14.586s. Kane was fifth (18:18.860s) and Pieris sixth (18:19.671s).
Race 3 came to a premature end when none of the cars completed the eight laps.
Asian Autosport Action chairman Peter Thompson said: "I apologise unreservedly for the results of Race 3.
"With Races 2 and 3 back-to-back and without the possibility to top up, we filled the cars for both races before the start of Race 2.
"However we miscalculated the requirements. As we are a one-team championship all the drivers were unfortunately affected."
Races 4 and 5 are before tomorrow's final Malaysian Formula One Grand Prix.
Race 1 Results
Daniel Cao (CHN) 15:20.038,
Danial Frost (SGP) 15:23.692,
Eshan Pieris (SRI) 15:28.938,
Kane Shepherd (THA) 15:29.276,
Nazim Azman (MAS) 15:30.755,
Nayan Chatterjee (IND) 15:36.531,
Perdana Minang (INA) 15:40.519,
Luke Thompson (IRL) 15:45.486,
Shivin Sirinarinthon (THA) 15:52.013
Race 2 results
Daniel Cao (CHN)- 18:03.143
Danial Frost (SIN) – 18:08.188
Nayan Chatterjee (IND) – 18:08.582
Nazim Azman (MAS)- 18:14.586
Kane Shepherd (THA)- 18:18.860
Eshan Pieiris (SRI) – 18:19.671
Luke Thompson (IRL)- 18:25.067
Shivin Sirinarinthon (THA)- 18:32.300
Perdana Minang (INA)- 18:32.442
Race 3 Results
Danial Frost (SIN) – 11:19.495
Daniel Cao (CHN) – 11:22.477
Nayan Chatterjee (IND) – 11:24.541
Kane Shepherd (THA) – 11:24.968
Eshan Pieiris (SRI) – 11:26.043
Nazim Azman (MAS) – 11:34.877
Shivin Sirinarinthon (THA) – 11:37.847
Luke Thompson (IRL) – 11:39.666
Perdana Minang (INA) – 12:26.891
Comments
comments