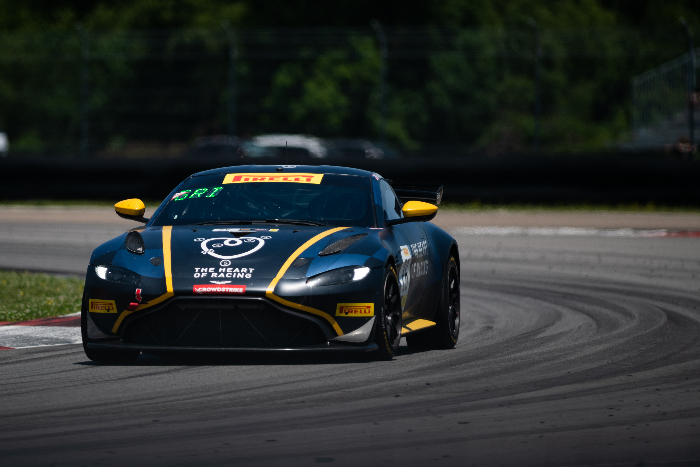 The Heart of Racing (HOR) will head to the Circuit of the Americas (COTA) May 19-21 for the next round of SRO Pirelli GT4 America and GT America powered by AWS competition. The series returns to the Texas track for the first time since 2021, as Gray Newell and the No. 25 Aston Martin team are chasing the championship lead and enter the weekend third in GT America championship points.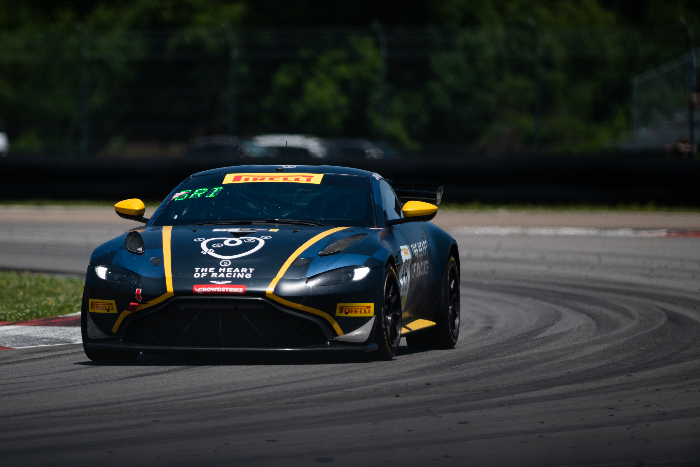 HOR pilots Rianna O'Meara-Hunt and Hannah Grisham will team up in the No. 26 Aston Martin in Pirelli GT4 America AM class. The duo most recently placed thirteenth at NOLA Motorsports park in April after a speed limiter issue took the team out of podium contention. 
"I cannot wait to get back out in our No. 26 Aston Martin," said O'Meara-Hunt. "Hannah and I showed a lot of promise at NOLA and believe we will put it all together at COTA! I am really looking forward to COTA, there's obviously a very big excitement around it as F1 does go there so going from watching the track to being able to race on it will be awesome. I am definitely fully comfortable in the team environment, it being round 3 now I am getting to grips with American racing and procedures so I am able to focus more on my driving and being able to perform."
O'Meara-Hunt will be making her debut at the famed American Formula One-grade facility and will be looking at Grisham for guidance who has had several starts at the track. The Californian has had three podium finishes at COTA while competing in the World Racing League.
"I'm really excited for round 3 of GT4 America at COTA," said Grisham. "COTA is a track that I've been lucky enough to compete at before in a lower class so to come back in a GT4 car will be a great experience. Rianna and I continue to improve with each outing and it's starting to all come together. We have a great car, a great team, and I have a great teammate. It's all about having a little luck on our side now!" 
Piloting the No. 24 Aston Martin GT4 America entry will be Newell and Roman De Angelis. The duo most recently won the PRO AM class at NOLA Motorsports Park last month in their first SRO outing together. 
During the 2021 COTA race, Newell teamed up with HOR team principal Ian James to earn a third place finish in GT4 America. De Angelis will be making a return to the track for the first time since 2020 where he scored the top step of the podium in SRO's now defunct Sprint X Series.
"I'm excited to get back to COTA," said De Angelis. "The first round at NOLA was obviously really good. We were able to grab a win there. I'm looking forward to hopefully doing that again. I haven't been there in a while, but I was lucky enough to win there with Team Panoz. I'm just excited to go back and drive the GT4 Aston Martin again." 
Newell will double his driving duties as he competes in GT America alongside competing in GT4 America. Newell is just 27 championship points behind the GT4 class leader. During the 2021 COTA race weekend earned a fourth in class in his first outing at the Texas track. 
"Moving onto COTA, I've been working on some new technique application that I've been learning from Roman," said Newell. "Having a new perspective from a different teammate has been invaluable in identifying the next important steps in my development into a Silver driver. Unfortunately, NOLA brought some setbacks that were out of our control and I ended up with two results that didn't do justice to my skill or the pace of the car. We are looking to rectify that in Texas."  
The May 19-21 weekend will kick off with practice on Friday followed by qualifying on Saturday for both series. The GT America first race will take place on Saturday at 1:00pm CT, afterwards the GT4 America series will take the green flag at 5:00pm CT. Sunday will include both series' second races with GT America at 8:40am CT and GT4 America at 10:50am CT.
Source. Sunday Group
Comments
comments