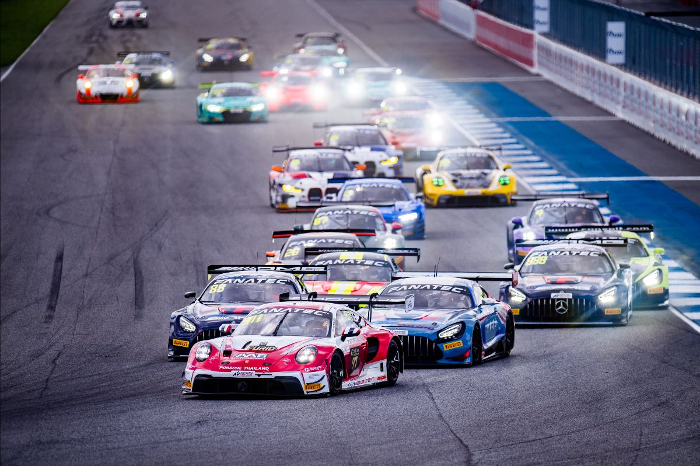 The brand-new Porsche 911 GT3 R (Type 992) made an excellent racing debut in the Asia-Pacific region in the opening round of the 2023 Fanatec GT World Challenge Asia Powered by AWS at Chang International Circuit in Thailand.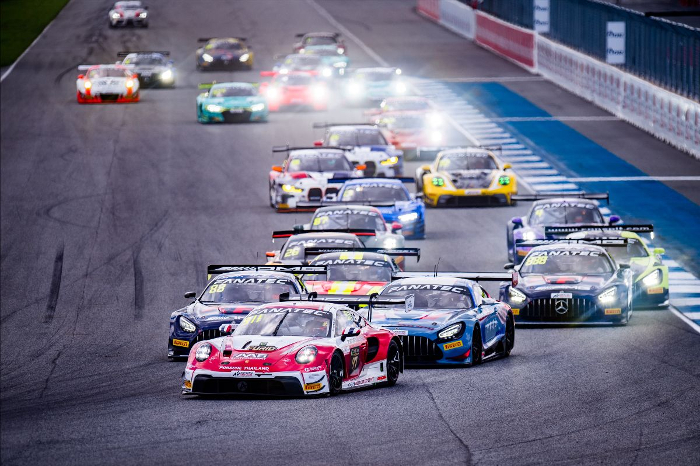 The car proved competitive on the Buriram circuit, with teams and drivers quickly acclimatising themselves to the new machinery. Former Porsche Motorsport Asia Pacific Selected Driver Alessio Picariello took pole position for Race 2 and alongside teammate Vutthikorn Inthraphuvasak, the pair guided the #911 AAS Motorsport by Absolute Racing car to second and third respectively in the two races, enough to hold the GT3 Pro-Am and GT3 Drivers Championship lead following the first event.
 
After a successful debut Porsche Carrera Cup Asia season in 2022, R&B Racing's maiden weekend with Porsche in GT3 racing saw Yuan Bo and Leo Ye taking Silver Class victory in Race 1, finishing third overall, just ahead of teammates Lu Wei and Dennis Olsen, who secured fifth.
 
Bao Jinlong and Alexandre Imperatori were sixth for Absolute Racing, ahead of Porsche Center Okazaki's Yuta Kamimura and Hiroaki Nagai, who made it five Porsche 911 GT3 R (Type 992) in the top seven.
Both HubAuto Racing entries scored points in Race 2, with Morris Chen and Alvaro Parente eighth, ahead of Brian Lee and Hideto Yasuoka, who were racing for the first time in the GT3 category with Porsche, in 10th.
 
Defending GT3-Am champions Andrew MacPherson and Ben Porter earned second in class on Saturday for AMAC Motorsport. EBM Giga Racing's Reid Harker and Setiawan Santoso finished both races just outside the points, in 12th and 11th respectively, while Kiyoshi Uchiyama and Tsubasa Kondo crossed the line 13th and 16th for NK Racing on their series debut.
 
The second event of the championship takes place at Fuji International Speedway on 16-18 June and will mark the start of the Japan Cup. The weekend will see new Porsche entries set to take part, including the Fanatec GT World Challenge Asia debut of the Porsche 718 Cayman GT4 RS Clubsport with Checkshop Caymania Racing.
Fabien Fior, Absolute Racing Team Director: "We're really happy to be on the podium in both races and proud of Vutthi and Alessio for their superb showings. The #992 car also had great pace, but was unlucky to be involved in some incidents out of their control. We're very happy with the performance of the new Porsche 911 GT3 R and looking forward to showing what we can do during the Japanese leg of the season."
 
Alexandre Imperatori, Absolute Racing: "A frustrating weekend overall, we had a strong car but unfortunately we weren't able to convert it into big points. Bao qualified well in Race 1, but he was tagged and spun around in the race. We managed to recover to sixth, although we definitely had the potential for more. On Sunday, we had good pace again and we were on our way to score plenty of points, before I was involved in an accident out of my control which ended our race. We'll stay focused and look ahead to Fuji, the championship is long and a lot can still happen this year."
 
Reid Harker, EBM Giga Racing: "Plenty to absorb for us as a team this weekend. We made steady progress with the car and we're in a better place heading into Round 2 in Fuji. Overall, not the results we were looking for but a lot to learn from a weekend that threw everything at us."
 
Ray Li, R&B Racing Team Principal: "It was a positive Fanatec GT World Challenge Asia debut for the team, with new cars, a new track and constantly changing weather bringing us several challenges, but the efforts of the team and drivers earned us strong results. In the first race, to score a podium and have two cars in the top five was fantastic, and although Race 2 was more difficult for us, we can take the positives, learn from the negatives and strive to give our best in the next event."
 
Leo Ye, R&B Racing: "We knew it would be a tough weekend, but it was also a very valuable one. The team worked really hard to give us a fast car so we're extremely grateful to them. We fought hard on track and were very happy with the podium on Saturday, although in Race 2 we lost out on some good points in an unavoidable collision. We'll come back stronger and we're already looking forward to the next one in Fuji and to show even more speed in the brand-new car."
 
Yuan Bo, R&B Racing: "This championship has such a strong field, we can be very proud of the podium in Race 1. Leo competed really well on Sunday in the first half of the event, but unfortunately we were involved in incidents and didn't score the result we were hoping for. We'll look to improve and continue our progress in Fuji."
 
Dennis Olsen, R&B Racing: "Overall, our weekend was a positive one, the balance of the car was good and we had strong pace throughout. We had a great chance for another top-five result in Race 2 before the contact, but we can be happy with the potential we've shown and aim to improve for the next even in Fuji."
 
Lu Wei, R&B Racing: "I learned a lot this weekend, with the help of my teammate Dennis, from the driving style in the new car to the track characteristics of Buriram, and I developed as a racer throughout the event. The next race weekend is at Fuji, which is also an unfamiliar track for me, but we will continue to push and look to take strong results."
 
Alexandre Gibot, Managing Director Porsche Motorsport Asia Pacific: "It was great to see our customers with their new Porsche 911 GT3 R in Buriram. The car has shown it is both quick and reliable, the teams are happy and we are looking forward to the season ahead. It's a pleasure for us to welcome back several previous customer teams from the Porsche 911 GT3 R (991.2) and to have some new teams join us as well. We were also very proud to bring technical and parts support to all our customers, from both Porsche Motorsport Asia Pacific and Porsche AG. The number of entries and the support we bring really highlights how important the Asia-Pacific region is to Porsche and our commitment to our regional customers. After a strong weekend on track, we're now looking forward to the next event in Fuji and hoping for more success there.
Source. Pole/Photo. SRO Motorsports Group
Comments
comments