RATON RACING BY TARGET REVEALS COSTANTINI, LENZ, FORNÉ FOR BLANCPAIN GT SERIES ENDURANCE 2019 SEASON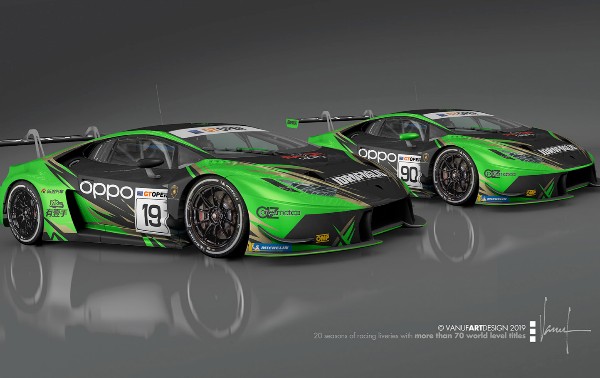 Team Raton Racing by Target is set for a double commitment. After having revealed its two-car line-up for the International GT Open, the Italian squad has confirmed that will field an OPPO-backed outfit Lamborghini Huracán GT3 Evo also in the Blancpain GT Series Endurance.
In the SRO Motorsports' Championship that kicks off in about one week at the Monza track (13/14 April) team Raton Racing by Target aims to the top spot in the Am category.
One of the three drivers is Stefano Costantini, 35-year-old from Rome who returns for the third consecutive season to the Italian team. Costantini was one of the Am front-runners last year in the International GT Open and finished second in the same class at the 24 Hours of Spa-Francorchamps together with Sylvain Debs, Bernard Delhez and Alberto Di Folco.
To share the driving duties with him will be the Spaniard Toni Forné and Swiss Christoph Lenz. The latter will take part for Raton Racing by Target in both Blancpain GT and International GT Open.
Head of Motorsport Lamborghini Giorgio Sanna commented: "The Am category is very interesting for Lamborghini Squadra Corse. Last year we achieved significative results and now we want to grow up more thanks to the teams like Raton Racing by Target and our brand-new Huracán GT3 Evo car".
"We start the Blancpain GT Series challenge with experienced drivers", team owner Roberto Tanca added, "We are ready for another exciting challenge with the Lamborghini in a championship that will count almost 50 cars at opening race".
Folowing the first round in Monza will be the other events in Silverstone (11/12 May), Paul Ricard (31 May/1 June), the 24 Hours of Spa-Francorchamps (27/28 July) and the last race of Barcellona (28/29 September).
Source. Raton Racing
Comments
comments