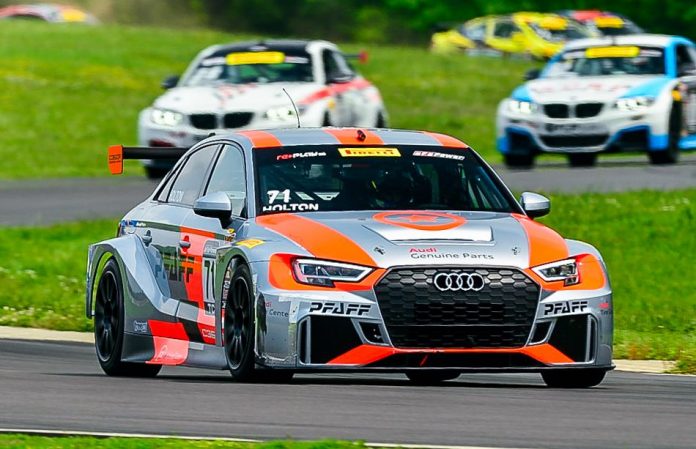 The Pirelli World Challenge will add a new Touring Car division in 2018. (PWC Photo)
AUSTIN, Texas – WC Vision officials have announced the addition of a new Touring Car class for the Pirelli World Challenge in 2018.
The new Touring Car class will be open to eligible models within the cars' full potential performance specifications and a variety of automakers have already shown interest bringing their brands into the class.
This year, Pirelli World Challenge made several models eligible with selected restrictions to compete in the Touring Car category. Audi was the first automaker to bring a TCR-type sedan to the series.
Paul Holton has driven the C360R Audi RS3 LMS car to two victories and currently leads the TC class entering the final rounds at Mazda Raceway Laguna Seca on Oct. 13-14.
"We are very excited about the new machinery now eligible for our new Touring Car class," said Greg Gill, president and CEO of WC Vision. "Our competition and technical staff led by Marcus Haselgrove have worked hard to implement the new cars' manufacturers specs for the new class and we expect additional automakers to join the category this year."
Along with the Audi RS3 LMS sedan, Alfa Romeo has already expressed interest in selling its successful Giulietta TCR sedan for new PWC Touring Car competition. The car is built under an exclusive TCR license by Romeo Ferraris based in Milan, Italy.
The Giuletta TCR car, derived from the road going Giulietta Veloce features a 1750cc, direct injection i4 turbo engine, 350hp, six-speed paddle shift gear-box. The cars will be sold and supported through their U.S. representative British American Motorsport.
For Volkswagen's TCR machine, Volkswagen Motorsport developed the Golf GTI TCR back in 2015.  Golf GTI TCR houses a two-­liter turbo engine with direct fuel injection from the Golf GTI, the latest racing version of which can generate up to 350 horsepower and boasts about 420 of torque. The modifications for the racetrack also include an aerodynamic front splitter and also features racing seats with head protectors, a racing safety cell, and an FIA-approved safety tank.
"This year, we worked with Audi on the progress of its RS3 LMS model to participate in Touring Car and that transition was successful," said Jim Jordan, PWC Touring Car class manager. "Now, with the new TC class, Audi, Alfa Romeo, Volkswagen and several other manufacturers can run their respective TCR cars in the new category with no restrictions like in 2017. We see others coming into the new TC division too in 2018."
Jordan has also been in talks with numerous automakers who have shown interest in the participating with their TCR models including Honda and Hyundai.
"The worldwide interest in TCR cars has grown rapidly in recent months," said Jordan. "I can see a bright future for the new TC class in the coming years."
Jordan said Pirelli World Challenge will have more information available on the new Touring Car class in the near future.
Source : speedsport.com
Comments
comments