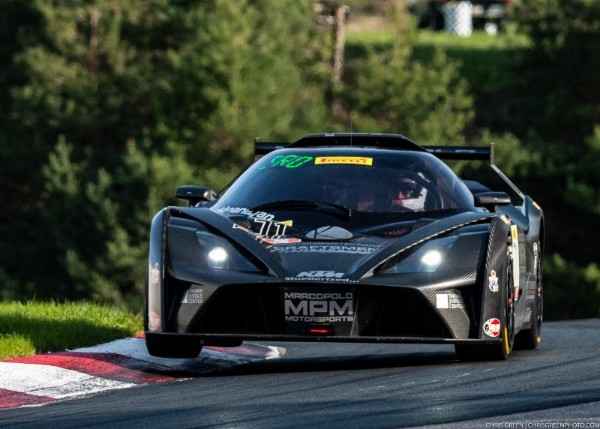 Friday afternoon at Canadian Tire Motorsport Park, sports car driver Nicolai Elghanayan captured the third pole of his World Challenge career for Saturday's Sprint race. The No. 71 KTM X-BOW set a fast lap time of 1:23.465, holding 0.128 seconds over the No. 66 Porsche of Spencer Pumpelly.
Pumpelly jumped to provisional pole early in the session, but Elghanayan dug in, improving his best time with each lap, methodically climbing up the charts from seventh, to second, and then to pole position.
"I could not be happier with the result we had today," said Elghanayan. "Spencer put down a really fast lap time, and I had to give everything our car had in order to catch up to him. It's my first time here, and I'm still learning a lot, but I was able to scrape out a few tenths here and there."
Despite this being his first time at the 2.459-mile circuit in Bowmanville, Ontario, Elghanayan showed quick speed early on, setting the fastest times in practice one and practice two. No. 71 KTM X-BOW, which was delivered to the team a month ago at the Long Beach Grand Prix, is suited well for the rolling road course.
"I know it seems like every time I come to a new track I say it's my favourite, but this track may be at the top of the charts," he concluded. "There's nothing like going into turn five at full throttle in fifth gear, then braking going up the hill. This track has a lot of flowing, high speed corners and it's just exhilarating."
Elghanayan will lead the GT4 America field to green on Saturday at 9:00AM Eastern. The race will last 50 minutes and will not allow for driver changes or non-emergency pit stops. Each competitor's fastest lap of the 50 minute race will set the starting position race two, which will go green on Sunday, May 19 at 4:30PM. Both races will air live on YouTube on the GT World Channel. For more information, visit http://www.gt4-america.com.
Source. KBru Communications
Comments
comments