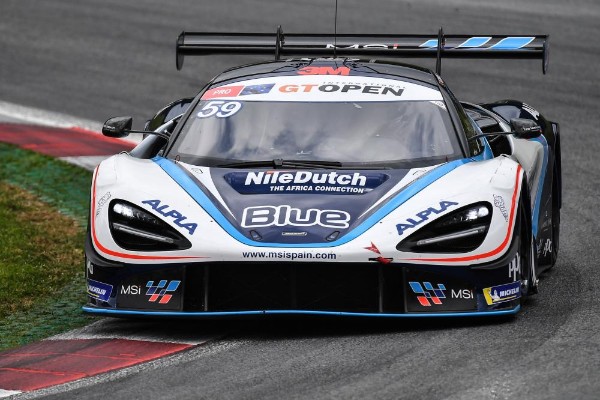 Henrique Chaves achieved an important fourth place today in the second race of the International GT Open's Red Bull Ring round, which allows him to continue in the lead of the Drivers' Standings.
After yesterday's podium, the Portuguese was decided to get another good result today and in the qualifying he showed that he was serious about it, when he signed the second fastest laptime, just 0,059s from the poletime.
Henrique Chaves started well for the race, which was 60 minutes long, keeping the second place after fighting with the polecar during the first lap.
With a 25 seconds handicap, the Portuguese driver showed a very strong and consistent pace, opening a comfortable advantage to the cars behind. However, after the driver change window closed, the number 59 McLaren, now with Martin Kodric, was eighth.
The Croatian driver recovered well, keeping the good pace already showed before Henrique Chaves, and saw the chequered flag in fourth, overtaking the pair's title rivals in the final lap, a move that was possible after the 4 second advantage built up by the Portuguese during his stint.
"I had very strong pace during my stint, as we knew that, with the 25 seconds handicap, with had to attack flag to flag. I was able to open 4 seconds to my followers, but after the pit-stops we were eighth. Martin recovered very well and achieved the fourth position after overtaking our title rivals. It was a very important result", said the Portuguese.
After the Austrian round of the International GT Open, Henrique Chaves and Martin Kodric lead the Drivers Standings with the same points as their title rivals, when there are three rounds to dispute. "It was a good result for the championship and strategically, as we finished ahead of ours rivals and we will have a smaller handicap at Silverstone. Besides, we kept the first place and showed a strong pace. Now, we must keep working hard to be competitive in the next round", declared the Portuguese.
The next International GT Open round will be held at Silverstone at September 7th – 8th.
Source. ComSegue
Comments
comments