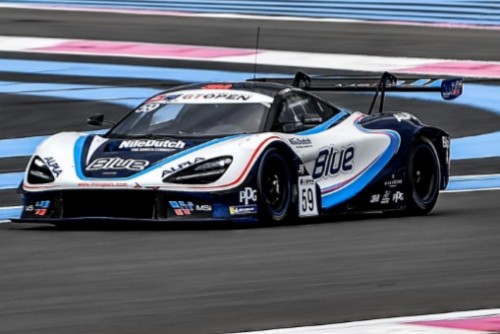 Next weekend, Henrique Chaves will take part in the 2019 International GT Open second round and, after the good start at Paul Ricard, he is confident of good results at Hockenheim, Germany.
The Portuguese youngster starred in the opening round, with a second place in his first race at a GT3 car's wheel. In the second, he and his teammate, Martin Kodric, recovered from a contact in the start that sent them to last to cross the finish line in seventh.
With the results from the Paul Ricard weekend, Henrique Chaves is at the Drivers Championship fourth position, seven points behind the leaders, with thirty points to grab at each event.
Without pit-stop time handicap, after the seventh position in the second race of the French event, the Portuguese is confident for the International GT Open's German event. "In France we showed that we can be competitive, and we were in the leading fight, with a podium in the first race. We know that the opposition is very strong, but we have a word to say. We will give our best along the weekend to replicate the speed that we showed at Paul Ricard", said Henrique Chaves.
The German track, located in the Baden-Württemberg state, it's a new addition to the International GT Open calendar, but the Portuguese driver has already raced there – in 2015 and 2016 when he was competing in the Formula Renault NEC. The experience that he gathered in the track that held thirty-six German Grand Prix editions makes him confident of a good weekend. "I already know the circuit, which is fast and with technical corners. To Teo Martín Motorsport it will be a new track, but it's a real professional team and I'm confident that that won't be a problem. We will work hard to have a competitive McLaren 720S GT3 at Hockenheim and to be at the same level as we were at Paul Ricard", said the Portuguese.
 The official program of the Hockenheim's round of the International GT Open will kick-off Friday, with the practice sessions. Saturday will be held a qualifying session and a race, 15h30 (GMT+1). Sunday will mirror the day before, but the race will be held at 13h00 (GMT+1). The first race will have a seventy minutes duration and the second sixty and both can be followed live at the series [youtube.com/user/GTOPENseries]website
Source. ComSegue
Comments
comments