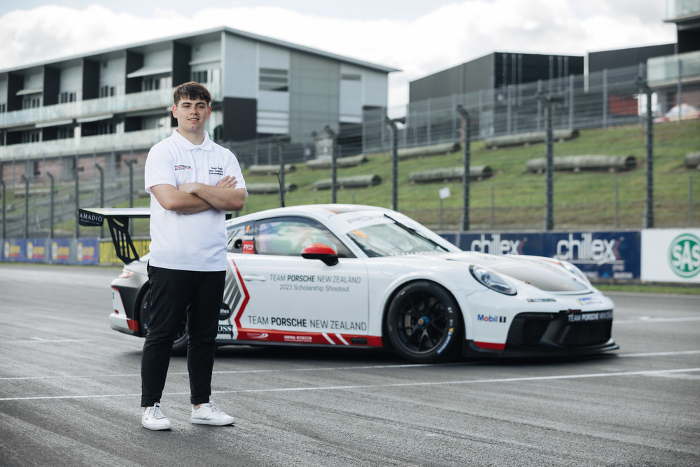 Team Porsche New Zealand (TPNZ) have announced their 2023 Scholarship recipients.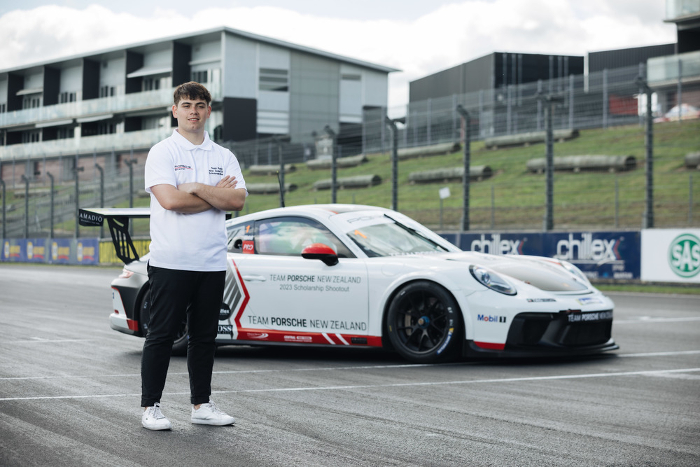 New Zealand Scholarship Shootout in the 991.2 GT3 Cup Car
The shootout event at Hampton Downs Motorsport Park that was held on 11th October 2022, where the five top applicants were invited by Porsche New Zealand to test their skills in the 991.2 GT3 Cup car. The final five finalists for the TPNZ shootout were Kaleb Ngatoa (21), Matthew Mccutcheon (19), Ronan Murphy (21), Ryan Wood (18), and Zac Stichbury (21). At the shootout, the finalists were tested on and off the track at multiple stations including character interviews with Earl Bamber and the Porsche New Zealand team, track testing in the 991.2 GT3 Cup car with analysis with Ben Jenkins from Earl Bamber Motorsport, fitness testing (reaction, cardio, and strength-based tests) with Alastair Wooiton from Formula Fit, mental potential assessment and media interviews with TVNZ Sunday reporter Kristin Hall.
2023 Scholarship Driver Announcement
Porsche New Zealand is pleased to announce that the Carrera Cup scholarship driver for the 2023 season is Ryan Wood. Ryan has graduated from competing in the 2022 Porsche Michelin Sprint Cup Challenge through the scholarship program, to the Team Porsche New Zealand main car for the 2023 Porsche Paynter Dixon Carrera Cup Australia Championship.
In his first year with Team Porsche NZ, Ryan Wood is currently ranked second in the 2022 Michelin Sprint Challenge. The penultimate round of the series takes place this weekend at the Bathurst International.
In addition, it has been announced that Zac Stichbury is the second scholarship recipient, due to compete for Team Porsche New Zealand in 2023 in the Porsche Michelin Sprint Cup Challenge. Following in the motor racing footsteps of his late father Ashley Stichbury, Stichbury won the 2018 NZ Schools Championships and the New Zealand Rotax Max Challenge, before representing New Zealand in the World Grand Finals in Brazil. He has since progressed through Formula Ford and the Toyota 86 Championship. With the recent completion of his degree in Industrial Design at Auckland University of Technology, Zac is moving across the ditch to live in the Gold Coast and start preparing for his debut season with Team Porsche New Zealand in 2023.
Two successful seasons for Team Porsche New Zealand in Australia
After two successful seasons in Australia, Team Porsche New Zealand has already had success in achieving its purpose – winning & creating a pathway for young New Zealand talent to advance in motorsport.
Matthew Payne was the 2021 Team Porsche New Zealand Scholarship driver, in a Covid-19 affected season he achieved two pole positions and a race win. In 2022 Mathew joined Grove Racing as their inaugural inductee into their Grove Junior Team, competing in Super2. In addition, Payne made his Bathurst 1000 debut driving alongside Lee Holdsworth who finished in 6th place in the Grove Racing Ford Mustang GT FN. Payne has since joined Penrite Racing as a full-time driver for the 2023 Repco Supercars Championship.
In 2022, Callum Hedge has been competing for Team Porsche New Zealand in the Carrera Cup Australia scholarship seat and finished as the top ranked Rookie in the Michelin Junior Drivers' standings. Hedge finished the season in 6th place in the Championship after achieving his maiden win in Townsville and a round victory in the final round of the season in the Gold Coast.
Earl Bamber: "This was an amazing opportunity to see five really talented drivers from New Zealand all line up together in the same car, I think it's the first ever time in New Zealand it's been done. It was incredibly hard to judge all five and I think all of them have big careers in motorsport ahead of them. With Ryan Wood continuing with us in Carrera Cup and Zac Stichbury in the Sprint Challenge, we are super excited to have these two young men join us in the scholarship car. I think they are very well deserving and represent the core values of what the scholarship for Team Porsche New Zealand is all about; giving young drivers an opportunity to perform at the highest level and show their talent and skills. We're really looking forward to the 2023 season with both drivers to see what they can achieve. This year Callum Hedge has achieved two round wins, and the same with Ryan in the Sprint Challenge, so I think the talent pool is massive. A huge thank you to Porsche New Zealand for making this possible for young drivers in this country."
Porsche New Zealand General Manager, Greg Clarke: "After two successful seasons competing in Australia, we are proud to continue offering young kiwi talent a pathway in motorsport. Ryan Wood has demonstrated himself as a competitive athlete this year and with the introduction of Zac Stichbury into the team as the Sprint Challenge driver, we are excited to see what 2023 has in store for our scholarship team".
Ryan Wood: "I'm very excited and privileged to continue my journey with TPNZ and EBM next year in the Carrera cup. Following this year's results, I'm looking forward to achieving the same results next year with the ambition to be a title contender again. This year has been a huge success with being a title contender and having race wins and pole positions every round. It's been awesome to work with everyone at TPNZ and learn lots on and off track with their guidance being a huge help. A big thank you to everyone at TPNZ for selecting me and giving me a chance to represent this awesome brand and group of people again!"
Zac Stichbury: "Words struggle to describe how much this means to me, to be selected as a Porsche New Zealand driver and race for Earl Bamber Motorsport next year in the Porsche Michelin Sprint Challenge. To finally get the opportunity to continue from where my late father finished up and to race under the New Zealand based team over in Australia. I am aiming to win the championship as well as improve and grow each race weekend as a driver and with the team. Can't wait to see what unfolds and to learn and take this opportunity with both hands."
About Team Porsche New Zealand
Team Porsche New Zealand was formed by Porsche New Zealand in conjunction with Earl Bamber Motorsport (EBM) in late 2019 to provide young New Zealand talent the opportunity and pathway to advance their motorsport career in Australia. The scholarship programme sees drivers competing in the Carrera Cup Australia which is a key component in the Porsche Motorsport Pyramid, and the feeder series, the Porsche Sprint Challenge.
The team is based in Brisbane and run by EBM, whose principal is two-time Le Mans 24-hour winner Earl Bamber. Earl himself progressed his motorsport career via the Porsche Pyramid through Carrera Cup Asia, Porsche Super Cup, and ultimately as a factory driver for Porsche in both the World Endurance Championship and the North American International Motor Sports Association.
It is intended that each year a scholarship will be offered to support an exciting young New Zealand talent achieving a drive in the Carrera Cup Australia, and a second driver in the Sprint Challenge Australia. The combination of Bamber's international motor racing and Porsche Motorsport experience provides a unique opportunity to develop their skills and succeed.
Source. Porsche
Comments
comments