Continental Tire Challenge to Make History at Season-Opening BMW Endurance Challenge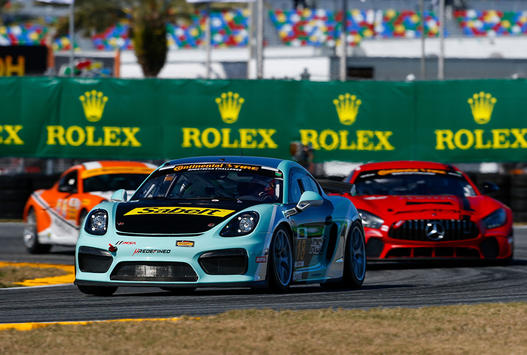 The IMSA Continental Tire SportsCar Challenge will enter a new era of the series' history on Friday, January 26 with the BMW Endurance Challenge at Daytona.
The four-hour endurance race at Daytona International Speedway will introduce several new manufacturers and a new class to the series, with a total of 43 cars competing in Friday's race.
The BMW Endurance Challenge goes green at 1 p.m. ET and can be streamed live on IMSA.tv. A delayed broadcast will also be televised on FS1 on Saturday, February 10 at 8 a.m. ET.
To start, the expansion of Grand Sport (GS) has been unparalleled since the announcement was made in August, 2016 that the class would move to full GT4 specifications beginning in 2018.
Of the seven competing manufacturers, three of which are new for 2018, the largest effort will come from Mercedes-AMG with nine cars in the field. The 2017 Street Tuner (ST) champion, Murillo Racing, has moved up the ranks with long-time drivers Eric Foss and Jeff Mosing, while Team TGM returns with two cars and its classic lineup of Team Owner Ted Giovanis, Guy Cosmo and Hugh Plumb with new addition Owen Trinkler.
New team Winward Racing, formerly partnered with CJ Wilson Racing, fields three Mercedes-AMGs in conjunction with Germany-customer program HTP Motorsport. Former BimmerWorld co-drivers Ari Balogh and Greg Liefooghe also will pilot a Mercedes-AMG for Stephen Cameron Racing, while Ramsey Racing, with Team Owner Mark Ramsey and Alexandre Premat behind the wheel, and DXDT Racing, another former ST team, each will field one Mercedes-AMG race car.
Behind the wheel of two of the seven Ford Mustangs in the field are four NASCAR young guns – Austin Cindric, Chase Briscoe, Cole Custer and Ty Majeski – for Multimatic Motorsports learning alongside Continental Tire Challenge veteran Scott Maxwell. Multimatic has also entered another Ford with former Mazda drivers Chad McCumbee and Pat Gallagher, the latter of which is making his first series start.
After switching midseason in 2017 from a McLaren to a Ford Mustang, Alan Brynjolfsson brings his VOLT Racing team back with Ford with new co-driver and 2014 GS champion Trent Hindman. Two drivers returning to the Continental Tire Challenge for the first time since 2015 – Martin Barkey and Brett Sandberg – will pilot another Mustang for AWA Racing, while three-time 2017 winner KohR Motorsports returns, partnered with Roush Performance, with a two-car effort for regular drivers Jack Roush, Jr., Nate Stacy, and Jade Buford with newcomers Kyle Marcelli and Joey Atterbury.
RS1 has put together the definition of a "winning combination" with 2017 GS champion Dillon Machavern and 2016 ST champion Spencer Pumpelly in the No. 28 Porsche Cayman GT4, one of the two-car effort by the team. The two remaining Porsches in GS come from Bodymotion Racing – defending class champions of the BMW Endurance Challenge and with new drivers Stevan McAleer and Joe Robillard – as well as BGB Motorsports. BGB will feature the first ever father-son driver combination in Continental Tire Challenge history with David and Dylan Murry, and Team Owner James Cox as the team's third driver.
In its GS debut, Audi will also field four cars, three of which are from GMG Racing. GMG features some of the biggest storylines in the Continental Tire Challenge paddock – the Sunoco Challenge UK winner and the son of an internationally-famous guitarist, Rick Parfitt, Jr. in the No. 13 with Daren Jorgensen and series regular Cameron Lawrence, as well as the all-female team of Ashley Freiberg and Polish native Gosia Rdest. The third GMG car features Team Owner James Sofronas alongside former Stevenson Motorsports and WeatherTech Championship driver Andrew Davis with George Kurtz.
A pair of race cars also are entered for Aston Martin, McLaren and BMW.
The two Aston Martins are fielded by Automatic Racing, winners of the most recent four-hour enduro at Mazda Raceway Laguna Seca in September, with Steven Phillips and Al Carter co-driving alongside new addition Aurora Straus in the No. 99, and Rob Ecklin, Jr. and Ramin Abdolvahabi in the No. 09.
Motorsports In Action and Compass Racing return with McLarens after both scored wins with the new car in 2017, at Road Atlanta in October and Circuit of The Americas in May, respectively. For BMW, James Clay has moved up his BimmerWorld Racing ST team to the GS ranks with longtime co-driver Tyler Cooke, and new team Classic BMW/Vess Energy Group is entered with Team Manager Toby Grahovec, Jason Hart and Mike Vess.
In the new-for-2018 TCR class, the car of choice is the Audi RS3 LMS, making up seven of the eight entries.
Compass Racing continues to expand its effort by fielding three Audis, with Mazda Raceway Laguna Seca ST winners Roy Block and Pierre Kleinubing back together, former Mazda WeatherTech Championship driver Tom Long with former Mazda ST driver Britt Casey, Jr. and newcomer Rodrigo Sales partnered with former BMW factory driver and 2017 Petit Le Mans GT Le Mans winner Kuno Wittmer.
Single-car efforts are also fielded by new teams eEuroparts.com Racing and RS Werkes Racing, alongside Murillo Racing and Rumcastle Racing, the lone Volkswagen Golf GTI in the field.
All five cars in the ST class have returned from the 2017 season. MINI, the defending ST winners of the BMW Endurance Challenge with Derek Jones and Mat Pombo, bring a three-car effort and will look to hold off the individual Porsche Caymans from Murillo Racing and Bodymotion Racing, as well as BimmerWorld Racing's BMW 328i with 2016 ST champion Nick Galante in the seat with Devin Jones.
Tickets for Friday's BMW Endurance Challenge can be purchased online at www.imsa.com/tickets.
Source :https://www.imsa.com
Comments
comments