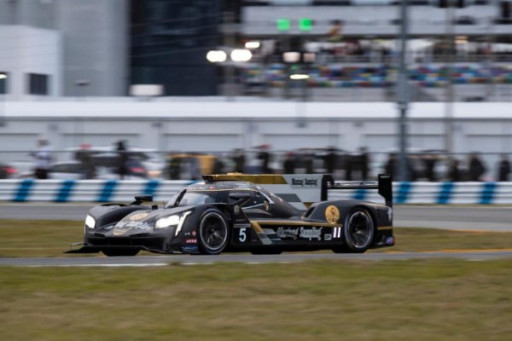 Cadillac Racing teams are ready to take on the historic Sebring Raceway at this weekend's Mobil 1 Twelve Hours of Sebring to run Saturday, March 16. Cadillac teams are coming off of a successful Rolex 24 Hour At Daytona where the Konica Minolta Cadillac team won the race with the Whelen Engineering Cadillac squad coming in a close second.
Konica Minolta Cadillac is bringing on new teammate Matthieu Vaxiviere to the team for the remaining distance races on the IMSA WeatherTech Championship calendar. Vaxiviere is a veteran of sportscar racing in Europe. He will join season regulars Jordan Taylor and Renger Van Der Zande in the No. 10 black Cadillac DPi-V.R. The team is looking to repeat the success at the Rolex 24 and get another winning streak going. In 2017, the first year of the Cadillac DPi-V.R the Wayne Taylor led team won the first five races on their way to the season championship.
"I don't know if our win at the Rolex changes anything with our approach to Sebring," Jordan Taylor said. "Everyone wants to win Daytona and everyone wants to win Sebring. Obviously, these races are part of a bigger picture with the championship, but heading into the weekend, the plan is to go for the win. If we find ourselves in a spot where we can't compete for the win, then we will go into championship mode, but at this point, we want to win another Sebring 12-hour. We won there in 2017 and finished second last year. These endurance races always suit or team's strengths, so I can't wait to get started. Our Sebring test was very positive. It was our first test there with the Michelin tire and our first chance to work with Matthieu (Vaxiviere). It was good to get him some time in the car before getting to the track on race weekend. It's hard to know how we were on pace but, from the driver's seat, we were very happy with how the car felt and the changes we made throughout the test. Matthieu fit in perfectly with the team."
Felipe Nasr and Pipo Derani along with endurance ace Eric Curran are ready for the Sebring challenge in the No. 31 Whelen Engineering Cadillac DPi-V.R. After a second place run at the Rolex 24 the trio will be looking to move up one step on the podium come Saturday in central Florida.
"I've had strong runs at Sebring the past few years, finishing on the podium three times, and I can't wait to go back there and try to get up on the top step!" Curran said. "Sebring is a super-tough race, running from day into darkness with all kinds of changing conditions. I love the new Super Sebring poster with the No. 31 red and white Whelen Cadillac running up front. I feel that's a great omen, and look forward to finishing in front there this year with Felipe and Pipo. The 12 Hours of Sebring is one of America's classic races, and it would be fantastic to come home with the trophy for all the guys at Whelen Engineering."
The Mustang Sampling Cadillac team has brought in F1 and Le Mans winning Brendon Hartley to partner Joao Barbosa and Filipe Albuquerque in the No. 5 Cadillac DPi-V.R for Sebring. Hartley brings a wealth of sportscar experience most recently behind the wheel of the Porsche 919 Hybrid prototype in the World Endurance Championship. The trio will be looking for a strong performance at Sebring to make up lost points from a seventh-place finish at the Rolex 24.
"Last year, we had a good run at Daytona with the Rolex 24 win, and then a tough Sebring," Barbosa said. "So hopefully we can swap those this year! Sebring is a very demanding track and it is the kind of race that you never know what it will throw at you," said Barbosa. "For drivers, and also for the cars, it is a very unforgiving place. The Cadillac is good on the bumps there, but it is a tough one for the drivers. The track is constantly changing, and there are times where you are looking right into the sun going into the last corner, so it is tricky."
The No. 85 JDC/Miller Cadillac DPi-V.R team competed with their yellow Cadillac for the first time at Daytona. The team finished in fifth based up a strong drive by season regulars Tristan Vautier and Misha Goikhberg. The two will be joined by Juan Piedrahita at Sebring who raced in the team's 84 Cadillac at the Rolex 24.
"We had our initial shake down at Sebring back in December," Goikhberg said. "Now we ran the car for a number of days between some testing and Rolex 24, so we have accumulated some good information which will come to use this weekend. I expect us to have improved pace relative to our Rolex 24 weekend. We will need to have good exits out of Turn 7, and 16, have good speed in the turns 3 to 5 section, but I am sure we can extract that out of our car. The Cadillac DPi-V.R. is very good over bumps in 1 and 17. Traffic management is very important to maintain good average pace, and staying out of trouble will be all important parts to have a good performance this weekend. Our Cadillac DPi-V.R is a very comfortable car to drive on long stints because of its tire saving abilities and that butter smooth power delivery."
In the JDC/Miller Motorsports No. 84 Cadillac DPi-V.R Stephen Simpson and Simon Trummer are joined by their endurance partner Chris Miller for the 12 hours. The 84 team had a tough run at Sebring, classified tenth, so they will be looking for a rebound performance at the historic Sebring circuit.
"We are ready for the Sebring 12 hours this weekend," Simpson said. "We learned a great deal over the Rolex 24 weekend and had a good two-day test at Sebring a few weeks ago. We are understanding our Cadillac DPi-V.R better each time out, so our expectations are high heading into the weekend. The JDC/Miller Motorsports guys have been working hard, my team mates, Simon and Chris are ready and we are looking forward to a competitive weekend. Sebring is a very tough race, it is usually hot and humid and with the famous Sebring Bumps, it adds to the challenge. We will setup are Cadillac DPi-V.R accordingly and hopefully we are strong when we need to be. Traffic management is an important factor at Sebring so this is something we are prepared for."
The No. 50 Juncos Racing Cadillac DPi-V.R will have Will Owen, Rene Binder and Agustin Canapino behind the wheel of the white, green and red Cadillac DPi-V.R for Sebring. The first year Cadillac team had an eighth-place finish at the Rolex 24, but came away with an increased understanding of the competition as well as their new Cadillac race car.
"We are excited to get back in the game after a short time off," Owen said. "In the past few weeks we have prepared a lot with our test in Sebring and a couple of days on the simulator. In addition to our set-up, we also pinpointed the exact cause of our problems in Daytona. That was a huge relief for everyone. It's also exciting to work with Agustin and Rene again. Both of them were fast in Daytona, and it's always been a pleasure to work with such professionals. I've heard this race is more difficult in certain ways than Daytona. With one race under our belt though, I'm confident that the Juncos crew, our Cadillac DPi-V.R, and us drivers can do the job!"
Source. Kyle Chura/Cadillac Racing/Photo. Cadillac/Richard Prince
Comments
comments