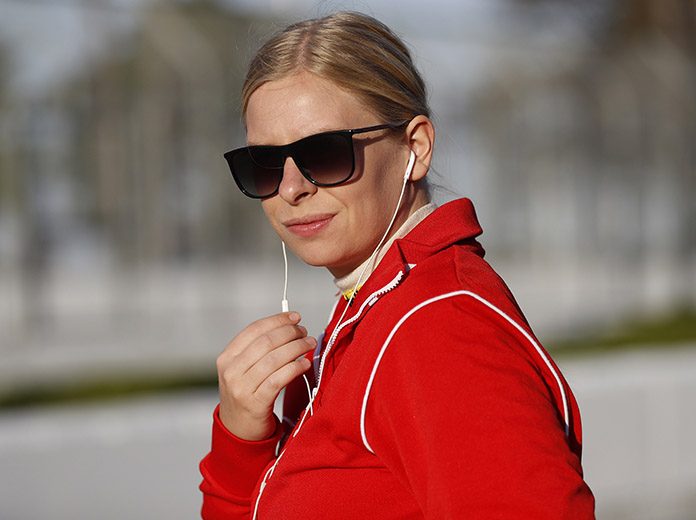 Christina Nielsen scored her second IMSA GT Daytona championship in as many years in 2017. (IMSA Photo)
DAYTONA BEACH, Fla. – You'd be hard pressed to find any driver in the IMSA WeatherTech SportsCar Championship who has had a more successful three-year run than Christina Nielsen.
In three years, Nielsen won back-to-back GT Daytona (GTD) class championships – in 2016 and 2017 – and in 2015, she entered the season-ending Petit Le Mans in contention for the GTD title and wound up second.
It's also worth mentioning that the last three years were the first three years of the now 25-year-old driver's WeatherTech Championship career. In addition, the 2016 title made her the first woman to win a major North American sports car championship.
"First of all, I would say it's definitely a team effort," said Nielsen, sharing the credit with her 2016 and 2017 teammates at Scuderia Corsa and with TRG, with whom she drove in 2015. "It's not something that was just created by me. I've been with good teams, I've been with good people, I've been with passionate and hardworking people who have really done a stellar job.
"Over the last three years I would also say the level of competition has increased and it's about continuing to increase and improve your performance and always keep your head down. I think one of the keys is that the first year, I went into it and was like 'Alright, let's see where this takes us.' I don't think that anybody really thought we were going to be in contention for the championship, but here we were with three rounds to go and consistency paid off.
"I think the same thing showed in the following season. My last two seasons were even more successful than the first one, even though the first one was also very successful for being the first one. I think one of the key components was that we never relaxed and said, 'Oh yeah, but we got a great result last year. Oh, we know the car was good here last year, so we'll be fine.' We always went in with the attitude that we've got to see if the car is good, we will rely on the setup we had last year but we're not going to expect it to be good right away because it changes."
The daughter of Lars Erik Nielsen, a Danish sports car racer who competed in the 24 Hours of Le Mans, Christina worked her way up through various junior sports car series around the world on her way to the WeatherTech Championship.
After starting in go-karts and moving into open-wheel racing early on, Nielsen shifted her focus to sports car racing – including stops in the Porsche Carrera Cup in Germany, the Porsche GT3 Cup Challenge Middle East, GT Masters and the IMSA-sanctioned Porsche GT3 Cup Challenge USA by Yokohama.
"I've raced in a lot of different championships and I've raced quite a few different cars," she said. "That can be quite a big challenge in itself because you're learning new tracks, you're learning new competitors, you're learning new brands, you're learning a new car and that's really tough.
"To do that year after year – I think I've raced most tracks in Europe, most tracks in the Middle East and most tracks in America – it really gets to be a lot to process and a lot to learn every year. I think what you've truly seen happen to me when I finally got to come back and compete on the same circuits as I did the year before, and a third year in a row coming back and also coming back in the same team and the same car for the second year in 2017, it has allowed me to come and shine."
And shine she has. In 2016, she earned her first career WeatherTech Championship victory in the Mobil 1 Twelve Hours of Sebring, sharing the No. 63 Scuderia Corsa Ferrari 488 GT3 with Alessandro Balzan – her full-time co-driver for the 2016 and 2017 seasons – and Jeff Segal.
Source : speedsport.com
Comments
comments