Juncos Racing Completes Chris Griffis Memorial Mazda Road to Indy Test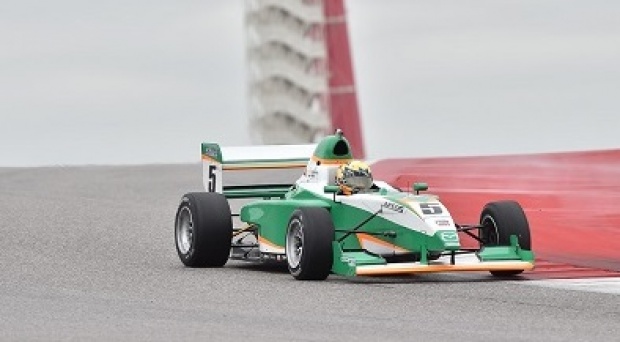 Juncos Racing completed the fifth annual Chris Griffis Memorial Mazda Road to Indy test this past weekend on the 3.4 mile, 20-Turn Circuit of The Americas road course located in Austin, Texas. Drivers Will Owen, Nicolas Dapero, and Jake Parsons made up the regaining Pro Mazda Champions Juncos Racing line up.
Many drivers from around the world took part in the Pro Mazda Championship Presented by Cooper Tires series during the two day, six session test. The three car line up for Juncos Racing ran for a combined 264 laps under cool, calm track conditions.
Rookie Jake Parsons (Melbourne, Australia) made an impressive debut in the Pro Mazda series finishing third overall. The upcoming Australian looks to join the Mazda Road to Indy program after competing in the Australian Formula Ford series and Formula Masters China series, where he earned three wins and seven podiums in only 10 starts.
"During the two days at COTA (Circuit of The Americas) I really connected well with the team and started working like a well-oiled machine," said Parsons. "The momentum we created should feed nicely into preseason testing next year and I am looking forward to hopefully working closely with the whole Juncos operation in the coming season."
American Will Owen (Castle Rock, Colorado) gave a solid run in his first test back with the team, setting the fastest time in the second session and finishing fourth overall. Owen announced earlier this month he would be rejoining the team for the 2016 Pro Mazda Championship and looks forward to battling for the championship in his sophomore season.
"I had a blast at COTA this past weekend," said Owen. "It was pretty awesome that we had the opportunity to test on that track. I was in Lewis Hamilton's garage too! I learned a lot about my own driving style and grew a lot closer to the team. Right now everything we are practicing is going towards the goal of winning the championship next year. It will be awhile before I'm back in the Pro Mazda because of New Zealand, but I will come back as a different driver in February, well prepared for the season!"
Rookie Nicholas Dapero (Buenos Aires, Argentina) proved he is ready for the 2016 Pro Mazda season by running as high as third in session three and finishing seventh overall. Dapero, who spent the 2015 season in the Juncos Racing Driver Development Program, announced earlier this month he would be joining Juncos Racing for the 2016 Pro Mazda Championship.
"COTA was my second official test in the Pro Mazda series," said Dapero. "The team and I did a great job during testing this year and COTA reflected those results. The track was amazing to drive on. We did a great job every time we went out on track. I want to really thank everyone at Juncos Racing for the incredible job they have done this year!"
Team Principle Ricardo Juncos, was impressed with all three driver's results and looks forward to continuing their work on track in preseason testing next year.
"All three Pro Mazda drivers did a wonderful job at COTA this past weekend," said Juncos. "All three showed tremendous pace, and should be contenders for race victories at St. Petersburg. We will continue to work hard this offseason in order to continue our success into the 2016 season."
For more information please visit juncosracing.com and promazdachampionship.com
About Juncos Racing: Ricardo Juncos, a second generation driver, grew up with a deep passion for racing. Juncos made his first steps in the racing community driving karts throughout Argentina. After funding became difficult, Juncos worked for teams in order to support his own racing career. During this time Juncos took courses in mechanical and electrical engineering to fully understand racing on and off the track. Ricardo Juncos established Juncos Racing in 1997 as a formula team operating in Argentina. Six years later, Juncos Racing moved to Miami, Florida where they became a respected karting team recording multiple local, regional, and national titles. After a successful run in karts, Juncos Racing moved north to Indianapolis, Indiana the "racing capitol of the world," in 2008 to join INDYCAR's Mazda Road to Indy series. After only two years in the Star Mazda Championship, the team finished second in the 2010 championship while Conor Daly won the driver championship. Juncos Racing continued their run in the Pro Mazda Championship (the former Star Mazda) taking second in the 2012 and 2013 championships. Most recently 2014 proved to be one of the most successful years for Juncos Racing, winning the driver championship with Spencer Pigot and team championship in both the Cooper Tires Winterfest and Pro Mazda Championship. Juncos Racing expanded operations in 2015 to include two Indy Lights entries along with four Pro Mazda cars. Recently the team captured the driver Indy Lights Championship with Spencer Pigot, and took home their second consecutive team Pro Mazda Championship.