Can the Mick do it again this weekend!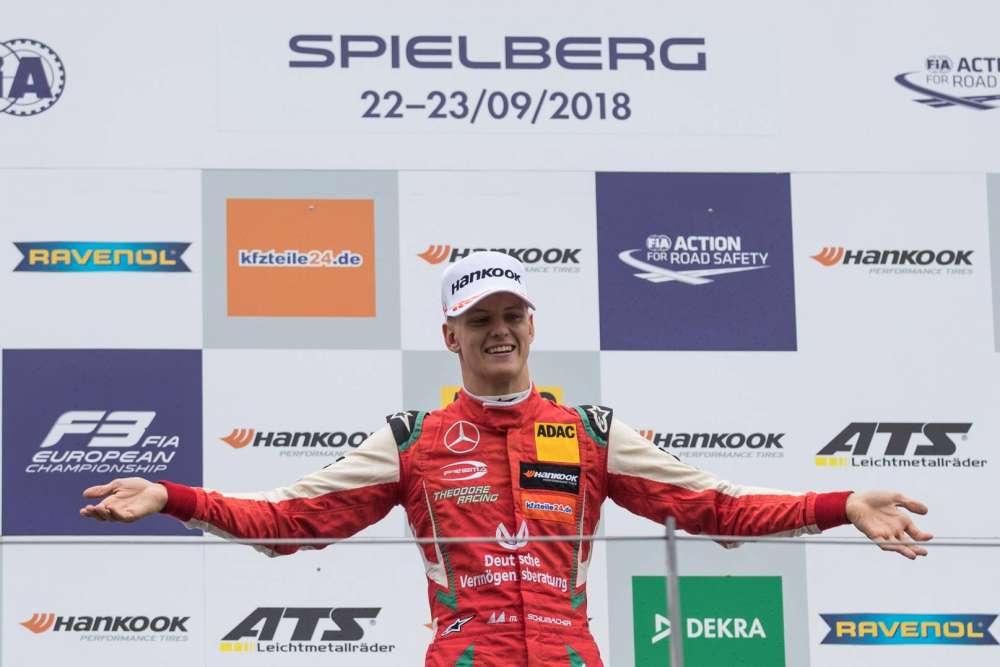 With Mick Schumacher now performing as his dad once did, he has now pole position for all 3 races this weekend in Spielberg and has already won the first race of the weekend putting him in 1 st position in the 2018 championship and ever so close to another perfect weekend. Dan Ticktum having had a bad race finishing down in 8th.
Update:
Mick wins the second race of the weekend but misses out on the tops spot of the podium for the 3rd race finishing 2 nd behind teammate Robert Shvartzman with Dan Ticktum finishing just outside the top 3.
Quick stats:
5 straight wins for Mick his winning streak ending toad in Spielberg for the 3rd race
Now in the lead of the championship by 49 points
Want to relive this morning's race click this link https://racingnewsworldwide.com/open-wheel/f3/%F0%9F%94%B5-live-1st-race-fia-formula-3-spielberg/
Here are the qualifying and race results than the championship standings
Q1
Pos.
No
Driver
Laps
Time
Gap
Int
1
4
Mick Schumacher / GER
PREMA Theodore Racing
13
1:23.170
2
8
Marcus Armstrong / ITA
PREMA Theodore Racing
13
1:23.257
00.087
00.087
3
10
Robert Shvartzman / RUS
PREMA Theodore Racing
12
1:23.377
00.207
00.120
4
44
Jüri Vips /
Motopark
13
1:23.437
00.267
00.060
5
23
Jonathan Aberdein / SRB
Motopark
13
1:23.463
00.293
00.026
6
9
Jehan Daruvala / IND
Carlin
13
1:23.544
00.374
00.081
7
11
Sacha Fenestraz / FRA
Carlin
13
1:23.592
00.422
00.048
8
27
Daniel Ticktum / GBR
Motopark
12
1:23.625
00.455
00.033
9
7
Ralf Aron / EST
PREMA Theodore Racing
13
1:23.629
00.459
00.004
10
16
Nikita Troitckii / RUS
Carlin
12
1:23.646
00.476
00.017
11
1
Guanyu Zhou / CHN
PREMA Theodore Racing
12
1:23.646
00.476
12
13
Fabio Scherer / SUI
Motopark
13
1:23.722
00.552
00.076
13
62
Ferdinand Habsburg / AUT
Carlin
12
1:23.749
00.579
00.027
14
65
Enaam Ahmed / GBR
Hitech Grand Prix
12
1:23.798
00.628
00.049
15
39
Alex Palou / ESP
Hitech Grand Prix
12
1:23.833
00.663
00.035
16
3
Sebastian Fernandez / ESP
Motopark
13
1:23.844
00.674
00.011
17
12
Artem Petrov / RUS
Van Amersfoort Racing
13
1:23.892
00.722
00.048
18
15
Keyvan Andres / GER
Van Amersfoort Racing
13
1:23.966
00.796
00.074
19
33
Marino Sato / JPN
Motopark
13
1:24.011
00.841
00.045
20
25
Sophia Flörsch / GER
Van Amersfoort Racing
13
1:24.175
01.005
00.164
21
17
Julian Hanses / GER
Carlin
12
1:24.282
01.112
00.107
22
24
Ameya Vaidyanathan / GBR
Carlin
12
1:24.307
01.137
00.025
23
77
Ben Hingeley / GBR
Hitech Grand Prix
11
1:24.450
01.280
00.143
Q2 and 3
Pos.
No
Driver
Laps
Time
Gap
Int
1
4
Mick Schumacher / GER
PREMA Theodore Racing
13
1:23.170
2
8
Marcus Armstrong / ITA
PREMA Theodore Racing
13
1:23.257
00.087
00.087
3
10
Robert Shvartzman / RUS
PREMA Theodore Racing
12
1:23.377
00.207
00.120
4
44
Jüri Vips /
Motopark
13
1:23.437
00.267
00.060
5
23
Jonathan Aberdein / SRB
Motopark
13
1:23.463
00.293
00.026
6
9
Jehan Daruvala / IND
Carlin
13
1:23.544
00.374
00.081
7
11
Sacha Fenestraz / FRA
Carlin
13
1:23.592
00.422
00.048
8
27
Daniel Ticktum / GBR
Motopark
12
1:23.625
00.455
00.033
9
7
Ralf Aron / EST
PREMA Theodore Racing
13
1:23.629
00.459
00.004
10
16
Nikita Troitckii / RUS
Carlin
12
1:23.646
00.476
00.017
11
1
Guanyu Zhou / CHN
PREMA Theodore Racing
12
1:23.646
00.476
12
13
Fabio Scherer / SUI
Motopark
13
1:23.722
00.552
00.076
13
62
Ferdinand Habsburg / AUT
Carlin
12
1:23.749
00.579
00.027
14
65
Enaam Ahmed / GBR
Hitech Grand Prix
12
1:23.798
00.628
00.049
15
39
Alex Palou / ESP
Hitech Grand Prix
12
1:23.833
00.663
00.035
16
3
Sebastian Fernandez / ESP
Motopark
13
1:23.844
00.674
00.011
17
12
Artem Petrov / RUS
Van Amersfoort Racing
13
1:23.892
00.722
00.048
18
15
Keyvan Andres / GER
Van Amersfoort Racing
13
1:23.966
00.796
00.074
19
33
Marino Sato / JPN
Motopark
13
1:24.011
00.841
00.045
20
25
Sophia Flörsch / GER
Van Amersfoort Racing
13
1:24.175
01.005
00.164
21
17
Julian Hanses / GER
Carlin
12
1:24.282
01.112
00.107
22
24
Ameya Vaidyanathan / GBR
Carlin
12
1:24.307
01.137
00.025
23
77
Ben Hingeley / GBR
Hitech Grand Prix
11
1:24.450
01.280
00.143
Pos.
No
Driver
Laps
Time
Gap
Int
1
4
Mick Schumacher / GER
PREMA Theodore Racing
13
1:23.225
1:23.225
2
10
Robert Shvartzman / RUS
PREMA Theodore Racing
12
1:23.451
1:23.451
00.226
3
23
Jonathan Aberdein / SRB
Motopark
13
1:23.488
1:23.488
00.037
4
44
Jüri Vips /
Motopark
13
1:23.504
1:23.504
00.016
5
8
Marcus Armstrong / ITA
PREMA Theodore Racing
13
1:23.530
1:23.530
00.026
6
7
Ralf Aron / EST
PREMA Theodore Racing
13
1:23.643
1:23.643
00.113
7
27
Daniel Ticktum / GBR
Motopark
12
1:23.698
1:23.698
00.055
8
9
Jehan Daruvala / IND
Carlin
13
1:23.748
1:23.748
00.050
9
62
Ferdinand Habsburg / AUT
Carlin
12
1:23.760
1:23.760
00.012
10
1
Guanyu Zhou / CHN
PREMA Theodore Racing
12
1:23.777
1:23.777
00.017
11
11
Sacha Fenestraz / FRA
Carlin
13
1:23.806
1:23.806
00.029
12
65
Enaam Ahmed / GBR
Hitech Grand Prix
12
1:23.811
1:23.811
00.005
13
3
Sebastian Fernandez / ESP
Motopark
13
1:23.846
1:23.846
00.035
14
39
Alex Palou / ESP
Hitech Grand Prix
12
1:23.869
1:23.869
00.023
15
13
Fabio Scherer / SUI
Motopark
13
1:23.911
1:23.911
00.042
16
15
Keyvan Andres / GER
Van Amersfoort Racing
13
1:23.987
1:23.987
00.076
17
16
Nikita Troitckii / RUS
Carlin
12
1:24.026
1:24.026
00.039
18
12
Artem Petrov / RUS
Van Amersfoort Racing
13
1:24.033
1:24.033
00.007
19
33
Marino Sato / JPN
Motopark
13
1:24.128
1:24.128
00.095
20
25
Sophia Flörsch / GER
Van Amersfoort Racing
13
1:24.183
1:24.183
00.055
21
77
Ben Hingeley / GBR
Hitech Grand Prix
11
1:24.451
1:24.451
00.268
22
17
Julian Hanses / GER
Carlin
12
1:24.498
1:24.498
00.047
23
24
Ameya Vaidyanathan / GBR
Carlin
12
1:24.709
1:24.709
00.211
Race 1 results
Pos.
No
Driver
Laps
Time
Gap
Int
1
4
Mick Schumacher / GER
PREMA Theodore Racing
22
35:30.307
LAP
22
2
10
Robert Shvartzman / RUS
PREMA Theodore Racing
22
35:31.210
+00.903
+00.903
3
39
Alex Palou / ESP
Hitech Grand Prix
22
35:36.118
+05.811
+04.908
4
8
Marcus Armstrong / ITA
PREMA Theodore Racing
22
35:43.218
+12.911
+07.100
5
62
Ferdinand Habsburg / AUT
Carlin
22
35:45.812
+15.505
+02.594
6
44
Jüri Vips /
Motopark
22
35:47.434
+17.127
+01.622
7
23
Jonathan Aberdein / SRB
Motopark
22
35:47.563
+17.256
+00.129
8
27
Daniel Ticktum / GBR
Motopark
22
35:49.716
+19.409
+02.153
9
13
Fabio Scherer / SUI
Motopark
22
35:55.171
+24.864
+05.455
10
9
Jehan Daruvala / IND
Carlin
22
35:57.025
+26.718
+01.854
11
11
Sacha Fenestraz / FRA
Carlin
22
35:58.593
+28.286
+01.568
12
1
Guanyu Zhou / CHN
PREMA Theodore Racing
22
35:58.923
+28.616
+00.330
13
77
Ben Hingeley / GBR
Hitech Grand Prix
22
36:00.044
+29.737
+01.121
14
3
Sebastian Fernandez / ESP
Motopark
22
36:01.648
+31.341
+01.604
15
33
Marino Sato / JPN
Motopark
22
36:05.149
+34.842
+03.501
16
16
Nikita Troitckii / RUS
Carlin
22
36:09.909
+39.602
+04.760
17
25
Sophia Flörsch / GER
Van Amersfoort Racing
22
36:16.030
+45.723
+06.121
18
15
Keyvan Andres / GER
Van Amersfoort Racing
22
36:20.235
+49.928
+04.205
19
24
Ameya Vaidyanathan / GBR
Carlin
22
36:27.967
+57.660
+07.732
20
17
Julian Hanses / GER
Carlin
22
36:28.408
+58.101
+00.441
21
12
Artem Petrov / RUS
Van Amersfoort Racing
22
36:31.234
+1:00.927
+02.826
22
65
Enaam Ahmed / GBR
Hitech Grand Prix
22
36:34.315
+1:04.008
+03.081
23
7
Ralf Aron / EST
PREMA Theodore Racing
20
34:41.300
2L
2L
Race 2 results
Pos.
No
Driver
Laps
Time
Gap
Int
1
4
Mick Schumacher / GER
PREMA Theodore Racing
22
35:47.756
1:23.812
2
8
Marcus Armstrong / ITA
PREMA Theodore Racing
22
35:48.104
1:23.838
00.348
3
10
Robert Shvartzman / RUS
PREMA Theodore Racing
22
35:48.503
1:23.944
00.399
4
44
Jüri Vips /
Motopark
22
35:48.896
1:23.881
00.393
5
7
Ralf Aron / EST
PREMA Theodore Racing
22
35:50.219
1:24.298
01.323
6
23
Jonathan Aberdein / SRB
Motopark
22
35:53.007
1:24.088
02.788
7
13
Fabio Scherer / SUI
Motopark
22
35:53.331
1:24.496
00.324
8
62
Ferdinand Habsburg / AUT
Carlin
22
35:55.396
1:24.539
02.065
9
1
Guanyu Zhou / CHN
PREMA Theodore Racing
22
35:56.381
1:24.690
00.985
10
25
Sophia Flörsch / GER
Van Amersfoort Racing
22
35:57.093
1:24.673
00.712
11
65
Enaam Ahmed / GBR
Hitech Grand Prix
22
35:57.630
1:24.464
00.537
12
77
Ben Hingeley / GBR
Hitech Grand Prix
22
35:58.973
1:24.476
01.343
13
33
Marino Sato / JPN
Motopark
22
35:59.641
1:24.780
00.668
14
17
Julian Hanses / GER
Carlin
22
36:00.185
1:24.772
00.544
15
24
Ameya Vaidyanathan / GBR
Carlin
22
36:01.849
1:25.168
01.664
16
11
Sacha Fenestraz / FRA
Carlin
20
32:04.320
1:24.078
2 Runden
17
27
Daniel Ticktum / GBR
Motopark
20
32:04.613
1:24.331
00.293
18
9
Jehan Daruvala / IND
Carlin
20
32:05.056
1:24.376
00.443
NOT QUALIFIED
–
39
Alex Palou / ESP
Hitech Grand Prix
17
26:49.475
1:24.673
–
12
Artem Petrov / RUS
Van Amersfoort Racing
16
25:18.392
1:24.508
–
16
Nikita Troitckii / RUS
Carlin
13
21:00.993
1:24.542
–
3
Sebastian Fernandez / ESP
Motopark
0
00.000
00.000
–
15
Keyvan Andres / GER
Van Amersfoort Racing
0
00.000
00.000
race 3 results
Pos.
No
Driver
Laps
Time
Gap
Int
1
10
Robert Shvartzman / RUS
PREMA Theodore Racing
25
35:25.183
LAP
25
2
4
Mick Schumacher / GER
PREMA Theodore Racing
25
35:25.998
+00.815
+00.815
3
23
Jonathan Aberdein / SRB
Motopark
25
35:33.095
7.912
7.097
4
27
Daniel Ticktum / GBR
Motopark
25
35:33.627
8.444
+00.532
5
8
Marcus Armstrong / ITA
PREMA Theodore Racing
25
35:35.487
10.304
1.860
6
62
Ferdinand Habsburg / AUT
Carlin
25
35:37.724
12.541
2.237
7
9
Jehan Daruvala / IND
Carlin
25
35:38.252
13.069
+00.528
8
44
Jüri Vips /
Motopark
25
35:42.604
17.421
4.352
9
7
Ralf Aron / EST
PREMA Theodore Racing
25
35:43.553
18.370
+00.949
10
39
Alex Palou / ESP
Hitech Grand Prix
25
35:44.084
18.901
+00.531
11
1
Guanyu Zhou / CHN
PREMA Theodore Racing
25
35:48.388
23.205
4.304
12
13
Fabio Scherer / SUI
Motopark
25
35:49.478
24.295
1.090
13
15
Keyvan Andres / GER
Van Amersfoort Racing
25
35:52.126
26.943
2.648
14
12
Artem Petrov / RUS
Van Amersfoort Racing
25
35:53.789
28.606
1.663
15
25
Sophia Flörsch / GER
Van Amersfoort Racing
25
35:54.397
29.214
+00.608
16
3
Sebastian Fernandez / ESP
Motopark
25
35:55.014
29.831
+00.617
17
16
Nikita Troitckii / RUS
Carlin
25
35:58.303
33.120
3.289
18
65
Enaam Ahmed / GBR
Hitech Grand Prix
25
35:59.213
34.030
+00.910
19
17
Julian Hanses / GER
Carlin
25
35:59.856
34.673
+00.643
20
77
Ben Hingeley / GBR
Hitech Grand Prix
25
36:01.907
36.724
2.051
21
33
Marino Sato / JPN
Motopark
25
36:05.943
40.760
4.036
22
24
Ameya Vaidyanathan / GBR
Carlin
25
36:06.618
41.435
+00.675
NOT CLASSIFIED
–
11
Sacha Fenestraz / FRA
Carlin
15
21:40.010
10L
10L
Drivers championship
PAU
HUN
NOR
ZAN
SPA
SIL
MIS
NUR
SPI
HOC
Pos
Driver
Points
1
2
3
4
5
6
7
8
9
10
11
12
13
14
15
16
17
18
19
20
21
22
23
24
25
26
27
28
29
30
1
Schumacher
329
–
1
3
12
6
15
10
2
–
15
–
–
12
–
25
–
25
10
25
15
10
25
25
25
25
25
18
–
–
–
2
Ticktum
280
15
–
5
25
–
18
12
–
25
10
8
–
–
25
10
25
4
8
8
12
12
15
15
12
4
–
12
–
–
–
3
Armstrong
260
10
15
–
–
18
–
25
18
15
12
18
–
–
8
15
8
10
–
18
–
–
8
12
10
12
18
10
–
–
–
4
Vips
242
1
–
–
8
–
12
6
25
18
8
4
–
8
–
12
12
18
25
10
25
18
–
–
8
8
12
4
–
–
–
5
Shvartzman
241
4
2
4
15
10
–
8
–
6
4
6
–
10
12
18
4
2
1
15
2
6
18
18
18
18
15
25
–
–
–
6
Aron
219,5
18
4
12,5
10
–
6
18
8
25
25
–
15
–
–
–
1
–
6
10
25
10
10
4
–
10
2
–
–
–
7
Palou
173
6
18
–
–
15
–
12
–
1
12
8
18
–
2
6
–
6
4
18
8
–
8
15
15
–
1
–
–
–
8
Ahmed
168
8
10
9
6
25
25
–
4
–
–
1
–
10
8
15
12
12
–
8
1
12
–
2
–
–
–
–
–
–
9
Zhou
167
25
–
–
18
12
10
2
–
12
18
15
18
–
–
–
–
8
4
12
–
–
6
4
1
–
2
–
–
–
–
10
Daruvala
124,5
–
8
7,5
–
8
–
15
8
10
–
–
15
25
15
–
2
–
–
2
–
2
–
–
–
1
–
6
–
–
–
11
Fenestraz
115
12
25
–
4
2
8
–
4
–
–
–
–
–
6
–
18
6
18
–
4
–
–
2
6
–
–
–
–
–
–
12
Aberdein
102
–
–
2
–
–
4
–
–
–
6
–
4
–
2
6
10
15
15
1
–
–
2
6
–
6
8
15
–
–
–
13
Habsburg
79
–
–
–
–
4
–
–
10
2
–
10
6
–
1
–
–
–
2
–
6
15
–
1
–
10
4
8
–
–
–
14
Scherer
56
–
–
6
1
–
1
–
1
–
–
2
10
2
18
1
1
–
–
–
1
4
–
–
–
2
6
–
–
–
–
15
Sato
31,5
2
–
0,5
–
–
–
4
6
–
–
1
12
6
–
–
–
–
–
–
–
–
–
–
–
–
–
–
–
–
–
16
Troitckii
31
–
–
–
–
2
–
–
–
–
–
25
–
4
–
–
–
–
–
–
–
–
–
–
–
–
–
–
–
–
17
Hingeley
22
–
12
1
2
1
–
–
–
–
2
–
–
–
–
–
–
–
–
–
–
–
4
–
–
–
–
–
–
–
–
18
Andres
18
–
–
–
–
–
1
15
–
–
–
–
1
–
–
–
–
–
–
–
–
1
–
–
–
–
–
–
–
–
19
Hanses
6
–
6
–
–
–
–
–
–
–
–
–
–
–
–
–
–
–
–
–
–
–
–
–
–
–
–
–
–
–
–
20
Petrov
6
–
–
–
–
–
–
–
–
–
–
–
2
4
–
–
–
–
–
–
–
–
–
–
–
–
–
–
–
–
–
21
Fernandez
5
–
–
–
–
–
–
–
–
1
–
–
–
–
–
4
–
–
–
–
–
–
–
–
–
–
–
–
–
–
–
22
Floersch
1
–
–
–
–
–
–
–
–
–
–
–
–
–
–
–
–
–
–
–
–
–
–
–
–
1
–
–
–
–
Comments
comments