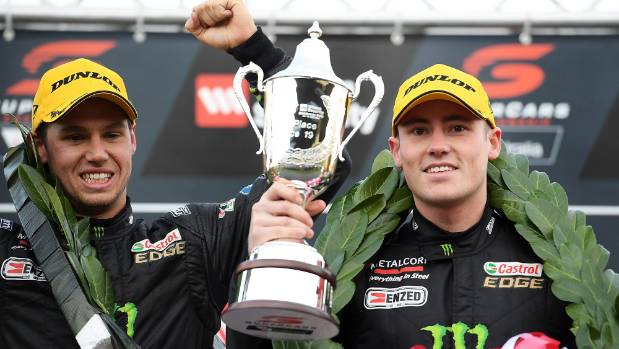 GETTY IMAGES
Richie Stanaway wants to take a leaf out of Jamie Whincup's book now he's got a full-time drive in Supercars.
The 26-year-old from Tauranga was finally confirmed last week as the fourth driver from next season for the big budget Prodrive Racing Australia team.
Having impressed for the past two years in the endurance rounds of the championship as a co-driver, Stanaway warranted a seat in the main game.
He has driven in a number of motor racing categories in the past, from GP2 to Le Mans, but he says now he's in Supercars, he wants to only race in it, unlike some of the other drivers, who still compete in other championships.
"I just want to concentrate on Supercars, there's enough races in the calendar to keep me busy," Stanaway said.
"I don't think you can afford not to be fully focused in your formative years.
"When Shane (van Gisbergen) and others branched off to do other things, it's after racing in the championship for many years and being fully established.
"I need to focus on this for a number of years before I'd consider anything else, but I don't see myself ever wanting to race anything else.
"I like the approach that Jamie Whincup has, where he's rarely driven anything other than a V8, which is why he's so good, because he's fully focused on it and not jumping in and out of different things all the time."
Going straight into a big team like PRA, isn't the most common route for drivers.
There are usually a couple of years spent at a team down the far end of pit lane, being part of a low budget operation.
Once they've proved themselves, then they usually get signed up by a big team, but Stanaway has been able to jump that phase.
"It's nice to know that the only bottleneck in results is going to be myself, that's something I haven't had for a long time," he said.
"It's also unique to be able to jump into a top tier motor racing category with a good car from the get go.
"Whether it's Formula One or Supercars, normally you have to get your break with a lower level of equipment an prove yourself to the point where only the car is the bottleneck and then move up to some better machinery.
"This is all going to be down me and it's about getting over that lack of experience for these cars and these tracks."
There will be five Kiwis in Supercars next year, with the others being Fabian Coulthard, Scott McLaughlin, Shane van Gisbergen and Andre Heimgartner.
That's the same number as there was in 2016, but at that time Heimgartner and Chris Pither were in uncompetitive cars.
Next year four of them should be in quick cars, while Heimgartner's team, Nissan are surely going to be a team capable of winning races soon, given the finances they have.
As a co-driver Stanaway wasn't really a rival to the other New Zealand drivers, but he admits that will change next year.
"It will be a different dynamic now," he said.
"But I'm not going to be a threat to the top guys for a while.
"I need at least one season, if not more, to get rid of the lack of experience I have."
Stanaway will move to Melbourne from Auckland towards the end of next month.
He's enjoyed his time back in New Zealand after making the decision to quit racing in Europe and he says being back has helped him fall in love with motorsport again.
"I never had the opportunity to live in New Zealand since I was in high school," he said.
"I love living here and Australia is a similar country.
"Being down in this part of the world has made me a lot happier. I never really settled in well in Europe, but a big part of that was never catching the right breaks.
"So I could never feel like I could settle in.
"But now it's nice to be home and living somewhere where I'm happy. A big part of racing is being happy in your life and racing in Australia is a part of that for me."
Source :Stuff.co.nz
Comments
comments