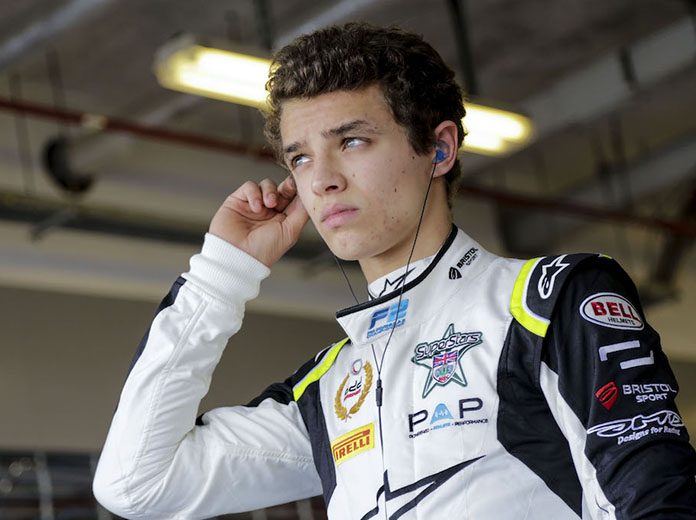 Lando Norris will move to Formula Two next year with Carlin while also serving as McLaren's test and reserve driver.
YAS ISLAND, Abu Dhabi – Lando Norris, McLaren's Formula One test and reserve driver, will graduate to the Formula Two Championship next year with Carlin.
Norris will remain with Carlin for the fourth-straight season next year after driving to the Formula Three European Championship this season. Next year will mark the return of Carlin to Formula Two, previously known as GP2, after a year away from the series.
Norris made his Formula Two debut this weekend in Abu Dhabi, finishing ninth on Sunday after starting at the rear of the field.
"I'm going into 2018 unquestionably aiming to achieve more success by winning races, but 2018 will also be a big learning year," said the 18-year-old Norris. "Getting experience of the increased power, enhanced aerodynamics, the [Pirelli] tires, the mandatory pit-stops and competing at new tracks like Bahrain, Baku and Sochi. It's an educational year, I'll be new to Formula 2 while Carlin is returning after a season out of the category. I'll also be up against some very experienced F2 drivers. I'm hopeful it will work to our advantage that 2018 sees a newly designed [Dallara] car being raced for the first time since 2011. It'll be my fourth year competing with Carlin. Trevor heads up a great operation at Carlin and I feel part of the family there. It's a friendly environment and one in which I feel very comfortable in."
With his 2018 plans now secure, Norris will turn his attention to Wednesday's Pirelli tire test. Norris is scheduled to drive the McLaren Honda MCL32 at the Yas Marina Circuit as part of the test session.
Norris was scheduled to test in Brazil earlier this month, but the test was canceled because of safety concerns. Wednesday's test will be the second for Norris in a Formula One car this year. He previously tested for McLaren in Hungary.
"I'm massively looking forward to getting behind the wheel of the McLaren again – especially after the disappointment of not getting a run in Brazil," said Norris, who is scheduled to race in the Rolex 24 at Daytona in January as a teammate to Fernando Alonso at United Autosports. "I completed 54 laps of the Abu Dhabi track in F2 over the past three days so at least I'm not going into the [F-1] test completely blind. It'll be good experience again after my run in Hungary in the summer."
Source : speedsport.com
Comments
comments