Vinnie Miller Joins JD Motorsports For Full XFINITY Effort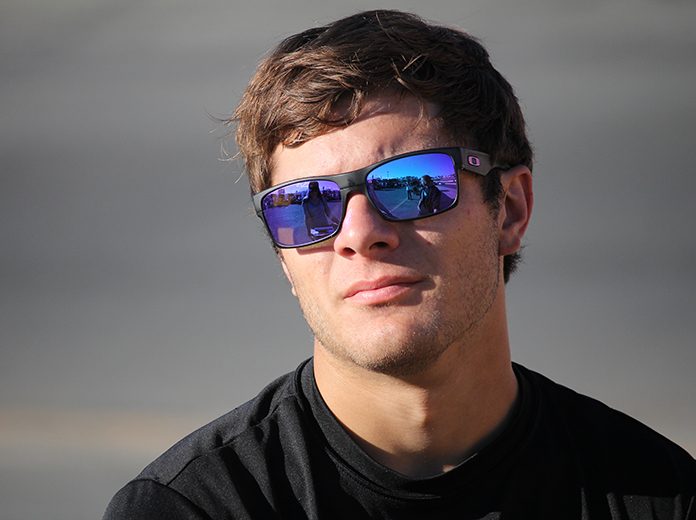 Vinnie Miller will run the full NASCAR XFINITY Series schedule in 2018 for JD Motorsports. (Adam Fenwick Photo)
GAFFNEY, S.C. – Vinnie Miller has joined JD Motorsports with Gary Keller to embark on his first full season in the NASCAR XFINITY Series.
Miller, 20, grew up racing on the same Michigan short tracks as fellow Michiganders and Monster Energy NASCAR Cup Series drivers Brad Keselowski and Erik Jones. The Ortonville, Mich., native ran events in both the NASCAR K&N Pro Series East and the ARCA Racing Series in 2017, scoring six top 10s, which included leading laps at his home track, Michigan Int'l Speedway.
He made his NASCAR XFINITY Series debut at Chicagoland Speedway with JD Motorsports on Sept. 16, scoring a 29th-place finish. He made his NASCAR Camping World Truck Series debut at Talladega Superspeedway on Oct. 14, scoring a seventh-place finish.
"It's a dream come true," said Miller, who will drive the No. 01 Chevrolet Camaro for JD Motorsports next year. "As a young racer, you certainly dream of making it to this level and competing with the best of the best, without being sure it will ever happen. I have several people to thank, but mostly importantly, I need to thank my family for their support. The sacrifices they have made to allow me to chase my dreams do not go unnoticed, and it will be really special to share the next step in this journey with them."
"I see a lot of potential in Vinnie," said team owner Johnny Davis. "He is a hard-working young man, and he has demonstrated his ability as a racer. He'll have a lot to learn next year, but my team is committed to giving him the resources he needs to have a successful rookie year. Vinnie already fits in great with the team, so we're looking forward to the 2018 season."
"I'm really looking forward to joining JD Motorsports with Gary Keller," Miller added. "In the ever changing motorsports landscape, to join a team that has raced full-time since 2002 is super exciting, and shows the dedication the organization has to the sport."
Source :speedsport.com
Comments
comments