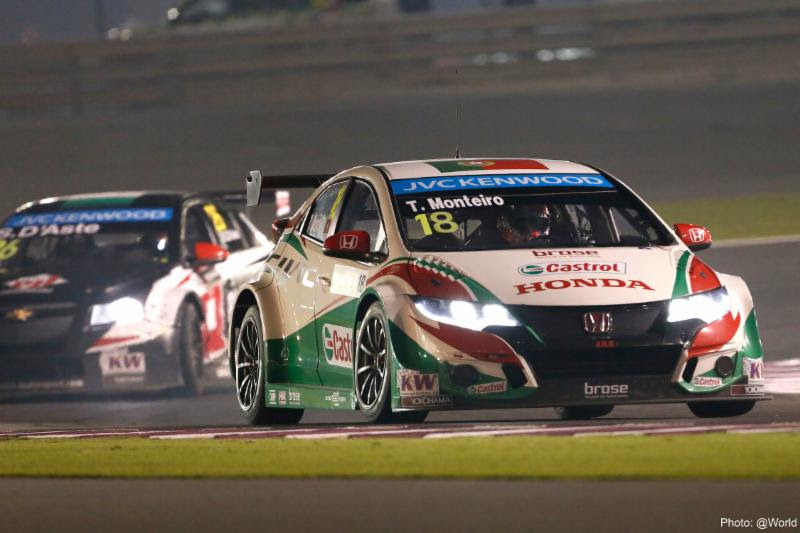 Tiago Monteiro completed the 2015 season of the FIA World Touring Car Championship, WTCC, with an 8th and 9th place in the final two races held on the Losail circuit in Qatar. The Portuguese driver had high ambitions for the last round of a season that often saw him fighting for the podium. However, the Losail circuit did not favor the Honda Civic so he was unable to shine as brightly as hoped. Despite the Qatar disappointment, 2015 saw Tiago record one of his finest seasons in the series with 2 wins, 4 podiums and a continual fight for fourth place in the championship, something he only lost due some very bad luck.
Friday night on the Losail circuit, which Tiago and the WTCC only discovered for the first time this year, the # 18 Honda Civic driver quickly realized that he had no weapons with which to fight at the front of the pack, but he refused to give up. "Unfortunately qualifying was punitive. 11th place on the grid conditioned the result of both races and we were unable to do any better," summarized Tiago. "I made a good start in race one and then found myself stuck behind an opponent and I was unable to climb any higher than 8th place. In the race two, contact with another car damaged one of my rear wheels and the car was then unbalanced. I decided to stay out and finish the race but 9th was the best result I could have expected."
These two top 10 finishes do not reflect the level of performance displayed throughout the season as the Portuguese racer emphasized… "The final outcome is very positive even though we had a few mishaps. I won't look back because I know I did the best job possible. It was a difficult year, but still very competitive and rewarding. We must continue to work for next year that will, I hope, be rich in success."
Tiago finished the 2015 championship season in 7th place after having held 4th for most of the year while being one of the main contenders in the field.