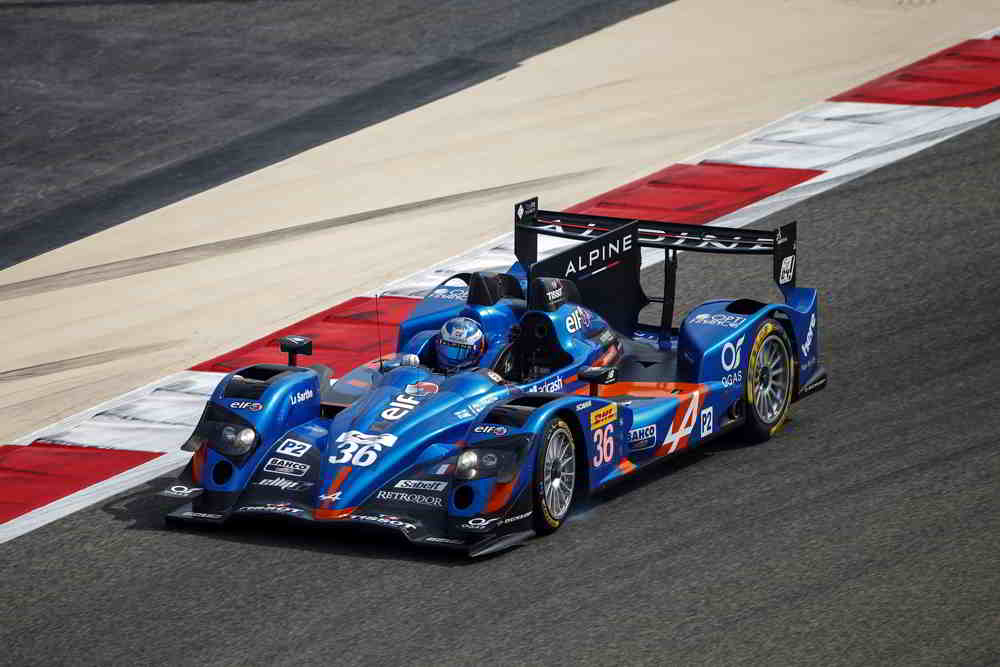 After winning back-to-back European endurance racing titles (ELMS), Signatech-Alpine concluded its maiden FIA World Endurance Championship campaign (FIA WEC) with fourth place in the LM P2 Trophy.
The Alpine A450b followed up second place in Japan and victory in China with fourth overall in the 6 Hours of Bahrain thanks to Nelson Panciatici, Paul-Loup Chatin and Tom Dillmann.
Signatech-Alpine notched up its first pole position at FIA WEC level in Bahrain.
Three weeks after securing its first FIA WEC victory in the LM P2 class at Shanghai, Signatech-Alpine faced a challenge of a very different sort in Bahrain. Even so, the Alpine A450b proved sufficiently competitive in the heat and night-time running to claim its first world class pole position.
Tom Dillmann was nominated to start the season's final race and he completed his stint – in daylight – in third place before handing over to Nelson Panciatici. The two-time European Le Mans Series winner soon emerged in first place but he fell back after a tangle with an LM P1 car.
At the race's halfway point, Paul-Loup Chatin took over and he kept the N°36 in contention for LM P2 victory. As darkness began to descend over Bahrain International Circuit, he appeared in front for several laps before Panciatici went back out for a second stint.
Thanks to an offset pit-stop strategy, the French driver succeeded in recovering third place with around half-an-hour remaining. However, the final round of refuelling stops saw him fall back to fourth at the chequered flag.
Signatech-Alpine concluded the year with a score of 86 points – including 56 points obtained at the last three races – to complete its inaugural FIA WEC campaign in fourth place in the 2015 LM P2 Trophy.
Philippe Sinault (Team Principal, Signatech-Alpine): "In terms of outright performance, Bahrain was perhaps our best round of the season. Thanks to our nicely balanced driver line-up, we succeeded in qualifying on pole position. In the race, Tom soon got into the rhythm and we ran an offset strategy compared with our direct rivals. Nelson did a great job but was hit by Nakajima. Paul-Loup was also very competitive. Our aggressive tactics nearly paid off but Nelson was forced to finish his stint on the same tyres as those the car had used in qualifying. He gave it everything he could but there was no way he could hold position on the last lap. The level is so high that the slightest problem can knock you off the podium. That said, the team's performance was excellent and we ended what turned out to be an excellent season with two podium finishes – including victory in China – and fourth place in the overall standings!"
Nelson Panciatici: "Thanks to our strategy, we were able to play a front-running role but our run was spoiled when Nakajima forced me into a spin. The incident probably cost me around 20 seconds. During my last stint, I managed to recover third place but it was impossible to hold position on worn tyres. It was frustrating but it doesn't take anything away from the top results we scored during the latter part of the season."
Paul-Loup Chatin: "Everyone in the team did a great job during the race and we had a good strategy. The fact that we qualified on pole position shows that we have good pace. The race lasted just two minutes too long but I think we can be proud of what we, as drivers, and the rest of the team have achieved this season. Our performances in the last few races are extremely encouraging ahead of 2016 which is looming fast!"
Tom Dillmann: "Our performance in free practice showed that we would be able to fight for pole position. I managed to produce a good lap and Paul-Loup was fast, too. For me, qualifying on pole here in Bahrain after winning in Shanghai is very positive. During my stint, I had to focus on saving my tyres while the other drivers were on a different strategy. We missed out on a podium because of the Toyota. It was quite complex but we put in a good race and we had a good strategy. It's a shame the race didn't last one lap less!"
6 Hours of Bahrain – final positions (LM P2)
1. G-Drive Racing #26, 183 laps
2. KCMG #47, +25.191s
3. G-Drive Racing #26, +1 lap
4. Signatech-Alpine #36, +1 lap
5. AF Racing #44, +4 laps
6. Strakka Racing #42, +5 laps
7. Team Sard Morand #43, +6 laps
8. Extreme Speed Motorsports #30, +7 laps
9. Extreme Speed Motorsports #31, +10 laps.
LM P2 FIA Trophy – final positions:
1. G-Drive #26, 178 points
2. KCMG #47, 155 points
3. G-Drive #28, 134 points
4. Signatech-Alpine #36, 86 points
5. Team Sard Morand #43, 70 points…