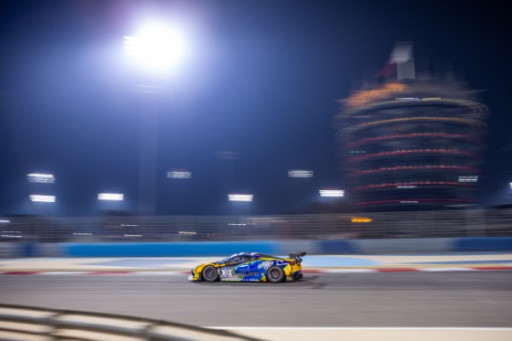 Pasin Lathouras was pleased to be back on track last weekend to drive for "Team Thailand" in the inaugural FIA GT Nations Cup extravaganza in Bahrain.
Teamed up with fellow countryman Piti Bhirombhakdi in the #39 Ferrari 488 GT3 the duo certainly had a tough weekend from start to finish and had to continually fight back to get into contention during the three races but eventually they grabbed a top ten result in the finale that was a satisfactory conclusion to the weekend.
The FIA GT Nations Cup is an exciting new addition to the international motorsport calendar. It's sanctioned by the FIA and this first edition was organised by SRO and the Bahrain Motorsport Federation.
For Pasin, who has had to skip this racing season due to other commitments, the opportunity to represent Thailand against the rest of the world and the chance to get back on track before this year finally ticks away was really something that couldn't be missed.
The "Nations Cup" pitched teams representing eighteen countries against each other in a format that built up to a dramatic "finale" race that came after the tempo had been raised sky high by two qualification races.
The countries represented on track (a one car entry was permitted from each nation) included Germany, France, UK, Italy, Japan, Argentina, Russia, China, Sweden, Belgium and Australia while the crews themselves comprised of one Bronze and one Silver driver which gave "Team Thailand" a rounded and competitive line up.
As well as an opportunity to get back on track it was also a great chance for Pasin to race for the first time at the Bahrain International Circuit.
It proved to be a pretty hectic weekend too as a good car setup direction proved elusive early on, a problem compounded by the limited sets of tyres available that cut down track time.
The three races saw many incidents playing out, including big dramas at Turn 1 during the last two races, that simply didn't shake out well for the #39 Ferrari and damage to the car sustained in the final Qualifying Race meant that Pasin and Piti had to start the deciding Main Race from the penultimate row of the grid.
However, although they never had a moment to get ahead of the curve, Pasin and Piti combined very well to show excellent pace throughout.
Pasin drove the closing stint during the final two races and showed a very strong pace that put him right amongst the fastest cars on track as well as a consistency that kept his laps with a one second of each other for all the clear air green flag time. The car eventually finished in P9.
Pasin Lathouras: "Well, it was certainly good to be back on track, it felt good to be back in the cockpit and after work commitments precluded me putting a programme together this season I'm glad that I got to the end of the year with at least one race under my belt – and if it was to going to be one race then the opportunity to represent Thailand against the rest of the world was the perfect event, I'm always very proud and humbled to race for my country. I want to say thank you to the organisers for putting this event together very well and I expect it to become an important fixture on the calendar in the years to come and also to thank you to my teammate Piti who I have known since I started out in karting and finally we had the opportunity to race together. He's a strong and hard driver on track and his recent seasons racing GT cars in Europe are clearly paying off so I also wish him the best for next year."
พศิน โชว์ฟอร์มตัวแทนประเทศไทยดวลศึก "เอฟไอเอ จีที เนชั่น คัพ"
พศิน ลาทูรัส รู้สึกยินดีอย่างยิ่งที่ได้กลับมาลงสนามอีกครั้งในฐานะนักแข่งตัวแทนจากประเทศไทยลงดวลความเร็วในศึก เอฟไอเอ จีที เนชั่น คัพ ซึ่งจัดขึ้นอย่างยิ่งใหญ่ที่ประเทศบาห์เรนเมื่อสุดสัปดาห์ที่ผ่านมา
พศิน และ ปิติ ภิรมย์ภักดี เพื่อนร่วมทีมชาวไทยลงแข่งโดยใช้รถเฟอร์รารี 488 จีที3 หมายเลข 39 ทั้งคู่ต้องเผชิญกับสุดสัปดาห์สุดหินตั้งแต่เริ่มต้นจนจบการแข่งขัน และต้องต่อสู้อย่างหนักตลอดการแข่งขันทั้ง 3 เรซ แต่ในที่สุดพวกเขาก็สามารถจบในอันดับท็อปเท็น ซึ่งถือเป็นผลงานที่น่าพอใจสำหรับสุดสัปดาห์นี้
การแข่งขัน เอฟไอเอ จีที เนชั่น คัพ เป็นรายการแข่งขันรถยนต์ที่น่าตื่นเต้นรายการใหม่บนปฏิทินมอเตอร์สปอร์ตระดับนานาชาติซึ่งได้รับการรับรองโดยเอฟไอเอ และดำเนินการจัดงานโดยเอสอาร์โอ และ บาห์เรน มอเตอร์สปอร์ต เฟเดอเรชั่น
สำหรับพศินผู้ซึ่งต้องหยุดพักการแข่งรถในฤดูกาลนี้เนื่องจากภารกิจส่วนตัว ได้รับโอกาสในการเป็นตัวแทนประเทศไทยเพื่อลงชิงชัยกับนักแข่งจากประเทศอื่น และยังเป็นโอกาสในการกลับมาลงสนามอีกครั้งก่อนจะสิ้นสุดปี
การแข่งขันรายการนี้มีตัวแทนจาก 18 ประเทศเข้าร่วมแข่งขัน โดยรูปแบบของการแข่งขันนั้นนักแข่งจะต้องลงแข่งขันในรอบควอลิฟายเรซจำนวน 2 เรซ ก่อนที่จะเข้าสู่รอบชิงชนะเลิศ
ประเทศต่างๆ ที่เข้าร่วมในการแข่งขันครั้งนี้ได้แก่ เยอรมนี ฝรั่งเศส สหราชอาณาจักร อิตาลี ญี่ปุ่น อาร์เจนติน่า รัสเซีย จีน สวีเดน เบลเยี่ยม และ ออสเตรเลีย (แต่ละประเทศได้รับอนุญาตให้ส่งรถเข้าร่วมประเทศละ 1 คัน) โดยแต่ละทีมนั้นจะประกอบด้วยนักขับระดับบรอนซ์ 1 คน และระดับซิลเวอร์ 1 คน
นอกจากครั้งนี้จะเป็นโอกาสในการกลับมาลงสนามแล้ว ยังเป็นโอกาสที่ยอดเยี่ยมสำหรับพศินในการลงแข่งที่สนามบาห์เรน อินเตอร์เนชั่นแนล เซอร์กิต เป็นครั้งแรกอีกด้วย
สุดสัปดาห์ที่ผ่านมาถือเป็นช่วงเวลาที่ค่อนข้างวุ่นวายมาก เช่นเดียวกับการเซ็ตอัพรถที่ดูเหมือนว่าจะค่อนข้างยากในช่วงเริ่มต้น ปัญหาที่เกิดจากจำนวนของยางที่มีจำกัดทำให้ทีมต้องลดเวลาที่อยู่ในสนามลง
การแข่งขันทั้ง 3 เรซมีเหตุการณ์หลายอย่างเกิดขึ้น รวมถึงอุบัติเหตุที่เกิดขึ้นบริเวณโค้งแรกระหว่างการแข่งขัน 2 เรซสุดท้ายซึ่งไม่เป็นผลดีกับรถเฟอร์รารี หมายเลข 39 และก่อให้เกิดความเสียหายกับรถในรอบควอลิฟายเรซรอบสุดท้าย ทำให้พศินและปิติต้องออกสตาร์ทจากท้ายแถวในการแข่งขันรอบชิงชนะเลิศ
อย่างไรก็ตาม แม้ว่าพศินและปิติจะไม่เคยขับรถร่วมกันมาก่อน แต่ทั้งคู่ก็สามารถทำงานร่วมกันได้เป็นอย่างดี ซึ่งแสดงให้เห็นจากการทำเวลาได้ดีขึ้นในแต่ละรอบ
พศินรับหน้าที่นักขับคนที่สองในการแข่งขัน 2 เรซสุดท้าย และแสดงให้เห็นถึงความแข็งแกร่งที่ทำให้เขากลายเป็นหนึ่งในผู้ที่ทำเวลาที่เร็วที่สุดในสนาม เช่นเดียวกับความคงเส้นคงวาในการขับแต่ละรอบที่ทำให้เขาทำเวลาดีขึ้นเรื่อยๆ ตลอดการแข่งขัน
พศิน ลาทูรัส กล่าวว่า "มันเป็นเรื่องดีที่ได้กลับมาลงสนามอีกครั้ง ผมรู้สึกดีที่ได้กลับมาอยู่ในรถแข่ง และหลังจากติดภารกิจที่ทำให้ผมไม่สามารถลงแข่งได้ในฤดูกาลนี้ ผมดีใจมากที่ผมได้ส่งท้ายปีด้วยการแข่งรถ และการแข่งที่ผมได้มีโอกาสเป็นตัวแทนประเทศไทยเพื่อแข่งขันกับประเทศอื่นเป็นสิ่งที่ยอดเยี่ยม ผมภูมิใจมากๆ
และรู้สึกเป็นเกียรติอย่างยิ่งที่ได้แข่งให้กับประเทศไทย ผมอยากจะขอบคุณผู้จัดการแข่งขันที่จัดงานออกมาได้ดีมาก และผมคาดว่ามันจะกลายเป็นอีกหนึ่งงานสำคัญบนปฏิทินในอีกหลายปีข้างหน้า และขอขอบคุณคุณปิติ เพื่อนร่วมทีมของผม ผมรู้จักเขามาตั้งแต่สมัยที่ผมเริ่มต้นแข่งโกคาร์ท และในที่สุดเราก็ได้ทำงานร่วมกัน เขาเป็นนักขับที่แข็งแกร่งเมื่ออยู่ในสนาม
และการแข่งฤดูกาลล่าสุดของเขาในยุโรปก็ประสบความสำเร็จอย่างเห็นได้ชัด ดังนั้นผมจึงขออวยพรให้เขาประสบความสำเร็จในปีหน้าด้วย"
Source. Fasttrack Media/Photo. Andrew Lofthouse
Comments
comments