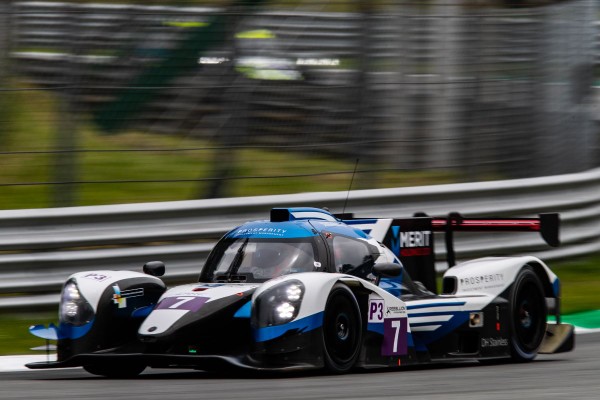 With just 27 points covering the top six runners in the European Le Mans Series, it's game on for Nielsen Racing as they prepare for the fourth round of the championship this weekend in Barcelona.
The Corby-based team once again fields two entries for Saturday's four-hour race, with Tony Wells and Colin Noble teaming up once again in the #7 Norma LMP3. Fifth at Paul Ricard and seventh at Monza has kept the pairing in championship contention, but they head into the weekend hoping to come away with silverware.
Very much on target for a potential victory, Tony suffered an electrical issue on the steering wheel, meaning he was unable to shift gears. Quick diagnostic work from the team saw him back out and lapping again but hopes of the win were dashed.
The sister #8 Ligier sees Nobu Yamanaka stand down for the weekend due to business commitments in Japan. Nick Adcock returns to the team for the weekend, alongside race regular James Littlejohn. While not in championship contention, both drivers have plenty of experience and a podium position would be a great reward for the team's significant efforts throughout the season.
Meanwhile in the Michelin Le Mans Cup, Tony and Colin continue to show great pace and head to Barcelona in third in the standings.
Last time out in the Road to Le Mans at Circuit de la Sarthe, Tony and Colin finished the first race in a fighting third in the 31-car field, and followed this up with another great run to fifth position in the second event of the 24 Hours of Le Mans race week.
The #20 Grainmarket Norma of Mark Crader and Alex Mortimer are also enjoying a strong campaign and currently sit sixth in the standings. Le Mans was not kind to the Pro-Am pairing but a strong showing at Paul Ricard and Monza underline that they have the pace to spring a surprise.
The 4H Barcelona gets underway Saturday evening at 18.30 local time and marks a return of ELMS for the first time since 2009.
Stuart Moseley, LMC Team Manager
"The podium is the aim. I think all four of our drivers [in LMC] will start this weekend better off than some of the other circuits, because all four of them have raced and driven at Barcelona before. The ELMS hasn't been to Barcelona since 2009 so I think that puts us in a good position, with their experience of the track already. Nick is an ideal replacement in Nobu's absence, and we're delighted to have him back for the round to pair with James.
Colin Noble
"I'm really looking forward to Barcelona, it's one of the favourites on the calendar for me. We're setting up on Wednesday and should have a solid base heading into the race weekend. Last time at Monza we were really unlucky, we were as close to a race win as you can get, so I'm hoping for a little more luck on our side in Spain."
Alex Mortimer
"Mark and I are looking forward to a strong weekend at Barcelona and hopefully a good points finish. We had a good test here earlier in the year so unlike Le Mans, Mark has previous experience of this track which will help us as we push for a good result."
James Littlejohn
"It's been a pleasure driving with Nobu so far this year, it's unfortunate that he is unable to attend the race in Barcelona, but I look forward to his return to the team at Silverstone for the next round of ELMS.
"I would like to welcome Nick back to the Nielsen Racing team this weekend in Barcelona. Having watched the Asian Le Mans Series closely I am very much looking forwards to sharing the #8 Ligier with him. As always, we will be fighting for the best result possible, hoping to get onto or near to the podium. "
Source. BAM Motorsports
Comments
comments