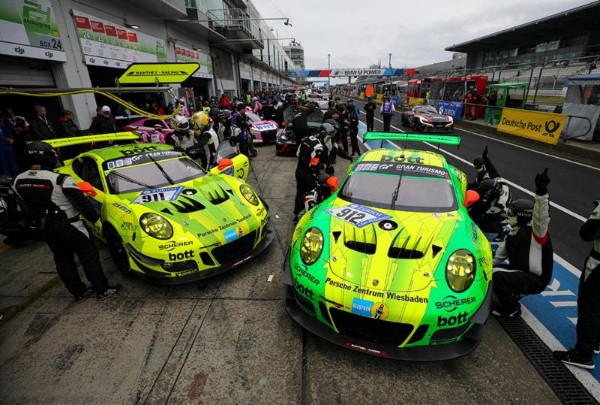 Several full-time IMSA drivers will not be taking it easy this weekend as there are no scheduled races after last week's event at Mid-Ohio. The group will be at storied racetracks around the world including five that won races at last weekend's Acura Sports Car Challenge.
17 full-time IMSA drivers are entered in the prestigious 24 Hours of Nurburgring. Several others who make occasional appearances throughout the year in IMSA are also in the field.
The race takes place on the world-renowned, 15.5-mile Nurburgring Nordschleife circuit in Germany. The field includes more than 200 touring and GT cars and upwards of 700 drivers.
Fresh from their GT Le Mans (GTLM) class win at Mid-Ohio, Porsche GT Team drivers Earl Bamber and Laurens Vanthoor rate among the Nurburgring 24 favorites in the No. 911 Porsche 911 GT3 R from Manthey Racing. Their full-season WeatherTech Championship teammates, Patrick Pilet and Nick Tandy, in the No. 912 Porsche from the Manthey team, swapping car numbers this weekend from what they use in North America.
Last Sunday's GT Daytona (GTD) class winner, Dominik Baumann, will be behind the wheel of the No. 47 Mercedes-AMG Team Mann Filter Mercedes-AMG GT3 with another WeatherTech Championship regular, Renger van der Zande, among his co-drivers. Baumann scored the first North American victory for the Lexus RC F GT3 last weekend at Mid-Ohio in the No. 14 3GT Racing entry alongside co-driver Kyle Marcelli, while van der Zande took fifth in the Prototype class in the No. 10 Konica Minolta Cadillac DPi-V.R with Jordan Taylor.
Van der Zande is pulling double duty at the Nurburgring, as he's also entered in the No. 48 Mercedes with IMSA Continental Tire SportsCar Challenge competitor, Indy Dontje, among his co-drivers. And speaking of the Continental Tire Challenge, Kuno Wittmer, who picked up his second consecutive series victory last Saturday at Mid-Ohio in the No. 74 Audi RS3 LMS TCR machine with co-driver Rodrigo Sales, is also entered at the Nurburgring in the No. 35 GTronix 360 Team Renault RS01.
The entire full-season BMW Team RLL lineup will be spread across two different Rowe Racing BMW M6 GT3 machines in the No. 24. Alexander Sims, Jesse Krohn and Connor De Phillippi will make up three-quarters of the driving lineup for the team's No. 99 entry alongside Martin Tomczyk, who raced full-time in the 2017 WeatherTech Championship.
In the No. 98 Rowe Racing BMW will be last Sunday's GTLM polesitter, John Edwards, along with current GTLM points leader Richard Westbrook, who moves from the No. 67 Ford Chip Ganassi Racing Ford GT last weekend to the BMW in Germany. Nicky Catsburg, who raced alongside Edwards and Krohn in this year's Rolex 24 At Daytona and Mobil 1 Twelve Hours of Sebring Presented by Advance Auto Parts, will partner Westbrook and Edwards.
Other 2018 WeatherTech Championship full-timers at the Nurburgring include GTD driver Jeroen Bleekemolen in the No. 11 AutoArena Motorsport Mercedes-AMG GT3 and Simon Trummer, who is trading the No. 85 JDC-Miller Motorsports "Banana Boat" LMP2 machine for a ride in the No. 15 Car Collection Motorsport Audi R8 LMS GT3 this weekend.
In addition to Wittmer, others representing the Continental Tire Challenge at the Nurburgring include full-season co-drivers Tyler Cooke and James Clay in the No. 253 Securtal Sorg Rennsport BMW M235i and Jeff Westphal in the No. 705 Scuderia Cameron Glickenhaus SCG003c. As regular co-drivers of the No. 82 BimmerWorld BMW M4 GT4, Clay and Cooke are currently second in the 2018 Continental Tire Challenge Grand Sport (GS) point standings.
Westphal, meanwhile is currently 11th in the GS standings, sharing the No. 39 Carbahn Motorsports Audi R8 with Mark Siegel.
The 24 Hours of Nurburgring starts at 9:30 a.m. ET on Saturday, May 12.
Next up for the IMSA WeatherTech SportsCar Championship is the Chevrolet Sports Car Classic on Saturday, June 2.
Source. IMSA
Comments
comments