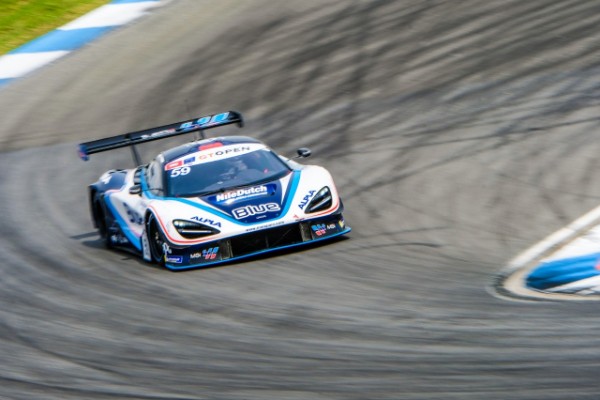 Henrique Chaves  ended in fourth in  the first race of the International GT Open's Hockenheim round, a performance that places him in the fourth position of the Drivers' Standings.
With some tyre's limitations, the Portuguese driver and his teammate, Martin Kodric, had tough Friday practice sessions, something that didn't make the Croatian driver's life any easier in today's qualifying. Nevertheless, he was ninth fastest, which was a good place to start the start the seventy minutes race.
Martin Kodric had a hectic first lap, with numerous fights, but he kept the ninth place, following closely the drivers immediately ahead. Though, it was impossible for him to gain any position and he delivered the McLaren 720S #59 to Henrique Chaves in the same position, with forty minutes to go.
The Portuguese youngster got in the pace immediately and, with a good out-lap and a good strategy call from the team, he was fourth when the drivers change window ended, followed but the Drivers' Standings leader.
The duo was involved in an intense fight and Henrique Chaves had to cede a position to his opponent, that in that stage had a clearly faster car. However, when he was pursuing the Portuguese driver, he didn't respect the track limits and was penalized with three seconds, which gave back to the Teo Martín Motorsport's driver the fourth position.
After a difficult weekend start, the Henrique Chaves, with Martin Kodric, achieved a positive result in the Saturday's race. "Yesterday, we had some limitations with the tires, after the incident that we suffered at Paul Ricard. This prevented us of doing the work that we wanted to, which conditioned us today. Though, we did a good race to end fourth. It was the best we could get today", said the Portuguese, that is third in the Drivers' Standings, five points behind the leaders.
The positive outcome from today gives to Henrique Chaves the confidence to fight for good results in tomorrow's qualifying and race, but he knows that he will have a tough fight in his hands. "We have evolved during the weekend and I believe that we can get even better. We will work hard to have a competitive car to get a good place in the grid and achieve a good result in the race. We know that it will be tough, as our opponents are very strong, but we will give our best", underlined the Teo Martin Motorsport's driver.
Tomorrow's race will start at 13h00 (GMT+1) and can be followed live at the championship Youtube channel. The qualifying will begin at 8h35.
Source. ComSegue
Comments
comments