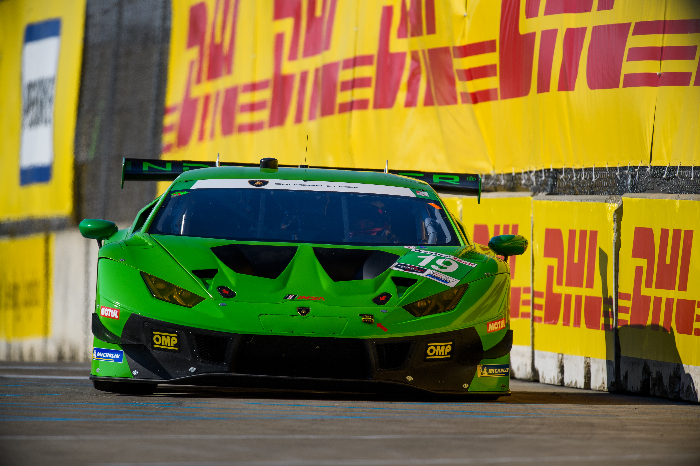 GRT Grasser Racing Team were successful on both sides of the Atlantic at the weekend. The Austrian team were in action both in their ADAC GT Masters home fixture at Spielberg and over 7,000 kilometres away in Motor City, Detroit, where the second round of the Sprint Cup in the IMSA WeatherTech SportsCar Championship took place. The outfit had excellent showings both in the USA and at home. Lamborghini works driver Marco Mapelli and America veteran Misha Goikhberg went on an incredible charge up the field, claiming a second podium of the weekend.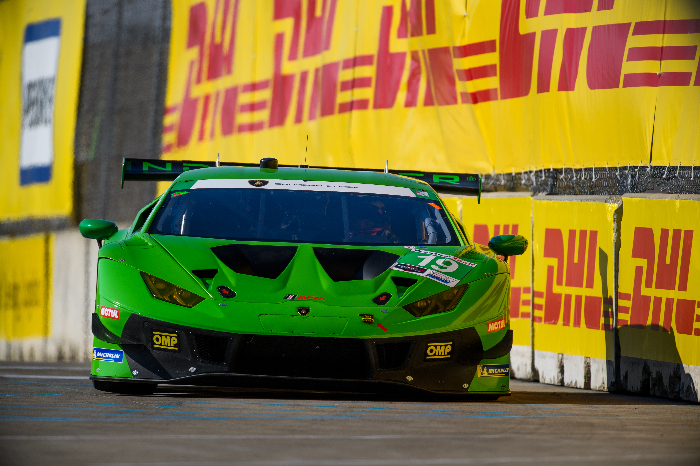 After competing in endurance classics at Daytona and Sebring, the highlight event partnering the IndyCar Series marked GRT Grasser Racing's first appearance in this year's US sports car championship Sprint Cup. In practice, the team were completely focused initially on finding the right setup for the Lamborghini Huracán GT3 EVO, as the legendary 3.78km Belle Isle street circuit can be extremely challenging for man and machine with its bumpy surface.
The two drivers managed to improve in the second practice, claiming ninth place in the hard fought GTD class. Qualifying did not deliver the top result expected with grid slot twelve, but the crew had made the right adjustments for the 100-minute race, because Goikhberg promptly gained three positions at the start. The 34-year-old Canadian with a Russian background used all of his IMSA experience to good effect in the first stint and passed the car over to Mapelli lying in fourth position at the driver changeover.
The 33-year-old Italian continued the hunt for a top result without any letup as the race continued. He moved up into the Top Three with ten minutes to go, securing a place on the podium. Shortly after that, a late pace car period heralded the start of the final showdown, but Mapelli confidently maintained third place over the final few minutes. One of the opposing drivers received a penalty, bumping the Lamborghini Huracán GT3 EVO with starting number 19 up into P2.
Lamborghini have improved their position thanks to GRT Grasser Racing's success in Detroit, and currently occupy second place in the GTD class of the manufacturers' championship of the Sprint Cup. The next round in the IMSA series is scheduled for the weekend of June 24th to 27th. The 6 Hours of Watkins Glen will be the third event in the Endurance Cup. The following week, IMSA Sprint Cup drivers and teams will be back racing at the state of New York's famous track.
Misha Goikhberg: "I'm really pleased with this result. We struggled a little bit in practice to get up to pace. The team did a fantastic job making changes to the setup after qualifying. We had a strong car in the race right from the start. I made a good opening lap. The pit stop was perfect and Marco did a great job during his stint. We definitely want to take the momentum with us to Watkins Glen and I can't wait to get going there."
Marco Mapelli: "I'm really pleased with this result for the team. They haven't had much luck so far this season, which makes it all the nicer to have finished the race on the podium. The start of the weekend was not easy, because the race track was new to all of us. We improved with every session and gained in self confidence. We had excellent support both at the track and from Europe. The team produced a terrific performance and we can be well satisfied. We will work hard to ensure to continue like this in the coming events."
Team Principal Gottfried Grasser: "The race in Detroit was very exciting for us all. We'd never raced there before and this very unusual street circuit with its humps and bumps was extremely challenging. Drivers, engineers and the entire team did a great job and set the car up really well. We all pulled together and improved with every session. The end result clearly demonstrates that. Misha got away to an amazing start and gave his all during the first stint. His pace was strong and he drove a very intelligent race. He stayed out of all the chaos caused by others and moved up into the Top Five. Marco topped it all off in brilliant fashion afterwards with his finish on the podium. The car was really great in the race and we're delighted with our team's effort. We're already looking forward to Watkins Glen where yet another US classic awaits us at a fantastic racetrack. We intend to mount all-out attack again with the aim of finishing on the top rung of the podium. That's our goal!"
Source. GRT Grasser Racing
Comments
comments