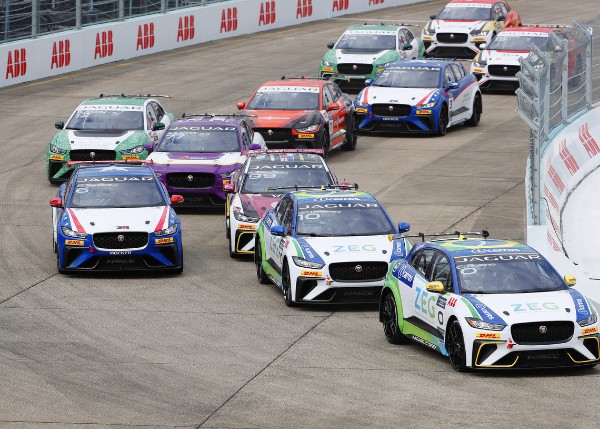 The Jaguar Brazil Racing driver led a front-row lockout with teammate Sérgio Jimenez finishing second. Completing the podium line-up was Team Asia New Zealand racing driver Simon Evans. Bryan Sellers, who has been dislodged as series leader, finished just off the podium in fourth.
Jimenez replaces Sellers as the series leader, with just 20 points between first and fourth as the race to win the inaugural Jaguar I-PACE eTROPHY series culminates in New York with a double header on 13 & 14 July.
Bandar Alesayi had the opportunity to win the PRO-AM championship today, however the Saudi Racing driver did not finish after a clash in the early stages. Celia Martin of Viessman Jaguar eTROPHY Team Germany and Yaqi Zhang of Team China battled to win the PRO-AM race throughout, with Zhang eventually pipping Martin. Saudi Ahmed Bin Khanen completed the podium line-up in the PRO-AM category.
CACÁ BUENO JAGUAR I-PACE ETROPHY RACE WINNER
It's amazing to be the first driver to win three races in the series and take home maximum points for the second week in a row. This was one of the toughest races we've had this season. I had a good pace throughout the race, but the wide circuit offered opportunities to overtake, meaning I had to hold off Sérgio and Simon. It's an incredible feeling that I'm heading into the final race weekend of the season as a championship contender.
YAQI ZHANG TEAM CHINA DRIVER
It's an amazing feeling to be back on the podium for the sixth time in a row. I started at the back of the grid for this race but managed to work my way up through the field to secure the top spot on the podium. It was a tough battle with Celia for the majority of the race but I managed to get passed her with five minutes to go. I'm looking forward to the final race weekend in New York.
MARION BARNABY JAGUAR I-PACE ETROPHY CHAMPIONSHIP MANAGER
After the tight city streets of Rome, Paris and Monaco the track here in Berlin offered the drivers a totally new challenge facing up to wide lanes and the constant threat of overtaking. We go into the New York double-header with no idea who is going to win the inaugural Jaguar I-PACE eTROPHY. The excitement levels continue to rise, and we can't wait to see how it all unfolds.
Source. Jaguar
Comments
comments