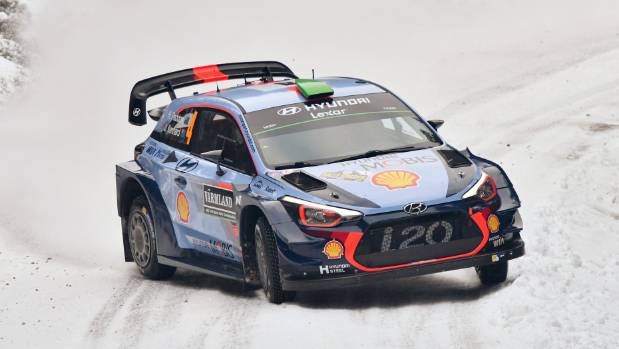 Hayden Paddon's disastrous 2017 has him facing a shortened campaign this season but he is adamant he can still be competitive when he is in the car.
Paddon will kick-start his abbreviated 2018 World Rally Championship (WRC) on the ice and snow covered roads of Rally Sweden this weekend.
Late last year, Hyundai Motorsport announced Paddon will be sharing a car in 2018 – meaning he will only compete in seven of the 13 rounds.
MCKLEIN IMAGES
Paddon and British co-driver Seb Marshall will share the Hyundai i20 Coupe with team-mate Dani Sordo and the Spaniard's new co-driver Carlos del Barrio.
The 2018 championship began in Monte Carlo last month but Sordo was behind the wheel.
MCKLEIN IMAGES
The decision to drop the Kiwi to part-time duties was a bitter blow and Paddon concedes it hurt but he has accepted the decision and is ready to move on with a positive outlook towards 2018.
"It's not something we dwell on or think about. But the whole situation does fire me up more," Paddon said.
"We're pretty determined to put last year behind us and this year is a fresh start for us," he said.
His reduced schedule means he misses out on six rounds but also the associated aspects such as testing, mileage in the car and driver development which he says is a massive disadvantage when going up against race hardened drivers who are competing in every round.
But Paddon is feeling upbeat and does not believe it will affect his form.
"We know we can be fast here and there but it's a matter of actually putting it together for a whole rally and stringing it together for a result."
The decision came on the back of a string of poor results for Paddon in 2017, Hyundai dropping from a four to a three-car team and the arrival of Andreas Mikkelsen from Citroen last September.
Without making excuses, Paddon acknowledges his 2017 season – where he finished eighth in the championship – was constantly rocked by distractions that were out of his control.
It started with a major crash when he hit black ice in round one at Monte Carlo.
A spectator fell from the bank that Paddon hit and later died of his injuries.
Then later in the season, Paddon made an amicable split from his longtime co-driver John Kennard.
With those distractions behind him, Paddon will take an everything to gain and nothing to lose mindset into Rally Sweden.
"You certainly feel like you can lower the shoulders and go out there and give it everything we've got and look to prove some people wrong," Paddon said.
"We're obviously aiming to come out and prove what we know we can do and try and get the results on the board."
Paddon recently had a full day of testing in Sweden and was pleasantly surprised with the results.
It had been almost three months since he last drove the car in Rally Australia where he finished the season on a high when finishing third.
"I was a bit worried it was going to take a little bit to adapt back to it but after the first run or two it was like an old glove and everything was feeling pretty natural."
Sweden is a rally Paddon enjoys. He finished second there in 2016.
Paddon will team up with Kennard again in five of the six rounds of the New Zealand Rally Championship in a Hyundai i20 AP4+.
He admits he has unfinished business ahead of his third campaign in the national series.
"There's pressure in that we would really like to bring home a Manufacturers Championship for Hyundai New Zealand which we haven't been able to do yet."
Source :Stuff.co.nz
Comments
comments