New race director Novak relies on experience around him in INDYCAR Race Control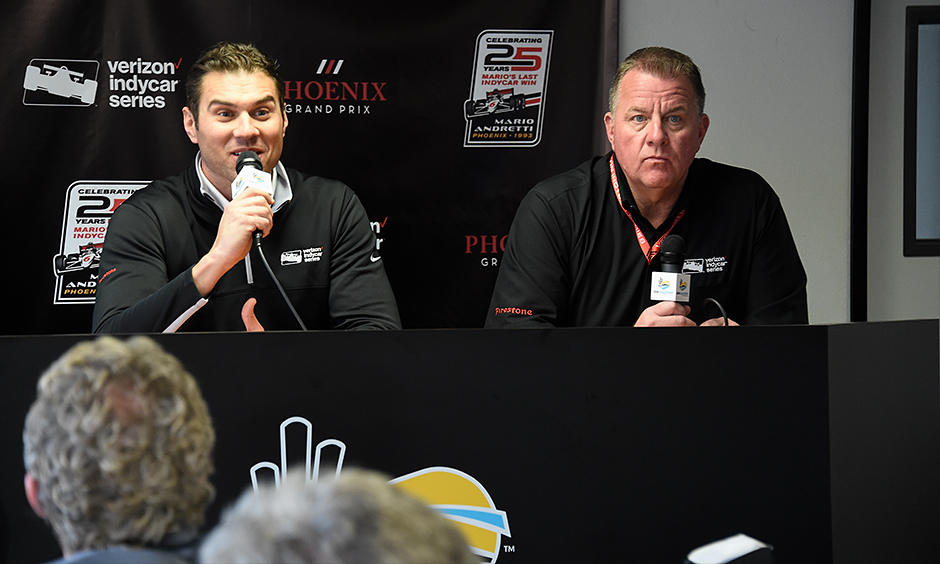 AVONDALE, Arizona – Kyle Novak learned from a master long ago that the success of a team is determined only by the strength of every team member. It's a primary reason why he didn't hesitate in taking on the position of INDYCAR race director a month ago.
Novak assumed duties for the first time at a racetrack at the Phoenix open test at ISM Raceway. The 36-year-old was formally introduced to media on Saturday at a news conference alongside Jay Frye, INDYCAR's president of competition and operations who hired Novak.
"Kyle's name just continued to come up" in the search for candidates, Frye said. Novak spent the past three years as a race director or steward in various sports car series sanctioned by IMSA.
"We expect really great things," Frye added, "(a) really long-term type situation, so we're really excited to have him."
An important aspect as Novak (at left in the photo above with Frye) considered the offer was the people who would surround him in INDYCAR Race Control. It's something he learned long ago, when he worked on Urban Meyer's football staff at Bowling Green State University in Ohio in 2002. It was Meyer's first head coaching job, before he went on to capture national championships at the University of Florida and Ohio State University.
Meyer surrounded himself with highly competent assistants and players, turning Bowling Green into an instant winner before moving on to greater success. Novak transferred that philosophy to his INDYCAR position.
"The one thing about running a race, running every session, is the core people and the core roles and the core responsibilities are largely the same," Novak said. "I think one of the common misconceptions about being a race director is you're up there by yourself with one radio, kind of running, pointing and being a dictator up there.
"It's really just as much about almost a mission-control type scenario where you're managing the room, managing the information flow, just as much as you're managing the particular sporting aspects of the series. … But we have such a great support and great operational structure here at INDYCAR, and just hundreds of years and thousands of races of experience that will really help me through that transition."
Novak's role, Frye confirmed, will be like that of his predecessor – longtime INDYCAR official Brian Barnhart, who left in December to become president of Harding Racing. Novak's job is to make sure all on-track operations run safely and smoothly to put on the best event possible for drivers, teams and fans.
Novak – whose introduction to Indy car racing came when he organized course design and construction for Champ Car World Series events in Cleveland, Denver and Houston in the mid-2000s – will not be a race steward, Frye explained. That responsibility remains with retired drivers Arie Luyendyk and Max Papis. Dan Davis, chief steward in 2016-17, will not be at races this year but serve as a steward consultant.
Luyendyk, Papis, Novak and Frye will monitor on-track activities in Race Control, and each may request a review of a situation for possible infractions. But it will be up to Luyendyk and Papis to decide whether to impose a penalty. Should they be split on their decision, Frye or Novak will assist in settling the issue.
"If you look at the last couple years," Frye said, "there's not been a lot of drama based on penalties given out, so we are really pleased with that. We'll continue that."
As technology grows, so does INDYCAR's ability to more thoroughly monitor track activity. The number of camera angles varies by track but has increased in recent years. So has the ability to rely on more sophisticated data and additional transponders embedded around a circuit.
The idea is to assist Race Control in making clear-cut decisions on potential penalties. Novak already believes that INDYCAR "leads the way now in that race control technology," but knows there is always room for improvement.
"We're constantly evolving with the feedback from our competition committee, which is many of our drivers and teams internally, what we can do to massage things, look at things and make those things better."
Novak's first race weekend as the race director comes in the season opener, the Firestone Grand Prix of St. Petersburg from March 9-11.
Source: https://www.indycar.com
Comments
comments