Judge Panel Selected For Scholarship Shootout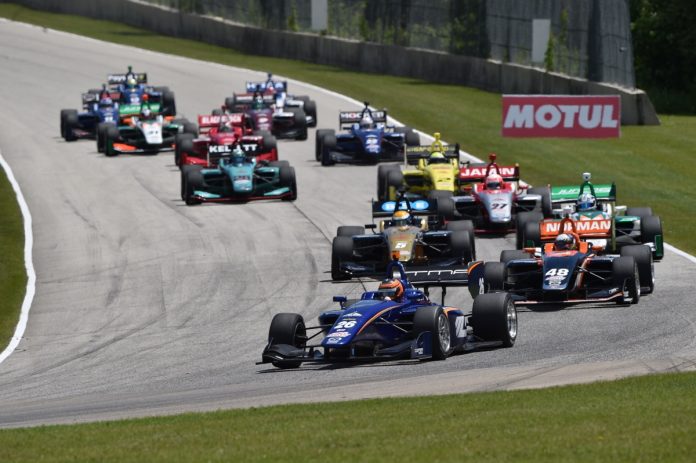 The 2018 Mazda Road to Indy schedule of events has been released.
PALMETTO, Fla. – A panel of judges has been assembled to determine the outcome of the second annual Mazda Road to Indy USF2000 Scholarship Shootout.
The winner will claim a $200,000 scholarship prize from Mazda into the 2018 Cooper Tires USF2000 Championship Powered by Mazda, the first rung on the open-wheel development ladder which offers opportunities to progress all the way from the grassroots of the sport through USF2000, the Pro Mazda Championship Presented by Cooper Tires and Indy Lights Presented by Cooper Tires to the Verizon IndyCar Series and the Indianapolis 500.
The adjudicating panel will comprise IndyCar race winner turned commentator/analyst Scott Goodyear and long-time factory Mazda Motorsports representatives Jonathan Bomarito, Andrew Carbonell and Tom Long, plus two drivers who are intent upon working their way through the ranks, reigning Pro Mazda champion Victor Franzoni and Oliver Askew who, after winning the inaugural Mazda Road to Indy Shootout one year ago, also went on to add this year's USF2000 title and another Mazda scholarship.
"I'm excited to return again this year to assist Mazda with judging the Shootout," said Goodyear. "Mazda continues to support the up-and-coming drivers with their goal of becoming professional race car drivers. This program not only judges the young drivers on their ability on the track but their abilities off track as well. I applaud Mazda for its continued and unparalleled support towards the development of young drivers, and I wish this type of program was available when I was a junior racer. I understand exactly the position these drivers are in as I spent many years driving in junior formulas before graduating to Indy cars and factory sports cars. I look forward to sharing my knowledge and experience with the stars of tomorrow."
On-track sessions will begin on Sunday, Dec. 10. Judges will convene to narrow down the field of contestants. Drivers continuing will take part in qualifying sessions and a 30-minute race. The judges will then meet for a final time to select the winner of the Shootout.
"We want judges who will give these young racers in-depth feedback from their experience behind the wheel, and this year's group is certainly qualified to do so," said Mazda Motorsports Operations Manager Kyle Kimball. "This is an incredibly serious competition, and the judges set the tone with their guidance and feedback. It's a group that we're proud to have judge the event."
The full list of participants will be announced next week.
Source :speedsport.com
Comments
comments