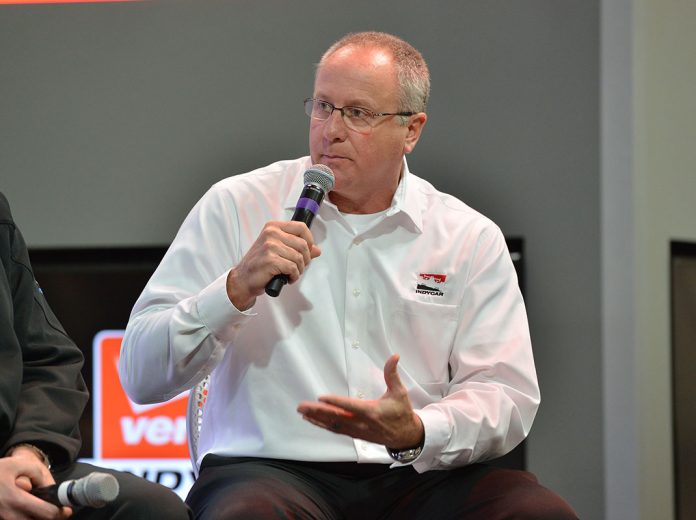 Brian Barnhart leaves IndyCar for Harding Racing. (Chris Owens Photo)
INDIANAPOLIS — Brian Barnhart has been named president of Harding Racing. The longtime IndyCar executive will begin his new position on Dec. 18.
"We are thrilled to have Brian join Harding Racing. Brian's years of experience on both the IndyCar competition side and the operations side makes him an invaluable resource within the league," said Mike Harding, owner of Harding Racing. "We have the legendary Al Unser Jr., an incredibly talented young driver in Gabby Chaves, a hand-picked winning crew led by team manager, Larry Curry, and now Brian. He is the missing piece that will take Harding Racing to victory lane."
Barnhart's tenure in the operational side of IndyCar began in 1997 where he served in various roles, most recently as Vice President of Competition and Head of Race Control. Prior to his move to IndyCar, Barnhart spent several years as a crew member for multiple race teams including Al Unser Jr.'s winning teams.
"I am so appreciative of my years at IndyCar and with the Hulman-George family," said Barnhart. "The opportunity from Harding Racing to return to the competition side of IndyCar racing was too hard to pass. I am very excited about the incredible opportunity to work with Harding Racing and alongside Al Unser Jr. again."
"I'm excited to partner with Brian again," said Unser, the team's executive consultant. "In our younger years, we won two Indianapolis 500s and two CART Championships together. I'm looking forward to celebrating many more victories with Brian and Harding Racing."
Indianapolis based Harding Racing made its Verizon IndyCar Series debut at the 2017 Indianapolis 500. The team is led by Mike Harding, owner and CEO of Harding Group, a concrete and asphalt paving company based in Indianapolis. Unser Jr. serves the team as an executive consultant. Gabby Chaves, the 2015 Verizon IndyCar Series and Indianapolis 500 Rookie of the Year, is the driver of the No. 88 car.
Harding Racing is part of Harding Group, a prominent local Indianapolis company that has conducted business in Indiana and surrounding states since 1960.
Source :speedsport.com
Comments
comments