Carlin uses St. Petersburg debut as learning exercise to improve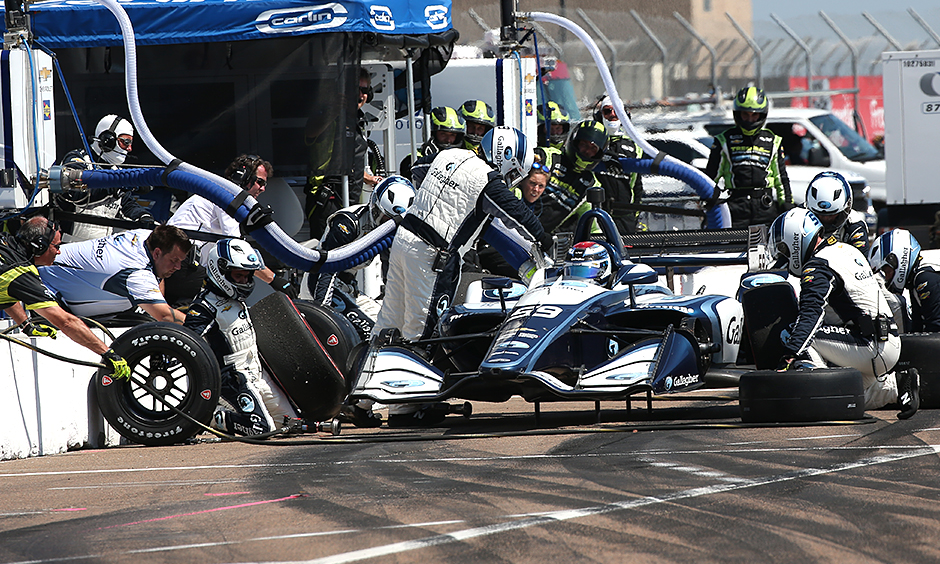 By
Christopher DeHarde
| Published:
Mar 13, 2018
ST. PETERSBURG, Florida – Trevor Carlin expanded his open-wheel racing empire in 2018 to include the Verizon IndyCar Series, with the team making its debut in Sunday's Firestone Grand Prix of St. Petersburg.
If not overwhelming, the results were at least slightly positive. Max Chilton finished 19th in the No. 59 Gallagher Chevrolet while Charlie Kimball was 20th in the No. 23 Tresiba Chevrolet. Each driver advanced one position from where he started the 110-lap race.
"There's two ways to it," the team owner said. "We performed well because we got both cars to the finish in our first-ever Indy car race, but we also performed badly because we finished 19th and 20th, so we've got a lot of work to do.
"We didn't meet the targets I wanted. I was hoping to be closer to the top 10 than we were. We didn't have the pace, we're not understanding the tires properly, so we've got a bit more work to do."
Kimball, who drove for Chip Ganassi Racing in his first seven Verizon IndyCar Series seasons before moving to Carlin, was victim of the first full-course caution flag of the race when his car went off track in Turn 13. By the time that the AMR INDYCAR Safety Team got him going again and he stopped for fresh tires, Kimball was a lap down – a deficit he could never make up.
The 33-year-old Californian knows better days are ahead.
"At Carlin, you don't come to the track to finish 19th and 20th," said Kimball, who drove for Carlin in British F3 in 2005. "Our goal really is to be fighting for race wins and podiums.
"I'd say we probably doubled or even tripled our knowledge on the Indy cars here in St. Pete. I'm looking forward to going back and getting with the engineers, learning, digesting and figuring out what we need to do in the future."
Chilton drove for Carlin in British F3, GP2 and Indy Lights before his first two Verizon IndyCar Series seasons with Chip Ganassi Racing. The 26-year-old Englishman was optimistic about the team's performance at St. Petersburg after running as high as 13th during the race.
"When the tires were in, we had good performance, so we made gains throughout the weekend," said Chilton. "Considering this was Carlin's first Indy car race, I'd say it wasn't a bad showing at all. We definitely have work to do and we aren't where we want to be yet. I think all-around we did a good job and we'll make sure we're ready for Phoenix."
Carlin will have a couple opportunities to work out bugs in upcoming Verizon IndyCar Series open tests in the next two weeks – March 20 at Barber Motorsports Park in Alabama and March 27 at the Indianapolis Motor Speedway oval.
The next race is the Phoenix Grand Prix at ISM Raceway on Saturday, April 7. Live coverage commences at 9 p.m. ET on NBCSN and the Advance Auto Parts INDYCAR Radio Network.
"I'm confident in the team and the drivers that we can improve from that," Chilton said, "so fingers crossed, we'll get to Phoenix and we'll be on it."
Source: https://www.indycar.com
Comments
comments