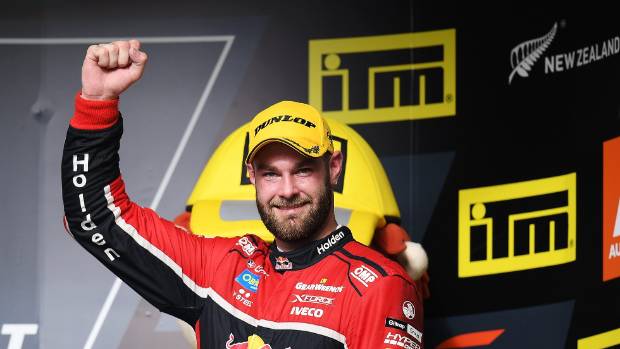 Shane van Gisbergen is set for a hectic weekend, getting behind the wheel of a car and pushing it to the limits on both sides of the Tasman.
The 2016 Supercars champions will conduct preseason testing for Triple Eight Race Engineering at Sydney Motorsport Park on Friday, he'll then hot foot it to New Zealand for the National Drifting Championships in Tauranga over the weekend.
Van Gisbergen is known as a driver who loves to get in as many cars as possible and recently drove a McLaren at the Bathurst 12 Hour race.
In Tauranga he'll drive a V8-powered VK56 Nissan 370Z at the ASB Baypark Stadium.
"It's something that is so different to what I normally do," van Gisbergen said of drifting.
"Drifting and circuit racing don't really crossover, but you don't get confused and start driving around straight," van Gisbergen said.
In 2016, Triple Eight Race Engineering converted one of Jamie Whincup's old cars into one set up for drifting, as a gift for van Gisbergen.
Although he doesn't get to do this form of motorsport often these days, he does enjoy it, even though he has to adjust to following the requirements outlined by the judges.
"It's very hard to hit a line that someone tells you to hit," he said.
"In Supercars or any other racing you're finding the line that works, but in drifting you have to do what the judges want.
"That's probably the biggest difference in the actual driving.
"That takes a while to get used to and probably something I still have to improve a lot on, but that comes with time and doing a few more events."
Van Gisbergen will compete in the remainder of the New Zealand drifting season, other than at Manfeild in April and says he's pleased to have been able to get permission from his Supercars team to take part.
"It's not too bad, as long as it's not a Ford or something like that or promoting a manufacturer competing directly against Holden," van Gisbergen said.
"It is quite tight the restrictions, but when you go drifting it's such a different discipline and different type of car, it's not too hard to get permission for. It works out good."
National Drifting Championship calendar:
Tauranga – ASB Baypark Speedway – February 16-17
Timaru – Levels Raceway – March 9-10
Feilding – Manfeild Circuit Chris Amon – April 20-21
Auckland – Pukekohe Park – May TBC – Grand Final
 – Stuff
Source :Stuff.co.nz
Comments
comments