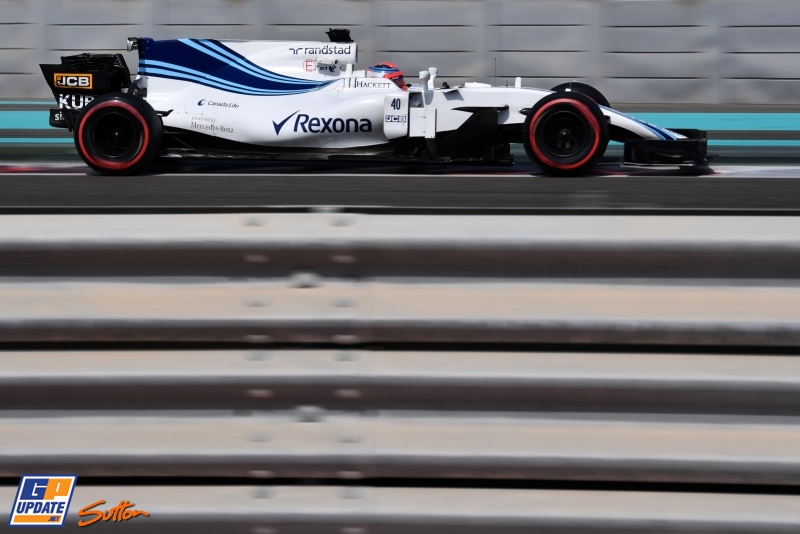 Robert Kubica admits that there would be a level of "disappointment" if his Formula 1 tests do not result in a full-time comeback to the sport with Williams in 2018.
Kubica competed for BMW and Renault from 2006 to 2010 but his career came to a halt when he sustained serious arm injuries in a rally crash in 2011.
Kubica began exploring the possibility of a return earlier in the year, when he completed three runs with Renault, culminating in a test in its 2017-spec car in August's Hungaroring test.
However, Renault signed Carlos Sainz Jr. on loan from Red Bull, prompting Kubica to turn his attentions to Williams, undertaking two private tests in a 2014-spec FW36.
Kubica was afforded the bulk of Tuesday's running at the post-season tyre test at the Yas Marina Circuit as he got to grips with Williams' FW40.
The Pole amassed 100 laps, before handing over to Lance Stroll, and finished ninth of the 12 participants, as the only driver not to clock his best time on the Hyper Soft compound.
Williams is evaluating candidates to replace the retired Felipe Massa and Kubica conceded that, while wary of his situation, there would be disappointment at missing out.
"It's not that I want to come back just to come back," he said.
"Even if I will get a chance and don't feel confident or able to do it I will not come back, there is no point.
"I'm very demanding of myself and although I understand my situation and try to adapt, in the end the high standards I put into what I'm doing, it hasn't changed.
"The worst thing I would do is convince myself that I can do it and then having troubles.
"There are question marks have to be answered for the team and also myself.
"But this day, in generally I see big improvements, day by day, so I can expect things getting better which is why I say I would be disappointed [if nothing further happened].
"Because in the end I put in a lot of effort and I see there is a good chance I am able to do it.
"If you look overall picture where I was 12 months ago and where I am now it has been a good 12 months.
"For sure today was the kind of day [where] if nothing happens more there would be disappointment as I feel very confident and very comfortable.
"But also if you think where I was I can be only happy and proud what I achieved in last 10 months."
Kubica added that he feels he is potentially in "better shape" than when he competed in his most recent Grand Prix at the same venue seven years ago.
"There is someone saying I'm driving one-handed, but for sure I think it's impossible to drive an F1 car with one hand," he said.
"For sure I have some limitations, so in some way I am using some [of] my body [to] learn some compensations, which is natural.
"That's something which I think I'm on top of it, and physically I think I have done great work, good work in last six months.
"It hasn't been easy, it's not like I've been lying in bed, actually probably I'm in physically [the] best shape by far, better shape than when I was racing in 2010.
"The motivation is there, the body is reacting in a good way, of course I'm starting from nearly scratch as Formula 1 has changed so much in last seven years that it's likely nearly starting from zero.
"But the experience I gain from the years I was racing in Formula 1 will help me to get on top of the learning process quicker than it used to be in the past."
Source :http://feeds.gpupdate.net
Comments
comments